Both the Sihanoukville-Phnom Penh Expressway and National Road 3 road projects are due to the completed ahead of schedule, reported the Ministry of Public Works and Transport. 
Sihanoukville Expressway – Cambodia
The Chinese funded Phnom Penh-Sihanoukville Expressway has been under construction since 2019 and is due for completion in 2023 (when Cambodia hosts the SEA Games), but the Cambodian Minister of Public Works and Transport Sun Chanthol expects the project to be completed by September 2022.
The construction of the estimated $2 billion Phnom Penh-Sihanoukville Expressway is currently 51.35 per cent complete. The China Road and Bridge Corporation (CRBC) and Cambodian PPSHV Expressway Co Ltd have funded and built the project which should result in an expressway linking Phnom Penh and Sihanoukville with 24.5m road with two lanes on either side.
Ministry of Public Works and Transport secretary of state Vasim Sorya told the Phnom Penh Post "This project will help boost the freight and trade sector [by providing faster connectivity to] the deep-sea port in Sihanoukville."
Chanthol added that the project had created over 3,000 jobs for Cambodians, "This project is very beneficial to our Cambodian workers because it provides them with technical know-how on the construction of an expressway, and we hope that after the project, they will be able to use their knowledge to help build other expressways in Cambodia."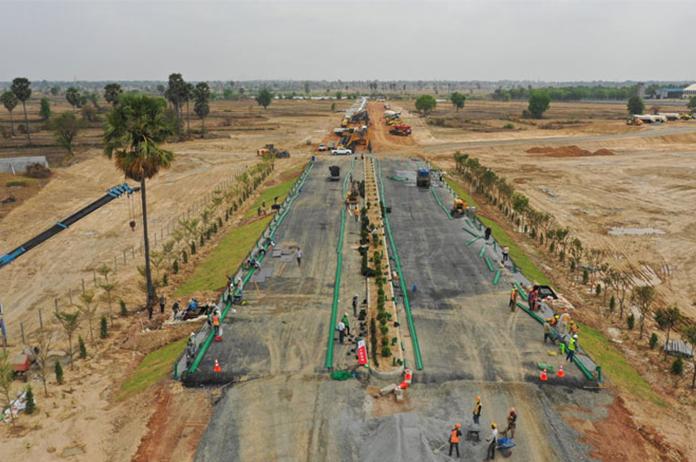 National Road 3 Upgrades – Cambodia
The $219 million road improvement project of National Road 3, which links the capital of Phnom Penh to Kampot town is 98.04 per cent complete. The project was due to be completed by September 2022 but could be integrated in 2021.
Construction on the 134KM stretch of road has been underway since 2018 and is also being built by China Road and Bridge Corp and technically supervised by Guangzhou Wanan Construction Supervision Co Ltd.
The Ministry expected the scheduled to be completed between June – September 2021 (English media reports have conflicting information on the date).
Sorya added "National Road 3 will divert traffic from National Road 4, as an alternate route to the port of Sihanoukville, a connection to the South Sea corridor between Koh Kong and Thailand's Trat province, and a link to the corridor with [Ha Tieng province in] Vietnam. This road will also serve the tourism sector."
This section of National Road 3 will also be equipped with surveillance cameras to catch the speeding drivers (the maximum speed is 80 kilometres per hour). Hidden underground scales are also installed to monitor the overloaded transport.
Cambodia has a number of major infrastructure projects on the go, especially the upgrade of national and urban roads in Sihanoukville and Siem Reap.