The Overseas Cambodian Investment Corporation (OCIC) and Thailand-based BJC's Big C Supercenter Public Company Limited signed off on an agreement to develop a USD $15 million 2.7-hectare hypermarket in Chroy Changvar Satellite City in the Cambodian capital of Phnom Penh.
Located at the Sovann Machha roundabout (traffic circle), the retail project is due to
start imminently and will take 18-24 months to complete. The project has signed a 30-year lease, with an option to extend after 25 years.
OCIC is the developer of the Chroy Changvar Satellite City and confirmed online that the signing ceremony was attended by Neak Okhna Dr. Pung Kheav Se, Chairman of Canadia Group, Dr. Lim Lina, Vice Chairperson of Canadia Group, Ms. Lim Lychin, Director of OCIC Group and Mega Asset Management Co., Ltd., Mr. Ang Enghuy, CFO of OCIC Group and Mega Asset Management and Mr. Thierry Tea, Vice President of OCIC Group together with Big C representatives, Mr. Gary Hardy, Chief Operating Officer and Mr. Suwin Somsri, Vice President.".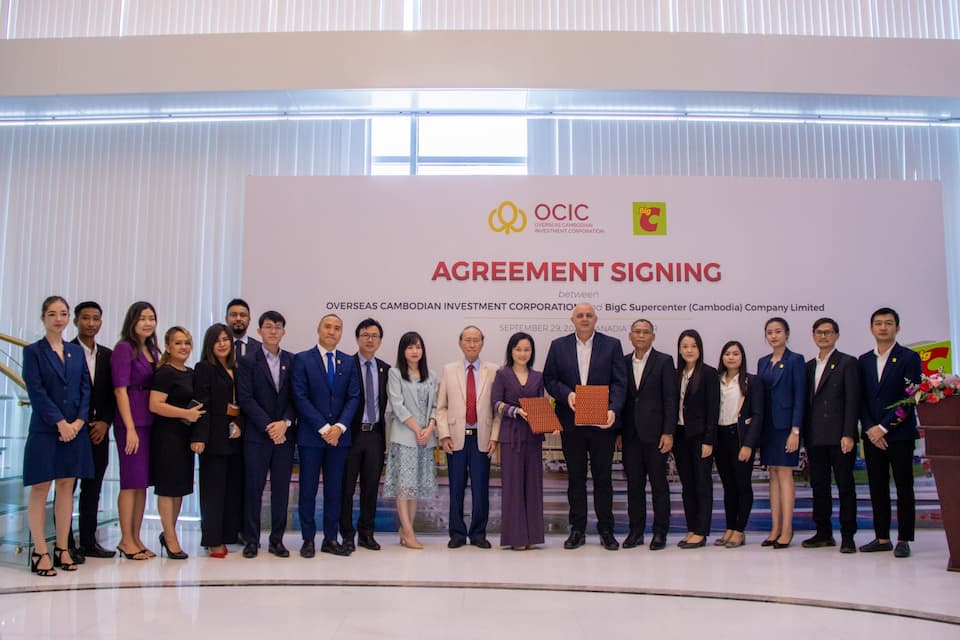 The hypermarket development is hoped to potentially increase economic development while also generating new jobs in the area (as many as 600).
Big C chief operating officer Gary Hardy said that the partnership is a long-term commitment and that the company "want to become part of the community. We don't just want to be a Wal-Mart who pops up in Germany and fills it with Americans. We want to build a long sustainable business here (Cambodia)."
The hypermarket is set to offer fresh produce as well as dry goods, and a selection of imported items – but how this will differ from the increasing choice of existing retail experiences in the capital remains to be seen.
Retail Competition – Phnom Penh
The Knight Frank report outlining Phnom Penh's real estate sector in the first half of 2023 included some details of the retail sector.
H1 2023 saw the total existing retail supply reach 826,725 sqm NLA with three newly completed retail developments; The Peak Mall, The Ground Market, The K Ground Market adding a combined total of over 30,000 sqm.
Cumulative retail space is projected to reach 1,121,564 sqm by 2025; growth of 35+ per cent over the existing supply.
The average occupancy rate for the retail sector in H1 2023 is 69%.
More than two-thirds of Phnom Penh's retail supply is in the centre while 61 per cent is in the suburban areas (due to more affordable land and large spaces to develop the new megamalls).
Areas broken down by retail market share are:
Sen Sok 30%
Mean Chey 23%
Chamkarmon 15%
7 Makara 11%
Daun Penh 8%
For future retail projects, the cumulative supply is forecasted to reach 1,121,564 sqm NLA across 73 developments – this is an increase of 294,839 sqm (35%).
Other News On Cambodian Investments