Phillip Bank and Mora BNPL have announced a strategic partnership agreement to launch financial products and services through the latter's digital platform called "Buy Now, Pay Later" (BNPL).
A recent report from Visa Cambodia on the use of digital payments in the Kingdom highlighted that Cambodians are using new tools to pay holidays for example – travel was ranked the top category for instalment payment plans such as Buy Now, Pay Later (BNPL).
The MoU signing between Phillip Bank and Mora BNPL took place at the bank's HQ in Phnom Penh and they say the "partnership will allow customers to instantly purchase any goods at Mora's partnered stores via Mora App under the financing of Phillip Bank without having to pay any interest or fees."
Mr Khuon Sophoth, Founder and Chief Executive Officer of Mora BNPL, said: "Mora has developed this product in response to the current economic situation and the growth of the digital sector, where individuals are changing the way of living, purchasing goods, using payment methods and managing cash flow."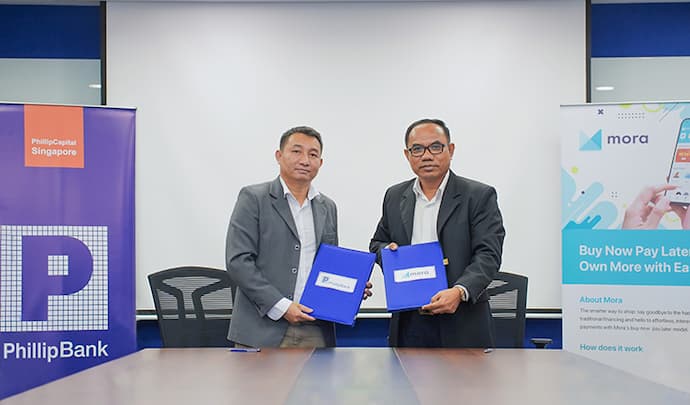 Editors Note – Mora BNPL doesn't have an active website and their social media pages say the product is coming soon.
Phillip Bank's Chief Executive Officer, Mr Chan Mach said of the agreement "In line with the growth of technology and the development of fast payment methods, Phillip Bank has partnered with Mora to provide the best payment services to all customers in a more convenient, fast, secure and efficient way. Through this partnership, we believe that all customers will have a better experience each time they make a digital payment."
Customers will be able to purchase products such as electronic devices, clothing, cosmetics, health services, and other products.
Phillip Bank recently also signed a strategic partnership with Sarita Waterside.