Neak Oknha Chen Zhi, Chairman of Prince Holding Group, has donated US$2 million to assist the government of Laos in its efforts to combat the COVID-19 pandemic.
In September 2021, Chen Zhi also contributed US$1 million to Laos, and both donations heeded the call of Cambodian Prime Minister Hun Sen to strengthen bilateral COVID-19 cooperation between the two neighbouring countries.
The donation was finalised at the Peace Palace in Phnom Penh by Guy Chhay, board member of Prince Holding Group, on behalf of Chen Zhi. The two donations totalling US$3 million aim to support the people of Laos in their fight against the pandemic.
With Cambodia being one of the most vaccinated countries globally, Chen Zhi, an entrepreneur and business leader in the Mekong area, knows fully well how important it will be for Cambodian businesses to support neighbouring countries in their anti-COVID efforts. Being a leading Cambodian enterprise, Prince Holding Group also aims to contribute to the Kingdom's leadership role in regional affairs at a crucial time for Southeast Asia.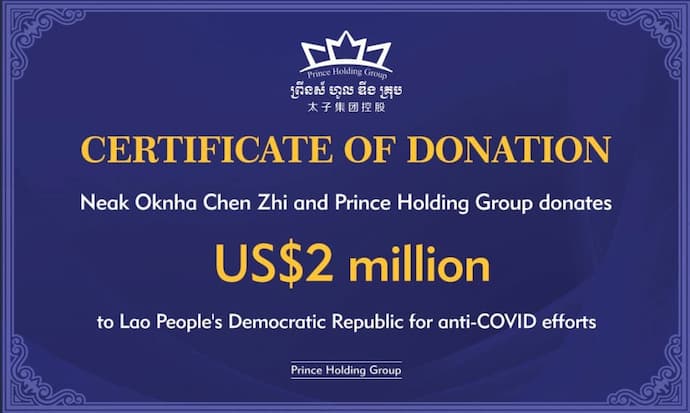 Prince Holding Group, the holding group for leading companies like Prince Real Estate Group, Prince Bank, Prince Huanyu Real Estate, Belt Road Capital Management, Awesome Global and Cambodia Airways, has been at the forefront of CSR activities this year.
This includes the launch of one of country's largest scholarships programmes (the "Chen Zhi Scholarship") and the Group has secured eight international awards while maintaining business continuity despite the challenging backdrop.
This PR was supplied.