Prince Supermarket has announced it will be opening more than 100 franchise stores by the end of 2023 and 150 by the end of 2024.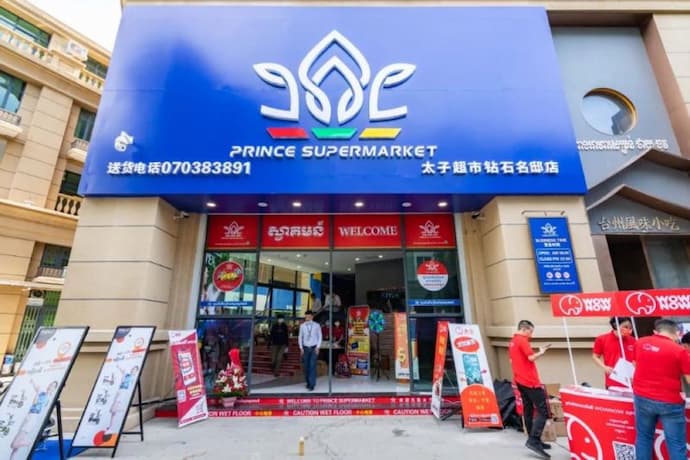 The supermarket chain is a subsidiary of the large and expanding Prince conglomerate and for the growth in the retail space, they are planning on utilising an online-to-offline (O2O) business strategy and embracing e-commerce which has outgrown physical retail stores in recent years.
In August 2022, Prince Supermarket & the app WOWNOW launched their partnership in which Prince Supermarket will lend its offline strengths with WOWNOW providing their online know-how said Prince Group CCO Gabriel Tan.
Prince Supermarket is hoping to entice franchisors but offering a discounted one-time franchise fee of US$888 for the first 50 franchise stores with a square footage of less than 200 sqm.
The chain is looking to expand into Sihanoukville, Siem Reap, Kep, and Kampot as well as in the capital of Phnom Penh.
Tan added online "With retail big names such as AEON, Lucky, Makro, 7-11 and Circle K having their plans in motion as well, we look forward to playing our part to provide Cambodians with more retail value for their money and more choices"
What is online-to-offline (O2O)
Online-to-offline commerce is a business strategy "designed to bring potential customers from online channels to physical stores to make a purchase." Prince aims to offer a seamless digital experience for consumers from pre, during and post purchase.
Consumers will be identified online through digital marketing and advertising and prompted to visit physical bricks and mortar stores to make a purchase.
You can read more here about where consumers are spending their money online in Cambodia.
Retail Market Data – Cambodia 2022
CBRE Cambodia Market Insights for Q3 2022 suggests that retail occupancy is around 70% and that brick and mortar retail outlets remain in strong demand. The report also confirms that "most firms continue to regard brick-and-mortar stores in their key sales channels.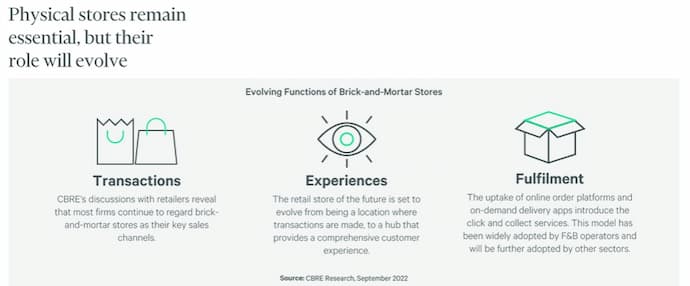 CBRE also agrees that:
retail stores will evolve to offer comprehensive customer experiences and not just transactional.
CLick and collect services are also set to rise with the increase of apps and on-demand delivery services.
The Mall Company in their October south Phom Penh Retail Insights report adds that the are of the capital is booming in retail growth.
South Phnom Penh is due a total of 9 modern retail centres by 2024.
As of Q3 2022, South Phnom Penh's existing retail supply stands 82,843 sq.m while an additional 157,902 sq.m of new retail supply is expected to be completed by 2024.
South Phnom Penh's total retail supply will witness a 190.6% growth, reaching 240,745 sq.m by end-year 2024.