This week it was confirmed that the construction of the new Siem Reap Angkor International Airport had passed 60 per cent, but there was also a surprising statement that the airport is expected to be open within 2023.
The announcement comes following the annual meeting of the Steering Committee for the Construction of the Siem Reap Angkor International Airport which was led by Tekreth Samrach, secretary of state at the Council of Ministers.
The USD $880 million Chinese-funded project (Angkor International Airport Investment (Cambodia) Co., Ltd., an affiliate of China's Yunnan Investment Holding Group Co., Ltd.) started its development phase in March 2020. A statement published by Xinhua said, "As of Dec. 31, 2022, the airport construction has achieved 63 per cent, and the company is committed to achieving 90 per cent by the end of March 2023".
However, Tek Reth Samrach is also reported by the Khmer Times as saying "The new airport is expected to be put into operation in October 2023."
This seems highly unlikely and with the track record of recent major projects and the time it takes for certifications and aviation compliance – 2024 seems much more likely.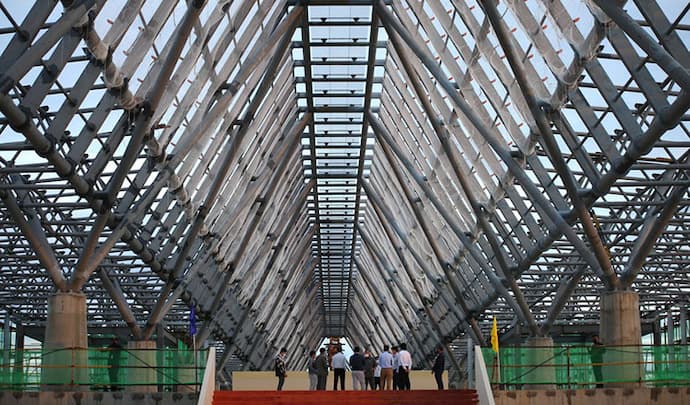 A status update confirmed:
Terminal buildings – 70 per cent completed;
Civil works of the terminal buildings – 100 per cent completed
Steel structure works – 99 per cent complete
E&M installation works – 95 per cent complete
Glass curtain wall works – 90 per cent complete
Metal roofing work – 80 per cent complete
Fit-out works – 50 per cent complete
Luggage treatment system works – 65 per cent complete
The Siem Reap Angkor International Airport is spread over 700 hectares, about 40 km from the Angkor Archaeological Park, and 50 km from Siem Reap provincial town. The development means the airport will be a 4E-level international airport with a 3,600-meter runway that can accommodate the landing of all larger modern aircraft.
Cambodian Airport Construction Projects 2023
The new airport in the Cambodian capital, the Techo Takhmao International Airport, which is located around 35 kilometres south of Phnom Penh, by mid-2022, was one-third complete.
The joint venture between the Overseas Cambodia Investment Corporation, the Cambodian government, and the SSCA – called the Cambodia Airport Investment (CAIC) aims to make the airport the ninth largest in the world – importantly it will be designated as a 4F class airport allowing for larger aircraft to make use of the transport hub.
The project covers over 2,600 hectares in Kandal Province, and according to the master plan, the airport will handle 13 million passengers a year in the first phase, 30 million passengers in the second phase in 2030, and up to 50 million passengers in 2050 in the third phase.
You can read about some of the other key infrastructure projects under development in Cambodia in 2023 – from expressways to bridges and major ports.