The winners of the STEM Robotics Competition held in partnership between The Asia Foundation (TAF) CADT (Cambodia Academy of Digital Technology), and Otis Worldwide Corporation (leading elevator and escalator manufacturer, installer, and service company) have been announced.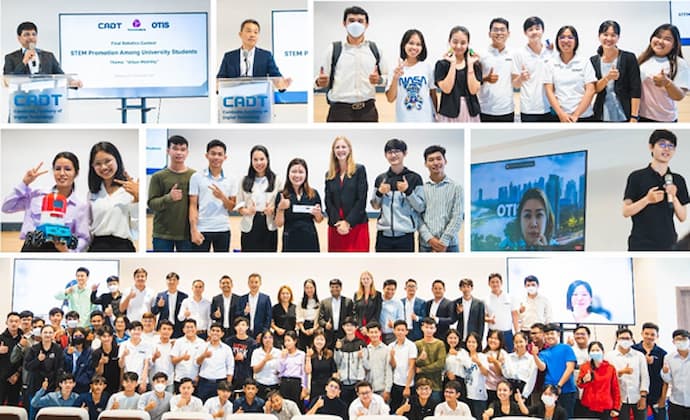 Otis volunteer mentors as well as students from the Cambodia Academy of Digital Technology proposed innovative solutions to tackle urban mobility issues in the competition. In total, 53 students from the Telecoms and Networking and Computer Science faculties took part in exploring urban issues, including traffic congestion, road safety, healthcare access, and environmental cleanliness.
H.E HEAN Samboeun, Vice President of CADT said: "We truly appreciate this four-month program which enabled our students to improve their digital skills and problem-solving abilities under the theme of Urban Mobility. This contest encouraged our students to come up with creative and innovative ideas to solve pressing urban issues and also provided an opportunity for STEM technology to be embedded into our school curriculum."
The award ceremony was opened by H.E HEAN Samboeun, Vice-President of CADT, welcomed by Mr. Manivannan, K., Managing Director of Malaysia and Vietnam, Otis, and closed by H.E Dr. SENG Sopheap, President of CADT.
STEM Robotic Competition 2022 Winners
First Place: First Aid Robot
The winner was the 'First aid robot' – a robotic machine that can provide around-the-clock health care to the public and is powered by a smart monitor and solar energy. This robot dispenses first aid kits on demand so that those in need can receive immediate medical attention. In addition, it is able to make public announcements to raise awareness in communities on healthcare issues.
Second Place: Smart Dashcam
'iDash" is a portable dashcam that mounts to motorcycle helmets and in the event of an accident, can immediately send an alert via a mobile app to the rider's emergency contacts. The video recording function is able to provide evidence for follow-ups and investigations.
Third Place: Smart Parking Lot
A proposed solution leveraging the Internet of Things (IoT) to detect available parking spaces for drivers while simultaneously charging their vehicles for greener and smarter energy usage.
Read more in our article on Cambodian Robotics Companies on the Rise.