The United Nations Economic and Social Commission for Asia and the Pacific (ESCAP) and partners have announced the three Cambodia green bond issuers for Cambodia's Sustainable Bond Accelerator 2023.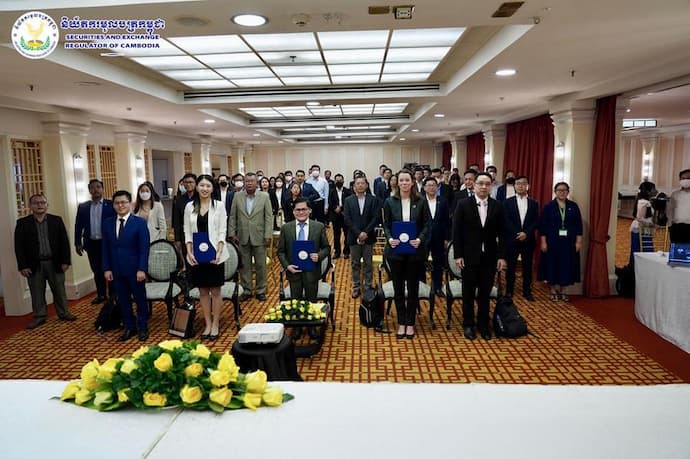 ESCAP, the Global Green Growth Institute (GGGI) and the Securities and Exchange Regulator of Cambodia (SERC), in collaboration with the Credit Guarantee and Investment Facility (CGIF) and GuarantC launched the Cambodia Sustainable Bond Accelerator in 2023 and the three selected private-sector bond issuers will be provided with green and sustainability bond issuance support.
Who Are Cambodia Three Green Bond Issuers for 2023
The three successful Cambodia green bond issuers are:
Microfinance firm Amret PLC – Will prepare to issue a USD $50 million sustainability bond.
Real estate company Golden Tree Co.Ltd – Supported in issuing its second green bond in valued at USD $25 million for green building development.
Publicly listed company Royal Group Phnom Penh SEZ –  Supported with a USD $20 million sustainability bond.
Green Finance and Climate Change in Cambodia 
In a workshop held by the Asian Development Bank (ADB) earlier in June 2023, H.E Sum Thy, Deputy Director General of the General Directorate of Policy and Strategy of Ministry of Environment (MOE) said that Cambodia is vulnerable to climate change and needs more investors to invest in sustainable development with a long-term perspective. 
Thy added, "We cannot increase our climate resilience without investing in climate change adaptation." 
According to ESCAP, the cost of Cambodia's latest nationally determined contribution (NDC) for climate mitigation and adaptation is estimated to be around USD $7.8 billion and green bonds have the potential to bridge the financing gap by mobilising investments for both public and private sectors for green and sustainability initiatives. 
However, bond issuers in developing markets face significant challenges in issuance, and issuers of thematic bonds (green, social, and sustainability) face additional constraints due to limited awareness and capacities, as well as higher issuance costs, the statement added. 
What Kind of Support is Offered to Green Issuers by the Cambodia Sustainable Bond Accelerator
According to the ESCAP statement, the Cambodia Sustainable Bond Accelerator offers technical assistance and support to prospective issuers in developing green and sustainability bond frameworks, meeting best practices, facilitating post-issuance reporting, and providing co-financing options to decrease bond issuance costs and investment support.
Armida Salsiah Alisjahbana, United Nations Under-Secretary-General and Executive Secretary of ESCAP said the program aims to address the barriers faced by bond issuers in developing markets and enhance their awareness and capacities to unlock the potential of thematic bonds to contribute to a more sustainable and resilient future.
H.E Sou Socheat, Securities and Exchange Regulator of Cambodia (SERC) director general, added that the launch of the Cambodia Sustainable Bond Accelerator is a crucial step towards growing Cambodia's capital market and achieving the goal of encouraging the use of green, sustainability, and sustainability-linked bonds to aid private sector growth and sustainable development in Cambodia.