The US economy grew by 4.9 per cent in the third quarter (Q3) of 2023, marking the country's fastest economic growth pace in nearly two years, according to the advance estimate released by the Bureau of Economic Analysis (BEA) of the United States Department of Commerce.
The BEA's advance estimate shows a 2.8 per cent growth in Q3 gross domestic product (GDP) from the previous 2.1 per cent growth rate recorded in the second quarter (Q2) of 2023. This high growth appears to defy warnings of recession, inflation pressures, higher interest rates and a variety of other domestic and global economic risks.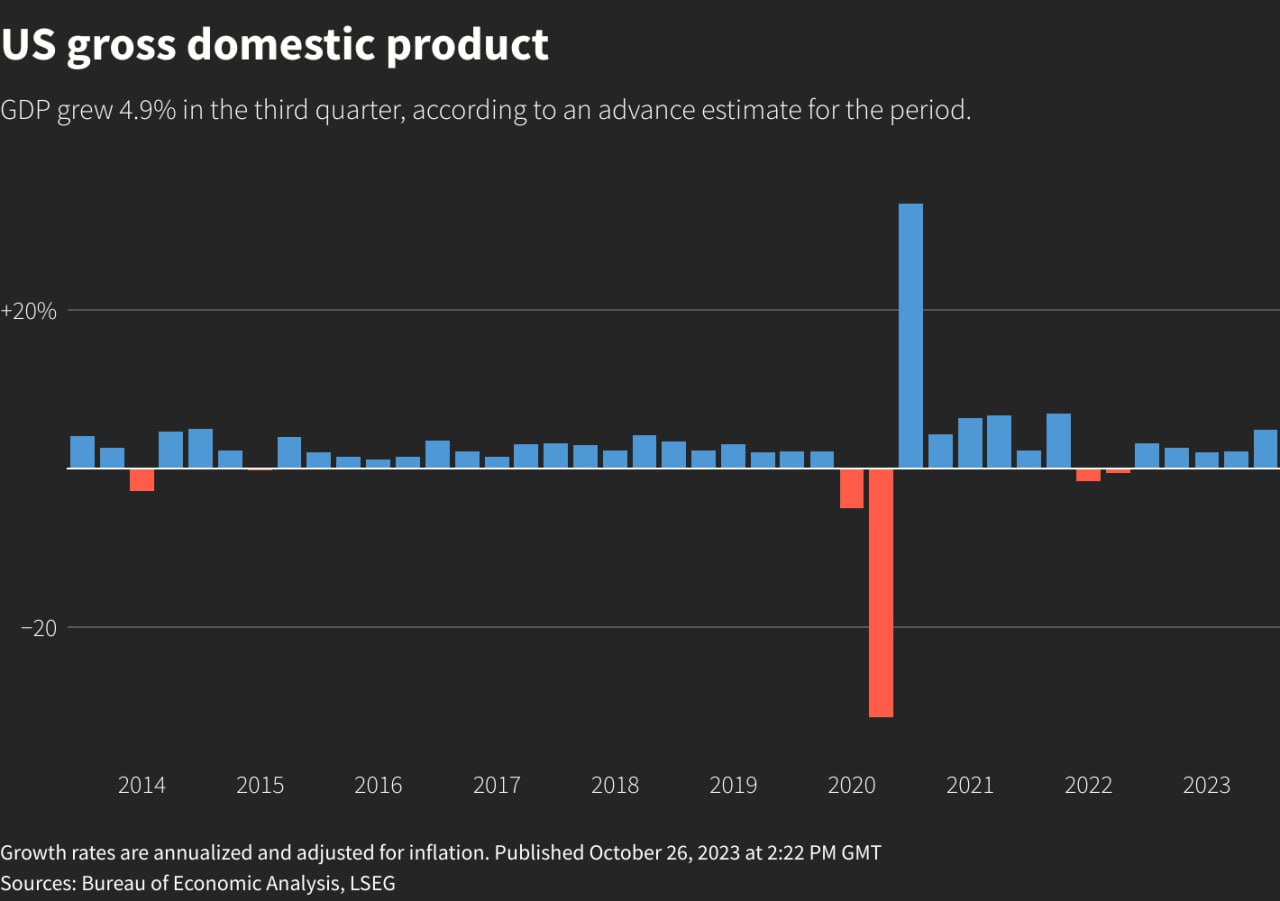 Brian Bethune, an Economics Professor at Boston College, was quoted by Reuters saying, "We've seen for a period of time now a post-pandemic induced negative bias about an imminent recession and persistent inflation, but not only is the (US) economy surprisingly resilient, we also got productivity-driven growth for two consecutive quarters in 2023, meaning the business cycle still looks very solid."
Anthony Galliano, a Director of Obor Management and CEO of CIM Holdings in Cambodia also commented, "The United States is the largest economy in the world and is currently experiencing surging growth. It is best in class for a developed market with growth rates of emerging markets. In comparison to the US GDP growth of 4.9 per cent, the EU's growth was just 0.3 per cent. Unemployment in the US is just 3.8 per cent, compared to the EU's 5.9 per cent, the dollar remains resiliently strong, and financial markets are still hovering at 8 per cent shy of all-time highs. It is a rosy picture, which I expect to continue, with the only caveat being oil prices which can be a game changer if the geopolitical climate shifts negatively."
What Attributed To The Q3 GDP Increase In The US?
The BEA attributes the surging US GDP to "increases in consumer spending, private inventory investment, exports, state and local government spending, federal government spending, and residential fixed investment that were partly offset by a decrease in nonresidential fixed investment".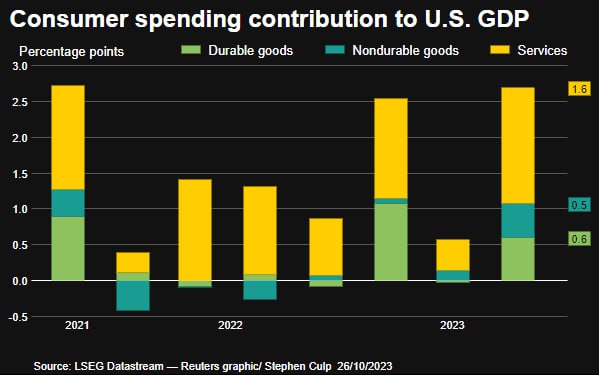 The increase in consumer spending reflected an increase in both services and goods, states the BEA, along with reports that average pay is starting to outpace price increases, thus enhancing people's ability to spend. Spending was likely also boosted over the summer months due to one-time factors such as blockbuster concert tours by Taylor Swift and Beyonce, reported Fortune, with fans spending an average of between US $1,400 to US $1,800 on air fare, lodging, and concert tickets.
Meanwhile, the increase in private inventory investment reflected increases in manufacturing and retail trade. 
The BEA further reports that an increase in government spending, as well as upturns in exports and residential fixed investment also played a part in accelerating the Q3 GDP rate, compared to Q2. 
Expected Economic Slowdown In Q4
Despite the US economy's stellar performance over the summer, Reuters reports that the growth rate is likely not sustainable and is expected to slow in the fourth quarter (Q4) as a result of ongoing labour strikes among automobile workers, the resumption of student loan repayments, and the lagged effects of the US Federal Reserve's short-term rate hikes.
A report from CNBC also stated that the US stock market reacted little to the news and showed mixed results in early trading. Michael Arone, the Chief Investment Strategist for US SPDR Business at State Street Global Advisors, is quoted saying, "This report confirmed what we already knew: The consumer went on a shopping spree in the third quarter. I don't think anything in this report changes the outlook for monetary policy. That's why I don't think you're seeing an overreaction from markets."
The BEA will release its second estimate for the third quarter, based on more complete data, on November 29, 2023.
Read More: