South Korean Webcash Global has launched its specialised e-billing solution called WeBill 365 in Cambodia and it is integrated with KHQR.
CEO of Webcash Global Lee Sil-Kwon said, "WeBill 365 maximises convenience and efficiency for both Cambodian businesses and consumers, catering to various business-to-consumer needs such as education, communication, and leasing."
WeBill 365 aims to streamline complex billing and collection for Cambodian B2C companies and the digital tool allows for payment-related tasks such as tuition fees, rent payments, and communication expenses to be catered for.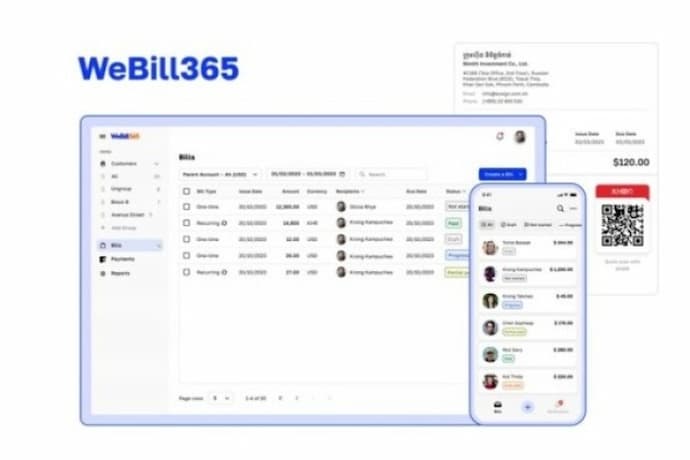 Webcash Global says that WeBill 365 allows Cambodian companies to seamlessly create and send individual virtual accounts and invoices to multiple customers, and then the customers can easily make mobile payments by scanning the KHQR via text messages, emails, and even Telegram.
WeBill 365 also supports real-time task processing through both desktop computers and mobile apps, with Webcash Global adding, "From creating and issuing invoices to checking deposit status and reviewing work reports, tasks can be easily handled anytime, anywhere."
The tool can also be integrated with enterprise resource planning (ERP) and has an open API to update collection records in ERP systems, which results in reduced processing time and reduces errors for staff.
The South Korean company started as a startup in 1999 by Seok, who had professional experience in the banking information technology sector and announced in May 2023 that it planned to expand into the Southeast Asian market. The company had already been offering a training program for promising engineers in Cambodia as part of its CSR efforts.
The firm's CEO said previously that the top 3 per cent of Cambodian engineers from the training course created an artificial intelligence-powered bookkeeping software program which was at called WABOOKS.
Webcash Global plans to launch WeBill 365 in Vietnam, Thailand, and Indonesia following its launch in Cambodia.
Approximately 8,000 Korean companies have used WebCash's corporate management solutions.
Digital Cambodia News