As part of their visit to Cambodia, the Singaporean delegates from the SBF had the opportunity to engage with leading and prominent technology companies.
Huawei hosted a seminar specifically focused on its presence in Cambodia, as well as the thriving E-commerce and ICT sectors in the country, with senior members from Cellcard and Smile Smart Shop also presenting on their businesses and opportunities in the Kingdom.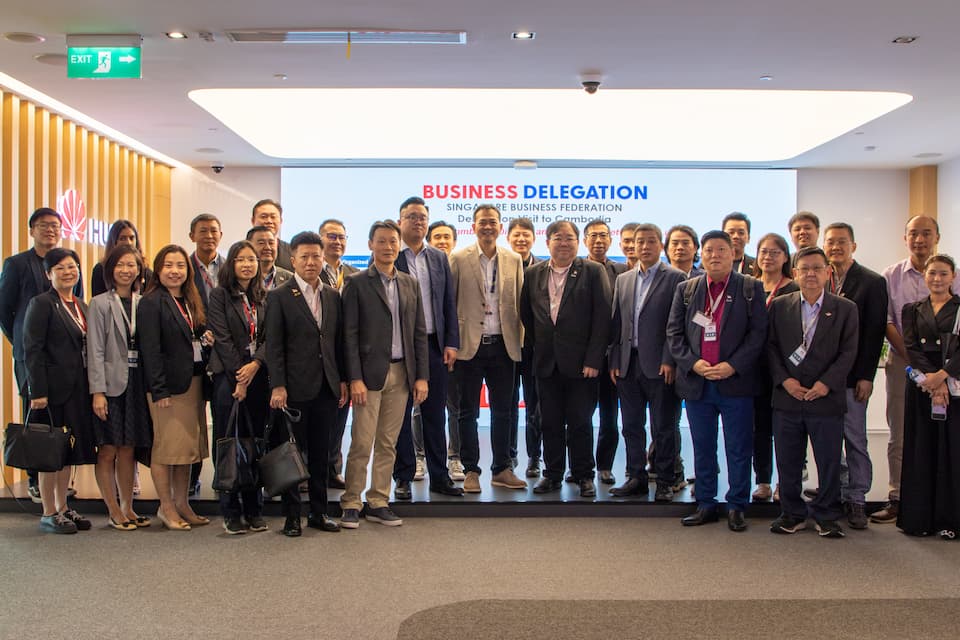 At the Huawei office in Phnom Penh, the SBF listened to presentations from Mr. Lim Sovannrath, Account Manager, Enterprise Business Group, Huawei Technologies (Cambodia) Co Ltd, Mr. Jack Lee, founder of Smile Shop, and Mr. Johnny Wong, Chief Commercial Officer, Cellcard.
Mr. Sovanroth, highlighted key services Huawei Technologies provides in Cambodia as well as its commitment to support Cambodian economic and technological growth. Huawei operates in 170 countries around the world and employs more than 200,000 staff.
"We have a vision, which is to bring digital to every person's home and organisation for a fully connected intelligence work," said Sovannroth. 
What Kind Of Services Does Huawei Offer In Cambodia?
Since its establishment in 1999, Huawei has had an active presence in Cambodia. Currently, the company boasts a workforce of approximately 400 employees, comprising both local talent and foreign professionals. Notably, 75% of the employees are Cambodian.
Huawei Cambodia operates as part of Huawei's Asia Pacific Region, and the company has established strong ties with Cambodia's business landscape. Huawei works with a lot of different customers in different fields, including ISP, finance, transportation, government and telcos added Sovannroth. 
"The kind of solutions that we have, not only refocuses on government enterprise, but education, finance, electric power, roads, if you can think of it – we can have it. Huawei instead of being a product-oriented company, we are providing full-stack solutions to our customers in a wide range of industries," he told the delegates. 
Huawei in Cambodia offers: 
Business to Consumer (B2C)

: Smartwatches, laptops or smartphones.

Carrier Network:

Works with Cellcard and other mobile operators.

The Enterprise Business Group

: Works with private enterprises and the government for the ICT infrastructure, eg data centres.
Huawei has cultivated partnerships with over 100 local partners and suppliers in Cambodia. Amid the pandemic, Huawei helped the Cambodia Ministry of Health to deploy videoconferencing for doctors for them to communicate from each hospital when they couldn't visit in person. 
Huawei is currently working with the Ministry of Economics and Finance, Ministry of Post and Telecommunications, Ministry of Interior, and Ministry of National Defense, Internet Service Provider (ISP) and banking.
What Is The Digital Landscape in Cambodia? 
Johnny Wong, the Chief Commercial Officer of Cellcard, has spent six years in Cambodia. In his presentation, he discussed the digital landscape in Cambodia, focusing on phone subscribers, internet connectivity, and social media.
Mr. Wong highlighted that Cambodia currently boasts approximately 16.8 million mobile subscribers, exceeding the country's actual population. Additionally, he pointed out that making calls between different networks within Cambodia is significantly more expensive than making international calls to countries like Singapore.
Currently, around 11.3 million people in Cambodia have internet access, with the majority utilising their mobile phones as the primary means of connectivity. Mr. Wong emphasised that for Cambodian people, their mobile phones effectively function as laptops, serving as their essential tool to access the internet. 
"The only way for most Cambodian people to access the internet is socially through their mobile phone, their mobile phone is basically their laptop that works," he said. 
What Are The Challenges of E-Commerce in Cambodia?
Mr. Jack Lee, who arrived in Cambodia in 2018 and established Smile Shop, an online retail store, previously worked in Singapore, Malaysia, and Thailand.
Mr. Lee has identified several challenges he encountered when starting an e-commerce business in Cambodia, including payment methods, establishing trust in product origin, carrier infrastructure, digital skills, logistics, and information processing.
Regarding payment methods, Mr. Lee noted that this challenge has significantly improved over time and is no longer a major concern. 
"Before, I thought the payments were quite a challenge when I came here, every day I must prepare cash, but now there is no need for cash anywhere," he said. 
Gaining customer trust is crucial for running an online store, particularly when it comes to concerns about the origin of products. Mr. Lee mentioned that online marketplaces on platforms like Facebook contribute to these concerns. Additionally, Cambodia still faces a scarcity of digital skills, particularly in engineering, leading to higher costs for quality talent.
While there were a growing number of logistic startups in Cambodia amid the pandemic, he recognises that there is still room for improvement compared to neighbouring countries such as Vietnam or Thailand. Information accessibility is another area that could be enhanced in the future.
Despite the challenges, the Cambodian government has made efforts to promote the digital economy, such as enacting e-commerce laws to foster e-commerce growth in the country, Mr. Lee said. 
He also advises that due to Cambodia's relatively small market size compared to countries like Malaysia, Thailand, Indonesia, or the Philippines, businesses should focus on diversification rather than solely relying on one industry. He added, "In this small market, it's better to grow fat than grow tall, it is a small market but it has many players". In addition to running Smile Shop, Mr. Lee also ventured into fintech.
Having reliable partners is crucial for conducting business in Cambodia, concluded Mr. Lee.  "You must have a good partner if you want [to do business here] . I was super good in China, but when I came here (Cambodia),  I could not do it alone.". 
Read More About Singaporean & Cambodian Digital Business News: