The World Bank (WB) has raised its 2022 GDP growth forecast for Cambodia to 4.8 per cent, up from its 4.5 per cent prediction made earlier this year.
The World Bank has adjusted its forecast due to as a rise in the export of garments, footwear and travel goods (GTF), while bicycle and agricultural items are also on an upward trajectory as the Kingdom recovers from COVID-19 on its path to economic recovery.
The report said "Cambodia's real GDP growth is projected to reach 4.8 per cent in 2022. Traditional export-oriented growth drivers—especially the garment, footwear, travel goods, and bicycle manufacturing industries as well as agriculture—continue to underpin the economic recovery".
The World Bank report released on January 12 2022, suggested Cambodia was projected to grow 4.5 per cent in 2022 and 5.5 per cent in 2023. WB had also outlined what it deemed were the key pathways for Cambodia's economy.
However for the Asian region the World Bank reduced its forecast growth to 3.2 per cent from 5 per cent. It expects Cambodia, the Philippines, and Malaysia, to surpass pre-pandemic levels of output in 2022.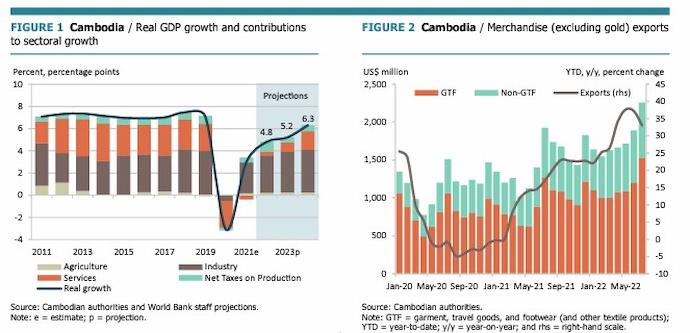 This week's Macro Poverty Outlook (MPO) from WB said "By end-August 2022, about 86 per cent of the population had received two doses of a coronavirus vaccine. After adopting a strategy of 'living with Covid-19" in late 2021, the economy has gradually recovered, driven by domestic economic activity and merchandise exports."
"It added that as an importer of energy, Cambodia has been hit by the global oil price shock increases since the invasion of the Ukraine "High inflation, largely driven by rising food and fuel prices weigh on real income and household purchasing power, in turn constraining the recovery of private consumption" added the report.
For Q2 Cambodia's economic recovery gained momentum and the approved FDI (foreign direct investment) projected value reached $315 million.
Alasdair Scott, the IMF's mission chief for Cambodia, said via an online press conference "Despite the new pressures, the recovery is projected to continue into 2023 … supported by the continued recovery of tourism and ongoing policy support, although dampened by external pressures and the impact of rising prices on real disposable income."
The WB anticipates the travel, tourism, and hospitality industries to grow in 2023 boost, due to a revival of domestic demand and tourism. (The SEA Games also take place next year and should spur tourism).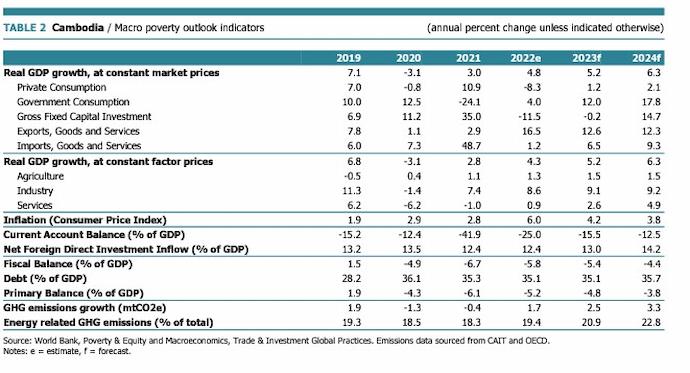 This week, the Asian Development Bank (ADB) maintained its economic growth at 5.3 per cent in 2022, but it did slightly drop its 2023 forecast to 6.2 per cent from the earlier prediction of 6.5 per cent.
The International Monetary Fund (IMF) downgraded its 2022 GDP growth forecast for Cambodia to five per cent, from 5.1 per cent in late April, and its 2023 estimate to nearly 5.5 per cent, from over six per cent.