AmCham Cambodia hosted an event titled, 'Where is Cambodia's Tourism Industry Heading?', at Raffles Hotel Le Royal on September 26, 2023, bringing together key leaders in the industry to discuss tourism recovery and ways to move forward in the post-pandemic context.
The event featured remarks from H.E. Sok Soken, Minister of Tourism, Ivana Tranchini, AmCham Governor and Country Manager of Visa Worldwide (Cambodia), Somethearith Din, President of the Cambodia Tourism Federation, Sothea Hy, President of the Cambodia Hotel Association, Arnaud Darc, President of the Cambodia Restaurant Association, and Cyril Girot, President of Cambodia Airports.
The event also concluded with a panel discussion between H.E. Chuk Chumno, Director General of Tourism Development and International Cooperation of the Ministry of Tourism, and the four aforementioned presidents of their respective associations.
Watch B2B Cambodia's interview with H.E. Chuk Chumno and Somethearith Din:
Meeting Consumer Preferences
Delivering the opening address, Tranchini underlined the increasing importance of enhancing the availability of digital payment options for travellers coming to Cambodia. According to research conducted by Visa, people from the Asia Pacific region utilise contactless payment options while travelling 2.7 times more than they did before the pandemic. 
"We've also observed other shifts in consumer preferences when travelling, for example, our research has shown 63 per cent of Asian consumers are actively seeking eco-sustainable options like sustainable accommodation and energy efficient transportation, and 71 per cent used an online Travel Platform to plan their travel," Tranchini added. 
She noted that these developments highlight the importance of collaboration between traditional tourism operators, hospitality businesses, marketeers, technology players, and more, to re-energise the Kingdom's tourism sector.
Slow Recovery To Pre-Pandemic Levels
The hospitality industry, including hotels and restaurants, was hit particularly hard by COVID-19, and Cambodia still has some ways to go before it reaches the peak levels observed before the pandemic. 
"As of 2023, hotel occupancy rates still have not reached pre-pandemic levels, we still lag behind what our peak was in 2019," stated Sothea. 
He further added, "Although average daily rate (ADR), has increased or surpassed pre-pandemic levels, there is a lot of inflation and rising labour costs that affect profitability, meaning profits remain low for the hotel industry."

Arnaud positively described Cambodia's restaurant industry as "vibrant and diverse", representing at least 103 different cuisines, which indicates a particular openness to global culinary influences. However, the current situation of restaurant revenue still appears quite grim.
Sharing findings from a survey the restaurant association recently conducted with 173 of its members, Arnaud stated "77 per cent of companies declared that their revenue in 2023 was lower than in 2022, and even worse, 45 per cent declared to have seen their revenue drop by more than 20 per cent compared to 2022." 
Arnaud affirmed that the restaurant industry continues to work hard towards recovery, but things are still not where his association had hoped they would be. 
Shifting Tourism Entry Flows
During his presentation, Somethearith touched upon a change in the way travellers are now entering Cambodia. Before the pandemic, about two thirds of all travellers entering Cambodia did so by air, however, data from 2023 has shown that only a third of the three million tourists who visited as of July 2023 arrived by plane, while two thirds came by roads or waterways.
This change is most likely in reflection of the decrease in Chinese tourists, who made up a significant percentage of travellers flying into Cambodia before the pandemic. However, Somethearith stressed that tourism officials will need to do more research into this area to fully understand and adapt to this new trend. 
Elaborating more on why industry leaders often place a special focus on rehabilitating tourism from China, Arnaud explained that, "Chinese travellers used to make up 50 per cent of the market share for hotels and for restaurants… and the fact that they are not present today impacts Cambodian businesses a lot."
Positive Signs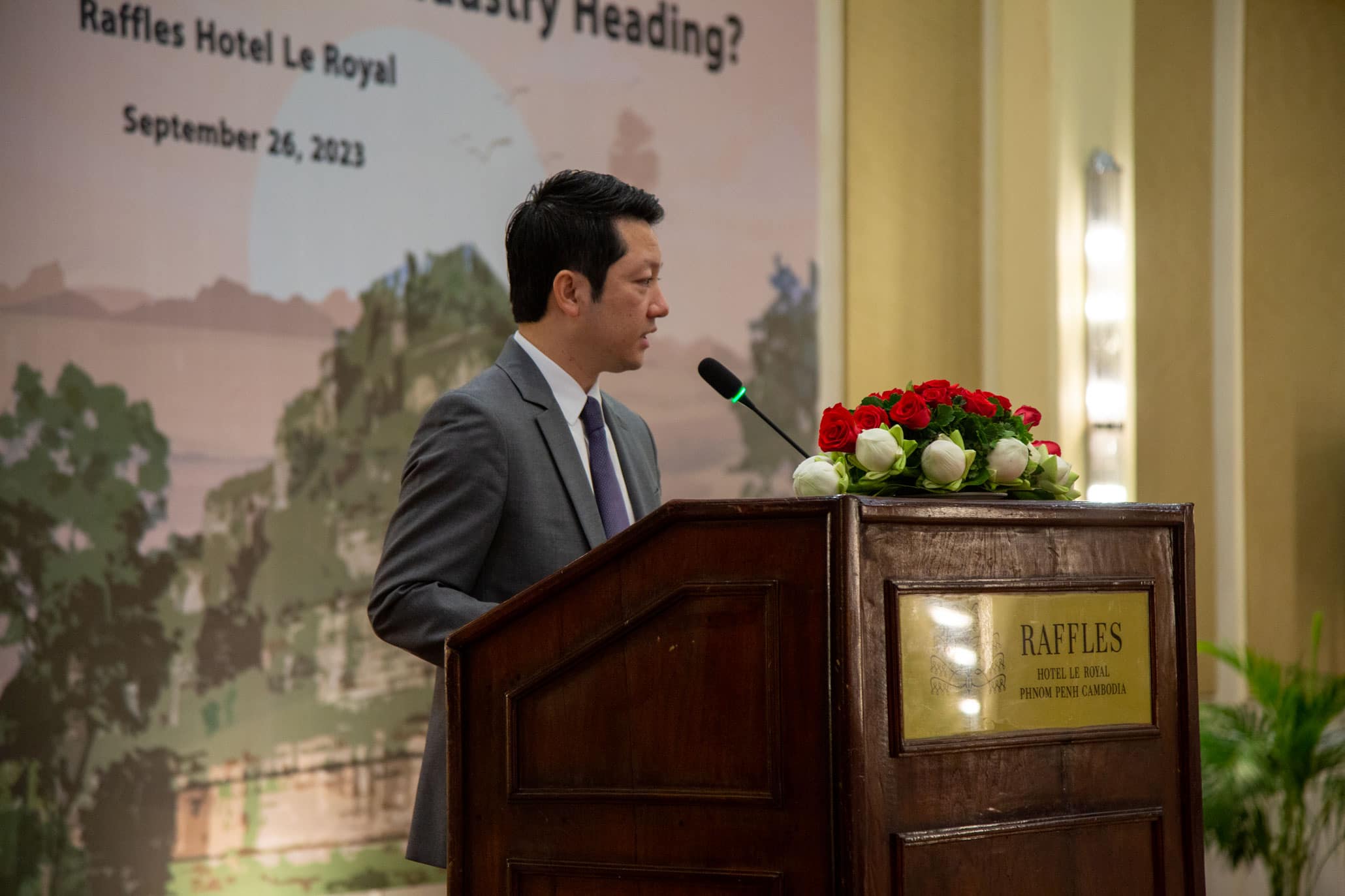 While the hospitality industry continues to face many setbacks, future prospects are not all grim – there are positive signs that the tourism industry is enroute to recovery.
"The influx of domestic tourists has been robust, with 13 million visitors in 2022, mirroring the numbers from 2019," shared tourism minister, Sok Soken. "In the first eight months of 2023, Cambodia has welcomed approximately 3.5 million international tourists, marking a remarkable increase of about 250 per cent compared to the same period in 2022, while the number of domestic tourists reached around 12.38 million, boasting a growth rate of 62.5 per cent."
Girot also shared a number of positive developments recorded in the aviation industry, particularly in regard to the traffic levels observed at Cambodia's international airport.
"In Phnom Penh we've managed to recover 97 per cent of the air traffic we had in 2019, with the exception of traffic from China – when we include China, we are at 72 per cent of the traffic we had in 2019," he said.
Girot even stated that flight routes with certain cities in Southeast Asia have managed to surpass pre-pandemic levels, namely with Bangkok, Singapore and Ho Chi Minh. 
"Cambodia's flight route with Seoul, South Korea, is also of note, as we are 50 to 60 per cent above 2019 levels," he further added. 
Watch the highlights from AmCham Cambodia's 'Where is Cambodia's Tourism Industry Heading?' event:
Efforts To Boost The Industry
To propel tourism development in Cambodia even further, Soken detailed the government's new 'BUILD' initiative built upon five strategic pillars:
Brand Management

Unique Selling Points (USPs) Marketing

Inbound Design Quality Travel

Leverage on Tourism Endowment and Diversification

Develop Competitive Tourism Sites.
This initiative is intended to help the ministry achieve its three main strategic goals of enabling competitive, sustainable and inclusive (CSI) tourism, with priority given to three supporting areas, summarised as the '3Ds':
Designing Institutional Structure

Digital Transformation

Developing Capability
While speaking with B2B Cambodia, Chumno expressed that CSI tourism aligns well with the government's new Pentagonal Strategy-Phase I, especially its focus on sustainability.  
"If we implement this, it means that everyone can benefit and the benefits can be passed on to the next generation and it can help to promote the country's tourism industry to the world," said Chumno. 
Working towards these goals to revive the tourism industry will require the joint efforts of the private sector, a sentiment which was widely shared by all speakers at the event.
"Cambodia is seldom seen as a standalone destination, most tourists tend to couple their visit to Cambodia with other destinations," said Arnaud. "We have to address this hands on now, such as by making new 7 to 14 day package tours, or by developing new unique destinations. We have to do something."
Read More On Cambodia's Tourism Industry: