Under the 'Strengthen Entrepreneurship and Innovation' pillar of the 'Enhancing Entrepreneurial Ecosystem and Investments' (3Ei) project, Khmer Enterprise and Swisscontact organised a four-day masterclass training for startup incubators in Cambodia from October 23-26, 2023, with teaching support provided by the University of St. Gallen in Switzerland. 
The "Incubators for Excellence" masterclass was designed to address challenges faced by Cambodian incubators, seeking to provide tools and practical knowledge on how to better support start-ups in the Kingdom's burgeoning entrepreneurial ecosystem. 
Watch B2B Cambodia's interview with Dr. Justus von Grone, Managing Director of the Competence Center for Social Innovation at the University of St. Gallen:
Two trainers from the University of St. Gallen – a Swiss research university specialising in business administration, economics, law, international affairs, and computer science – flew in to conduct the masterclass in person. 
Masterclass Design And Participation
The masterclass was delivered through a Training of Trainers (ToT) approach and aimed to provide a comprehensive learning experience and international perspective, while being tailored to best meet the specific needs and demands of local incubators. 
"We designed this program to add value in three areas," explained Dr. Justus von Grone, Managing Director of the Competence Center for Social Innovation at the University of St. Gallen, while speaking with B2B Cambodia. "The first is in capacity building, and how we can improve the quality of the teachers… Second is how we can improve the curriculum and teaching materials… And third, one of the most important, is increasing the capacity of the incubator itself, concerning how to actually run and scale an incubator," he added.
Masterclass participants were selected by the organisers through an application and interview process, resulting in the participation of a diverse range of incubators with different levels of experience. 
"I was excited to apply for this opportunity to learn from peers in the industry, as well as to know more about what's going on in other incubation programs, especially because my organisation is just starting its incubation journey, so we have a lot to learn from the industry as well as those who already have experience," shared Lim Kimhorng, Business Development Coordinator at the Cambodia Academy of Digital Technology (CADT).
Challenges Faced By Startup Incubators In Cambodia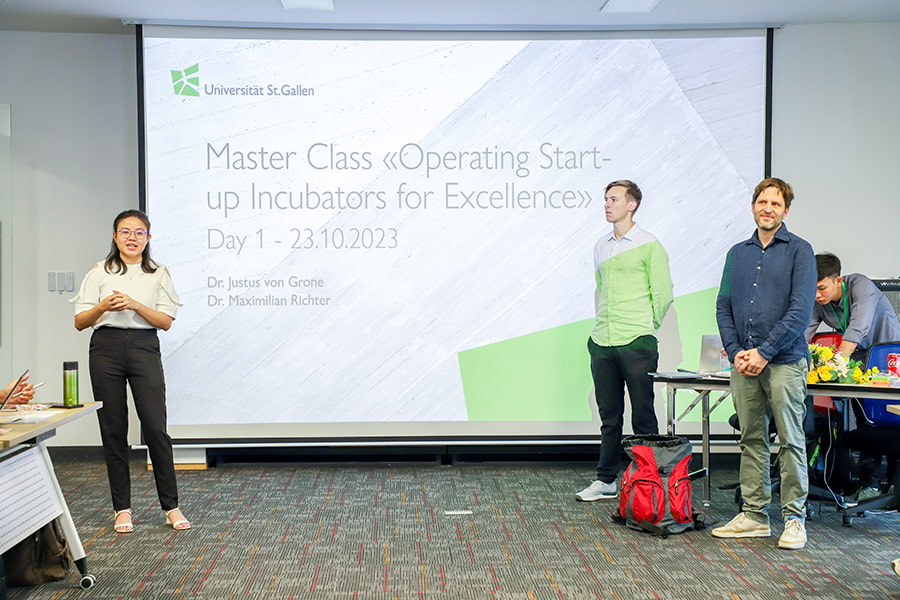 As the entrepreneurship scene in Cambodia is still growing, there is still a relatively small and limited number of entrepreneur support organisations (ESOs) working in the industry. Incubators who help very early-stage startups get established encounter a number of challenges in this nascent context.
"For us, it's a matter of not having enough tools," said Sy Vanna, Senior Manager of Human Resource Development at the Cambodian-Japan Cooperation Center (CJCC). "We need to learn how to manage and operate at a full capacity… We also need more financial support, because incubation requires a lot of work, people and time… so financial support, lack of tools and the capacity of people running the incubation [are the areas where we face challenges]." 
"We find that we are not able to fully support entrepreneurs since only some who join our program can start their business, while others cannot, and some also quit right at the beginning, while others just don't have the motivation to join," added Vanna. 
Kimhorng echoed this point and noted that ensuring the continued commitment and participation of entrepreneurs is a main challenge her organisation faces. 
"During the incubation period, there are a lot of ups and downs that entrepreneurs encounter, but this also happens during training facilitation and with our training content," said Kimhorng. "We have to make our program very interactive, we have to make sure that we actually can help the startups grow from one stage to another."
"As an incubator, we don't only incubate one startup, there are many startups we have to look after at different stages, and we have to closely observe their progress and adapt our training content accordingly, making sure that it fits their needs; that's the most challenging part of the incubation process." she further added.
Sharing Knowledge And Learning Among Incubators
A key point emphasised in the masterclass was the importance of shared learning and the willingness to share knowledge with others to support the collective growth of the entrepreneurial ecosystem. A few participants told B2B Cambodia some of the main recommendations and learning points they wished to share with their peers. 
"For those who could not attend this masterclass, I would suggest going out to meet others who are already established in the ecosystem, like those who already run incubation programs," suggested Kimhorng.
"I would also recommend doing more research on the methods used in an incubation curriculum design, with more focus on the tools and toolkits. Think about what steps or approaches to take in delivering the curriculum, and give more consideration to the experience of entrepreneurs… because that experience is key to [designing a curriculum that ensures they are] learning and retaining knowledge," she added.
"In my organisation's current incubation program, we don't have exposure trips or field visits to our primary actors, and we don't have a plan that allows our primary actors to learn from each other," shared Kheng Sokkunthea, Technical Coordinator for Startup and Rural Enterprise Development at VSO Cambodia. "But after joining this masterclass, I learnt that [creating a platform] that allows entrepreneurs to learn from one another is also a good method to help them improve their business."
"The trainers also taught us about a design thinking approach, which is really different from what I learnt in past training programs I attended," added Sokkunthea. "The design thinking approach allows us to really deep dive into our current incubation program, so I highly suggest incubators use this approach so that we can assess what we are doing and adjust our current curriculums."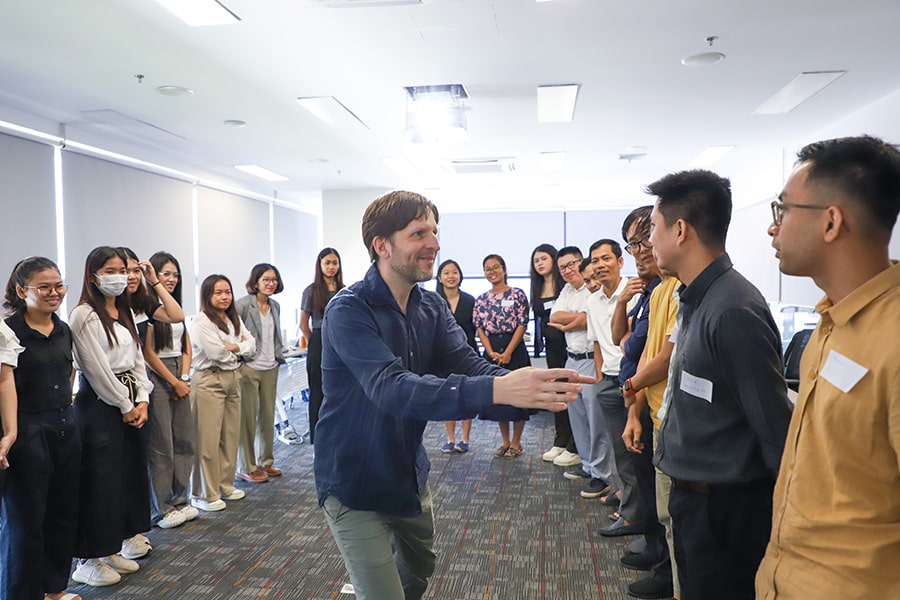 Vanna also highlighted some of the tools, models and theories shared during the masterclass that he found most valuable and would share with other incubators.
"[Some things I would like to share] are the design thinking tools… the business innovation model, the idea of analysing the psychology of entrepreneurs, and specifically, the concept of the hackathon," said Vanna. "Learning how to facilitate a hackathon, in particular, I think is a very good way to help our entrepreneurs gain a deeper understanding of their needs, to understand what they should improve on, especially in regard to their products or services."
"I felt like this is the kind of methodology that we can use in our incubation program to allow participants to gain a better self-understanding… on whether their products, services or ideas can be realistically applied," he added.
Watch B2B Cambodia's interview with three masterclass participants representing three incubation centres in Cambodia:
A Need For More Technical Training Opportunities
Participants unanimously agreed that there needs to be more opportunities for learning and training programs made available to startup incubators and other ESOs to ensure the continued growth of the entrepreneurial ecosystem in Cambodia. 
"One recommendation I have is to extend the masterclass, because if it's longer, it would give us more opportunities to connect with our peers, exchange our experiences even more, as well as dive deeper into our methods or tools and really get a chance to experiment and adapt them to our context," suggested Kimhorng. 
Sokkunthea also added, "Our trainers in this masterclass were very approachable so we could learn a lot from them and get them to help us assess our incubation curriculums and make adjustments… But I think a four-day training program is not enough, so If I can make one suggestion, it would be to add an extra day to this training."
"I think this sort of training should be held at least once or twice a year, for the benefit of other incubation centres, because we still need to gain a lot of technical knowledge," said Vanna. "We are a young industry in Cambodia, even if we have a lot more ESOs now in the ecosystem, the main players, like those running incubation programs, still need to learn a lot of these skills."
"I would also like to see these types of masterclasses go to another level and provide training to accelerators in the future as well," he added.
Reflecting On Cambodia's Startup Incubation Scene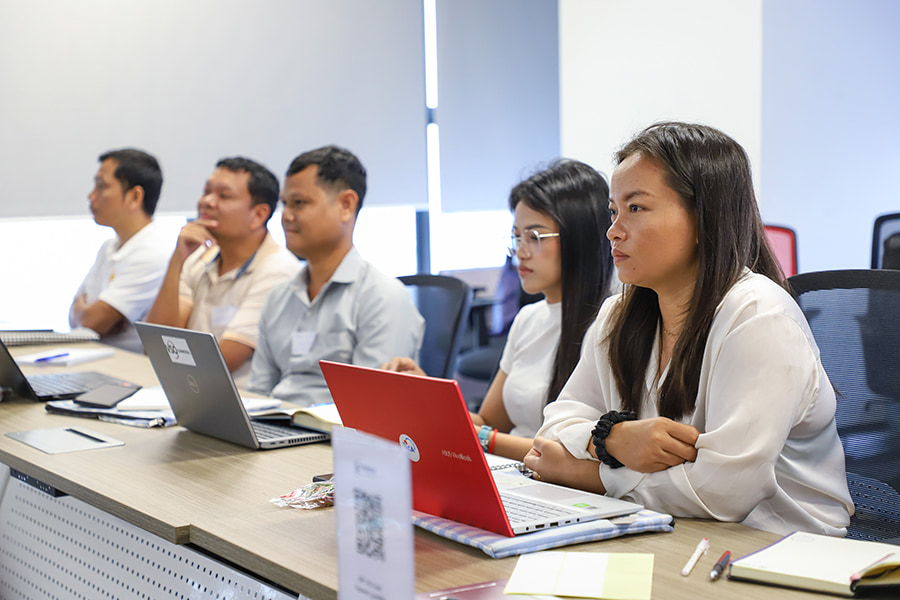 After four days of teaching the masterclass in Cambodia, Dr. Justus von Grone shared an optimistic outlook on the Kingdom's incubation scene. 
"I'm extremely thrilled about the quality of the incubators and also about the quality they gained now through our masterclass," said Dr. von Grone. "To properly assess the impact of this masterclass, we will have to wait a bit, but what I see now is an extremely motivated group, who are really engaged in the tools we are teaching. I think they will take a lot out of it, especially since we are not only teaching the participants of the masterclass, we are also teaching the ecosystem as a whole, because the participants will now take the tools they learnt out to their networks, out to the broader ecosystem… so the impact is spread around."
When asked what encouragement he would like to share with all incubators and entrepreneurial ecosystem actors in Cambodia, Dr. von Grone again stressed the importance of mutual cooperation and support, as well as the drive to keep learning in an ever-changing world.
"Be part of the ecosystem, because when you are part of this ecosystem, you also get access to information and knowledge from others, it's important to share knowledge all around," he said.
"We are living in an agile world, tomorrow's world will be different from today so you have to be constantly engaged in new materials, new tools, and so on," added Dr. von Grone.
"This masterclass can be a starting point, but [learning] has to continue after this… Don't just stay at the status quo, develop further and improve yourself, because even if you think you will always be at the top, tomorrow you might not be anymore, and you won't be developing yourself further."
The 3Ei project, implemented by Khmer Enterprise and Swisscontact, works closely with entrepreneurial ecosystem actors in Cambodia to foster socioeconomic development. 
Read More On Cambodia's Entrepreneurial Ecosystem: