The return of tourism post-pandemic has been one of the most hotly debated topics in 2023, and although the region has seen a recovery, most SEA countries don't expect to see a return to pre-pandemic levels for a couple more years.
A number of flights have resumed in Cambodia, but a recent report from the Asian Development Bank (ADB) suggests more needs to be done and is doubtful Cambodia can be a new hub despite the construction of new airports.
Tourism remains one of Cambodia's four economic pillars and hit its peak in 2019 with just shy of 7 million visitors.
The Asian Development Bank (ADB) released its report, "Southeast Asia's Aviation Sector: Post-Pandemic Strategies and the Implications of a Rapid Recovery" and will be holding a two-day webinar from 15-16 June to share findings from the report. They will also hope to discuss strategies aimed at helping the aviation sector fully recover in the region.
The ADB projects the region's aviation sector could be 90% recovered by the end of 2023 but added that the final 10% of capacity will "likely be the most difficult to achieve due to fleet and manpower constraints."
Some key findings from the ADB report for the region include:
Chinese visitor numbers to Southeast Asia increased nearly eightfold in the 10 years pre-pandemic, from 4.2 million in 2009 to 32.3 million in 2019.
In 2020, there was a reduction of over 50% in aviation sector-related contributions to GDP in Cambodia (−61%), Malaysia (−58%), Singapore (−60%), and Thailand (−61%).
Before COVID-19, it was projected that air passenger traffic in Southeast Asia will increase by 1.5 times the 2019 level by 2025.
International traffic in Asia and the Pacific was at 52% of 2019 levels in January 2023.
The Southeast Asia–PRC market could be 70% or 80% recovered by the end of Q3 2023 contingent on airlines securing approvals for additional flights.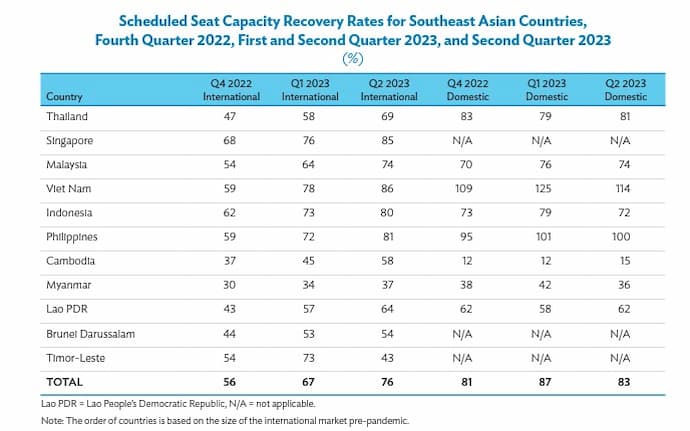 ADB Recommendations To Increase Air Traffic Post-Pandemic
The report from the ADB goes into some detail assessing pre and post-pandemic data on passenger flows, flights, airports and airlines.
Where are there other opportunities according to the ADB report? They suggested the region should develop services to Australia, Japan, the Republic of Korea; and Taipei.
There have been discussions about direct commercial flights between Cambodia and Japan by All Nippon Airways.
In addition, the exploration of potential growth opportunities in Africa, Europe, North America, and the Middle East are good but most of the future growth will be regionally within Asia and the Pacific.
ADB suggests Southeast Asian countries need to find new source markets as the Southeast Asia−PRC (People's Republic of China) market could take several years to fully recover.  They also suggest it is unlikely to experience the same kind of growth that was experienced before the pandemic. India was one market they felt should be targeted as "the next major growth market".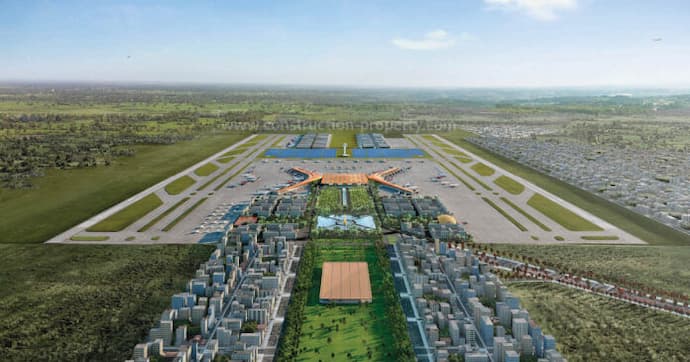 In terms of infrastructure, Cambodia has several new airports under construction to try and gain a foothold in the region as a new transport hub. However, the ADB is not optimistic in this regard, saying:
"It is not realistic for either airport (new Phnom Penh and Siem Reap Airports) to become a hub. None of Cambodia's airlines are sizable or have network (hub and spoke) models. Developing a hub airline in Cambodia would be very difficult given the competitive environment in the region and the size of Cambodia's market. However, the Cambodian tourism sector should eventually fully recover and grow again, which would justify the new airports."
Among the raft of recommendations, ADB also suggests Southeast Asian airlines need to adapt to changing passenger and worker expectations by embracing digitalisation and new technologies – this is something that has slowly been improving with new apps and tools but it is far from perfect in the Kingdom.
A number of initiatives have been highlighted for Cambodia to increasingly appeal to international tourists, from utilising modern digital technology, increased international campaigns and promotion of ecotourism etc.
You can also find out more about IAAC (International Airport Advertising Corporation) and their high-tech digital advertising here.
For Cambodia specifically, the ADB report added:
Pre-pandemic, Cambodia was connected to 14 markets, all within Asia.
Cambodia is connected to eight SEA nations – Only Brunei Darussalam and Timor-Leste do not have nonstop connections with Cambodia.
The Kingdom should develop routes with India, Japan, and the Republic of Korea markets, while Australia, Europe, and North America are also important source markets.
Several initiatives may be required to attract more foreign airlines (such as the Middle East hub carriers).
Cambodia should also invest in training, particularly in the areas of aviation safety and oversight.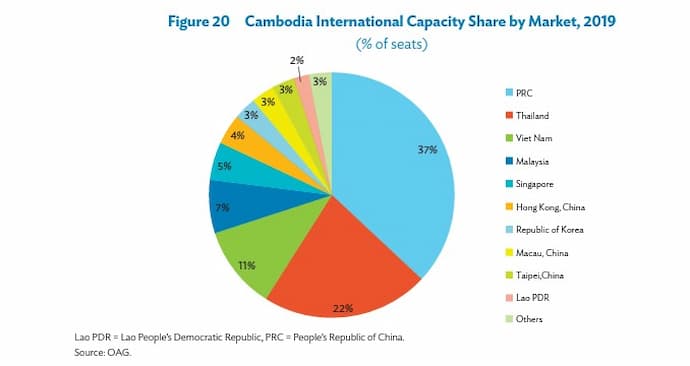 Cambodian Tourism 2023
Cambodia expects to attract 4-4.5 million international tourists in 2023 and doesn't predict matching pre-pandemic levels of 8 million for 2-3 more years. This year has been buoyed by hosting regional sporting events and the general relaxation of travel restrictions globally, with Chinese visitors able to travel more freely since the start of 2023.
The Ministry of Tourism said 481,582 international visitors flew into Cambodia in Q1 2023 and although it's an impressive 5.5 X year-on-year increase compared to 2022 – it also only represents 37 per cent of 2019 inbound tourism numbers.
The most popular attraction in the Kingdom is still the Angkor Archeological Park which confirmed it had received 344,757 foreign tourists in the first five months of 2023. This is also an increase of 653 per cent compared to 2022. Angkor Enterprise added that revenue for this period was USD $16 million – up 765 per cent compared to 2022.
Cambodia also has the potential to attract more visitors from Southeast Asian countries as they only accounted for 34% of total visitors to Cambodia in 2019, and most crossed over by land from the Lao PDR, Thailand, and Vietnam.
Pre-pandemic in 2019, around 45 airlines connected Cambodia with the rest of the world, and by the start of 2023, 27 airlines (including six airlines from China) were operating flights to and from Cambodia.
The connectivity reached 24 destinations in 11 countries but throughout 2023 this has further increased.
AirAsia's new Cambodian subsidiary launched a Phnom Penh-Penang (Malaysia) route at the start of 2023 and is looking to add direct routes with Indonesia – once the low-cost carrier (LCC) rolls out its hub, it's anticipated there will be more flights and routes.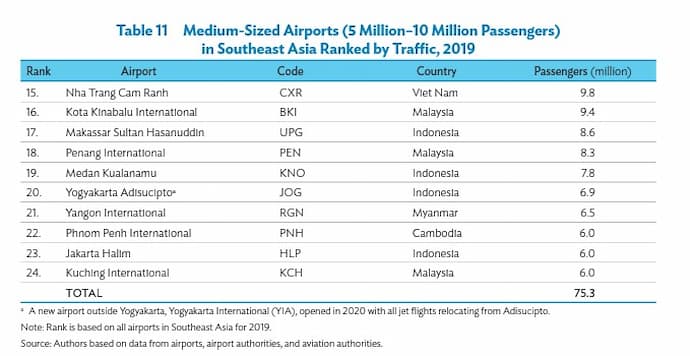 Selected New Routes Added 2023
Vietnam Airlines will resume a three-country route linking Hanoi with two UNESCO World Heritage towns – Luang Prabang in Laos, and Siem Reap in Cambodia, starting 1 July 2023.
In May 2023, Cambodia Angkor Air announced the launch of a new direct flight connecting Siem Reap and Vientiane.
Qatar Airways has already announced it will resume flights to Phnom Penh in October 2023.