Phnom Penh was the first hotspot in Cambodia to have a curfew enforced under a new sub-decree that was signed on 31 March 2021. On April 13th, the curfew was extended for a further two weeks.
On April 7th a nationwide inter-provincial travel ban was put in place for two weeks. This was followed up by a more strict lockdown in Phnom Penh and Takmao being enforced from April 15th. In early May certain zones in the city had some lockdowns lifted.
What does this mean for businesses in the capital and countrywide?
(This article will be updated with any major changes- last update 19th May 2021)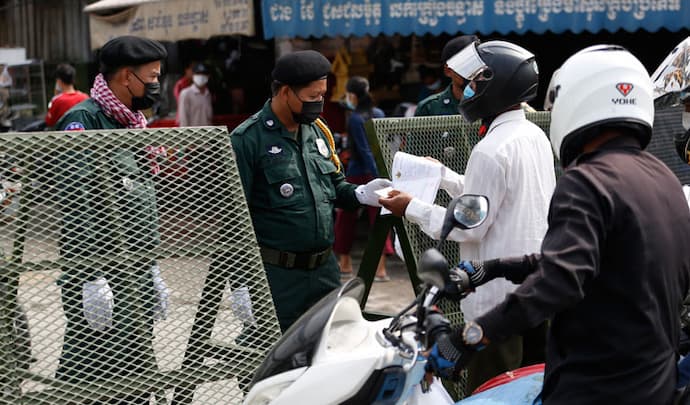 For two weeks, from April 1st 2021, the Phnom Penh Capital Administration suspended traffic, business activities and gatherings in Phnom Penh from 8 PM to 5 AM. This was extended for two more weeks and will be in place until the end of April it seems.
Essential services and food delivery is still permissible during this two week period and a number of eateries have already responded by advertising new times and services on their social media pages in anticipation. However delivery companies have said delays are happening as drivers, staff and goods are being delayed.
Phnom Penh governor Khuong Sreng has ordered all police and military police in the 14 districts of the capital to enforce the curfew.
Kampong Speu also issued a "Curfew Notice On Businesses" from April 2 to 15 April 2021 to prevent the spread of COVID-19.
On April 4, it was also confirmed that the busy Orrusey Market was forced to shut down for two weeks due to positive COVID-19 cases, from April 4 to 17, 2021.
Vendors at Old Market (Phsar Chas) in the capital also found to be positive with COVID it was reported on April 7, 2021.
From April 10, 2021, certain districts and even streets in the capital were locked down.
From April 11, 2021, Phnom Penh prohibits alcohol sales any dining in, cafes/restaurants etc – Only take-aways and deliveries are allowed until April 24 2021.
On April 12, 2021, Psar Chas Market (Old Market) was locked down following positive COVID-19 cases.
From April 15th for two weeks, Phnom Penh and Takmao are under a stricter lockdown.
The Phsar Doeum Kor and Toul Sangke Markets were closed on April 18 2021. for two weeks.
On April 19th, the Boeung Trabek Plaza was also closed for 14 days.
By April 25th, 2021 Red Zones are in the capital, Sihanoukville and in Banteay Meanchey province.
See the update on the three colour zones for Phnom Penh.
The alcohol ban was extended on May 8th and will run until May 22, 2021, in Phnom Penh.
The Updated Colour Zones in the capital will remain in place until May 19, 2021.
It was confirmed that as of May 20th, there would be no more red zones in the capital
Updated May 19th 2021.
What does the sub-decree on curfews say?
Cambodian Prime Minister Hun Sen issued an administrative order on "Prevention and Control of COVID-19 and Other Deadly Infectious Diseases" on March 31, 2021.
Local authorities now have the power to restrict or even prohibit residents in high-risk areas from leaving their houses or lodging.
According to Article 1 of the sub-decree  "Provisional administrative measures have been put in place to prevent the spread of COVID-19 in Phnom Penh with a duration of two weeks from the 1st to the 14th April 2021".
As a result, according to Article 2,  business activities are temporarily suspended – these include " food stalls, restaurants, cafes, bars and restaurants in hotels that accept customers to eat or drink alcohol between 8:00 pm and 5:00 am." say media outlets CNE and Khmer Times.
Under Article 3 the exceptions are:
Gatherings of family members in the residence or who live together.
Funeral arrangements in accordance with the regulations and permission of the local authorities
Gatherings of health workers to take samples to test for COVID 19 or to take away people with COVID 19 as well as other emergency medical personnel.
Meetings of the authorities, command forces, administrative units at all levels to maintain security, order and public order.
Gathering people who are necessary to serve the public or for other purposes as determined by the local authority.
Travel to buy food and other necessities, to health facilities for medical reasons or to be tested for COVID-19, to fulfil legal and social obligations, to work (working documents are required) or for emergency reasons concerning families or relatives are also exempt reports the Khmer Times.
Article 6 adds that, except for essential industries permitted by the authorities, such as supermarkets, pharmacies, hospitals, restaurants, etc., some commercial facilities may be required to be temporarily closed.
Article 11 stipulates that the blockade of cities or provinces can be decided by the government, and blockade measures cannot exceed two weeks, but the government can decide to postpone or end it early based on actual conditions.
(Sources are Phnom Penh Post, CNE and Khmer Times)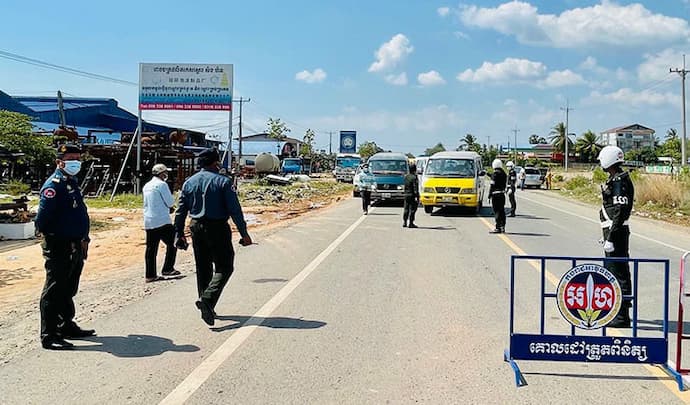 What are the fines for breaking the rules?
The sub-decree states that people who violate the measure shall face the penalty stated in Article 11 of the law on "Measures to Prevent the Spread of COVID-19 and other Deadly and Serious Infectious Diseases".
These include up to a $5,000 (20,000,000 Riel) fine and five years in prison.
"The violators, however, may be pardoned or see more lenient penalty if they have informed the health workers and local official or agree to cooperate with them to prevent the spread of COVID-19," says the sub-decree.
Vehicles caught travelling in Phnom Penh in violation of curfew will be impounded, according to a directive issued by governor Khuong Sreng on April 1, 2021.  Sreng said: "We take their cars or motorcycles first. Then we allow them to self-quarantine at homes for 14 days before returning their vehicles. But in case the authorities find that they do not follow instructions, we will enforce punitive measures" reports the PP Post.
New Fines Added – April 2021
In late April 2021, the Phnom Penh City Hall confirmed new fines and measures. Individuals can be fined from $500 to $1,250 for offences, these include:
$625 for disobeying the travel ban.
$500 for meeting in a crowd, including drinking alcohol.
$750 for violators of the prohibition of work, occupation or business activities.
$875 for breaking curfew.
$1,000 for people who violate measures in a lockdown area or an area where there is an outbreak of COVID-19.
$1,250 for transporting unnecessary goods and pose a risk of spreading COVID-19.
Alcohol Ban in Phnom Penh
On April 15th a nationwide ban on alcohol was requested by the Prime Minister.
Initially from April 11-24 in the capital, the sale of alcohol was prohibited at all markets, supermarkets, restaurant, cafés, food stalls and shops. This ban was extended for a further two weeks until May 8th 2021 and extended again until May 22nd.
In addition, all restaurants, cafés, food stores and other F&B businesses will not be allowed to provide dine-in service. Takeaways and delivery services will be allowed.
Phnom Penh and Takmao Lockdown
The capital city and Takmao were placed under a stricter lockdown from 00:00 on April 15 until April 28, 2021.
All businesses in Phnom Penh and Takhmao must be closed down temporarily. Only grocery shopping and other essential trips will be allowed in a persons neighbourhood and emergency visits to hospitals and medical care.
Only travel for authorised professions and businesses,
Travel for groceries and other essential items is allowed with at most 2 persons per household and not more than three times a week.
Food businesses and those providing daily essentials and key supply services such as firefighting, electricity, clean water garbage collection, and emergency services will remain unaffected.
Unofficial translations of the lockdown measures can be found online on a number of FB and Expat groups and on the Khmer Times.
Red Zones  – Phnom Penh
On April 29, 201, the Phnom Penh Capital Administration designated red zones areas in which no one is allowed to leave their residence. The Government will supply basic food and water to those in need.
1. Sangkat Steung Meanchey I, Sangkat Steung Meanchey II and Sangkat Steung Meanchey III in Khan Meanchey
2. Sangkat Choam Chao I, Khan Por Senchey
3. Village 14, Village 16 and Village 17 of Sangkat Boeung Salang, Khan Toul Kork
Siem Reap Curfew
On April 10, 2021, Siem Reap was also placed on a two-week curfew from April 10-23, 2021, which runs from 8 PM until 5 AM.
Business activities for food stalls, restaurants, cafes, bars, and hotels are temporarily suspended
Kampot Curfew
A curfew for Kampot was put in place from 15 April – 21 April 8PM – 5AM and the suspension of the sale of alcohol for 14 days from 16 to 29 April 2021 in Kampot province.
Cambodia Countrywide Travel Ban April 2021
On the evening of April 6th, 2021, the government imposed an inter-provincial travel ban for 14 days until April 20th, which caught many businesses and people in Cambodia off guard. The travel between Phnom Penh and Kandal province is not affected.
How will be businesses be affected?
All tourist attractions in Cambodia are closed for 14 days from 6-14 April 2021.
The Ministry of Labour confirmed that factories and enterprises will be issued transportation passes to allow them to travel to work between provinces. (Workers must carry their staff ID card and Cambodian ID/documents).
Transport & travel is excluded for the following reasons:
Transportation of goods by land, sea and rail.
Garbage/waste trucks.
Transportation of workers to workplaces in factories, enterprises that must have a permit issued by the Ministry of Labor and Vocational Training or the Department of Labor and Vocational Training.
Citizens' trip to the nearest hospital or health centre for necessary and urgent health services (limited of people – no more than 4 for each case).
Travel for other necessary reasons with the permission of the competent authority.
Travel of "public officials at the national level and sub-national level for the purpose of carrying out daily work by showing to the competent forces to check their work ID, mission documents and other related documents. Armed Forces for the purpose of their work are also exempt reports the Khmer Times.
Public and private hospital ambulances and Fire trucks are not affected.
See more here about the Feb 20 Phnom Penh Community incident and the vaccines in Cambodia.