The National Bank of Cambodia (NBC) with its Bakong app, has launched a real-time funds transfer service between Malaysia and Cambodia with Maybank's MAE app.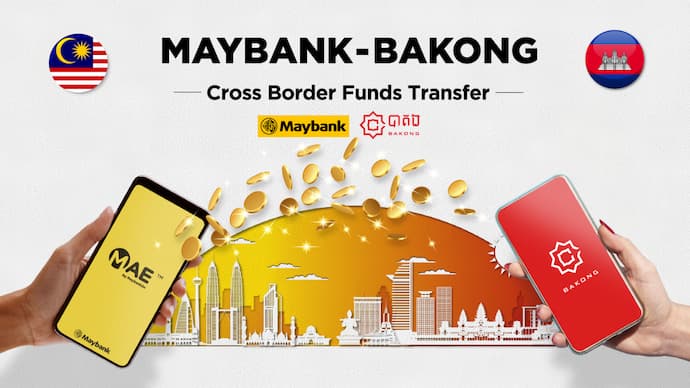 The agreement between the two banks' e-wallets allows for transfers of up to USD $2,500 (or RM10,000 equivalent) daily for cross border and remittance payments.
This service "would allow Maybank customers to transfer funds directly to NBC's customers using mobile numbers registered under their Bakong e-wallet." On the launch, the service is limited to fund transfers from Malaysia to Cambodia, while transfers from Cambodia to Malaysia are set to be introduced at a later date.
NBC technical director-general Chea Serey said "The collaboration is just a beginning and I am sure there will be more that we can do together – for instance, for now, it is a one-way transfer, but we also work on both-way transfers where people from Malaysia can also send money from Bakong to their Maybank App to the local one in Malaysia.
"We also explore other QR code payments for tourists – now it's remittance, but we can also explore the local currency. At the moment, it is limited to ringgit-to-US-dollar but … one of the main messages of Bakong is to make use of the local currency, making it easier for the people – more convenient" reported the PP Post.
These deals should allow for faster and more convenient real-time money transfers between the two countries. Maybank will waive all the service fees for all transfers made until Dec 31, 2021, they confirmed.
Maybank Cambodia CEO Datuk Mohd Hanif Suadi opined the cross border fund transfer will address longstanding issues of high transfer fees and lengthy transaction time and would help ease the burdens of Cambodians in Malaysia.
Malaysia was the fourth most popular international source of remittance in 2020 and accounted for1.4 per cent of all inbound funds, reported the National Bank of Cambodia.
Bakong is exploring digital payments with a number of regional countries after it implemented a rollout incorporating many leading banks and financial institutions within Cambodia.
However international payments to and from Europe, US, Australia and other popular destinations are still expensive and sometimes limited for people living in the Kingdom. Popular international money transfer choices include Wise (formerly Transerwise), PayPal (with limited functionality), Western Union, MoneyGram and via the Cambodian banks – but many of these still carry expensive transfer fees and cant be done only via an app.