Six business chambers in Cambodia have formed the Cambodia Confederation of Investors Association (CCIA) with the aim of promoting economic growth and investment opportunities in the Kingdom.
The launch of the CCIA took place in Phnom Penh and the event was attended by Eldeen Husaini Mohd Hashim, Malaysia Ambassador to Cambodia; Cherdkiat Atthakor, Thailand Ambassador to Cambodia; Kasmirhan Pengiran Tahir, Brunei Ambassador to Cambodia; Teo Lay Cheng, Singapore Ambassador to Cambodia; Buakeo Phumvongsay, Lao Ambassador to Cambodia; Norodom Naritihipong, Ambassador with the Secretariat of His Majesty the King; Kha Leng, Secretary of State of Ministry of Commerce; Salah Essa, Secretary of State of the Council of Ministers; and Chhin Lieng, Secretary of State of Ministry of Information.
There are already dozens of business chambers in the country, some are country and region-specific, but most have the same ambitions – to increase business ties and drive investment in Cambodia and the CCIA has yet to clarify what their point of difference will be.
The CCIA said it aims to establish a resource platform among the different chambers,  support investors by facilitating communication and collaboration, provide information and resources, and offer training and consulting services.
The CCIA founder and Chairman is Neak Oknha Ly Kun Thai and comprises the following chambers:
Cambodia Chinese Commerce Association (CCCA)
Cambodia Footwear Association (CFA)
Cambodia Travel Goods and Leather Association (CTLA)
China Sichuan & Chongqing Chamber of Commerce in Cambodia (CYZSH)
Malaysian Business Chamber of Cambodia (MBCC)
Singapore Club Cambodia (SCC)
Chairman Neak Oknha Ly Kun Thai said at the soft launch "The joint cooperation is expected to bring new achievements to the country and bring success to each other."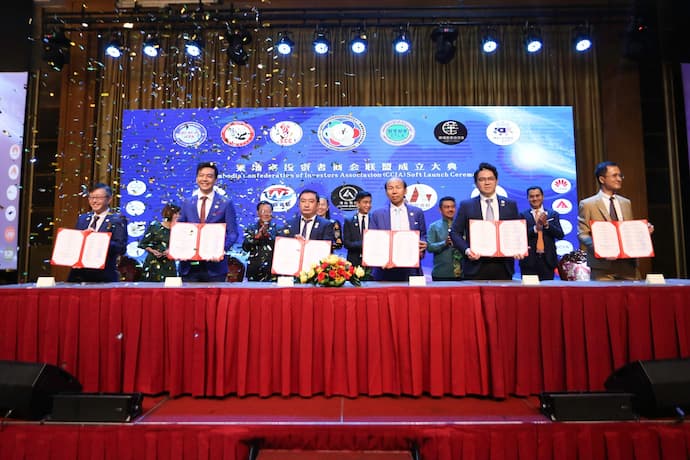 The Malaysian Business Chamber of Cambodia said the soft opening launch of the CCIA "was a huge success…with over 500 guests from various chambers in Phnom Penh attending".
The Khmer Times added that Malaysian Business Chamber of Cambodia President Oknha Tan Khee Meng said, "The CCIA aims to protect and assist foreign investors in Cambodia, while also uniting and integrating their needs. We understand the challenges that investors face in a foreign country, and we strive to provide them with the necessary support and resources to succeed."
Business Chambers in Cambodia