Media reports in May suggest that the Cambodia Tourism Ministry expects the Kingdom to attract as many as one million international tourists and eight million domestic trips by the end of 2022 – with a return to pre-pandemic levels by 2025.
However, as many industry experts have already acknowledged, there are several global factors that could diminish these expectations.
Since Cambodia opened its borders to international travellers in November 2021 and continued to reduce restrictions through the first half of 2022 – there was a visible uptick in tourism.
See more here on visitor data to Cambodia released for Q1 2022
Now as the country moves into its annual rainy season by the end of May, which also signals the quiet tourist season, there are already visibly fewer tourists on the ground in the capital, Siem Reap, and getaway destinations such as Kampot or Kep.
In addition, the global threat of inflation, the ongoing conflict in the Ukraine, persistent supply issues, tumbling stock markets that are struggling, as well as persistent COVID issues in China are all adding to financial strains on potential travellers' confidence in spending money on travel – despite most being denied the opportunity to do so for nearly two years.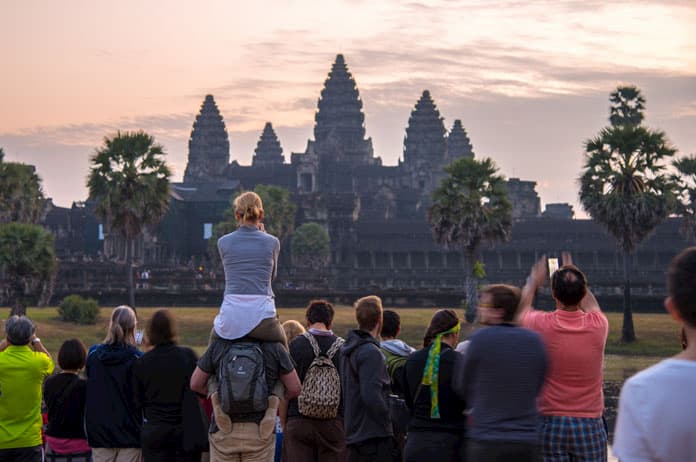 What are the Cambodian Ministry of Tourism forecasts for 2022-2023?
The Ministry of Tourism (MoT) press release on the status of Cambodia's tourism sector suggests they expect a return to pre-pandemic levels by 2023 for domestic trips with 11 million tourists anticipated. They anticipate seven million international tourists by 2025.
The tourism data pre-pandemic suggests the country was on course for 7.5 million inbound tourists by 2020 (reaching 6.61 million by 2019 – the final year before the pandemic impacted travel).
The Phnom Penh Post reported that the MoT forecasts the "tourist numbers will recover 'rapidly; from August 2022 and announced that Cambodia's priority tourism markets were ASEAN, East Asia, the US and the EU."
Cambodia Hotel Association vice-president Clais Chenda added that Cambodian "hoteliers across the country are continuing to face financial troubles stemming from COVID-19."
Keep in mind that travellers are also returning to visit other SEA nations, most of which have adopted similar light to non-existent travel restrictions as Cambodia by June 2022.
Positive Outlook by 2025
More airlines have been offering and expanding the number of flights and destinations to and from Cambodia in the first half of 2022 too which is a positive – offering travellers a variety of options and catering to various budgets.
The country is also hosting the SEA Games 2023 which is tied into a number of travel and infrastructure projects and should have a massive impact on local and regional tourism for spectators and athletes coming to watch the Games for the first time in Cambodia.
The assumption the MoT is still utilising the Cambodia Tourism recovery roadmap 2020-2025 which was introduced by the end of 2020.