Royal Group, CBS, and Digital Sky have launched the Cambodia TV Alliance after agreeing to a new joint-venture with Bayon Media High System Group and Hang Meas Radio and TV Group in August 2021.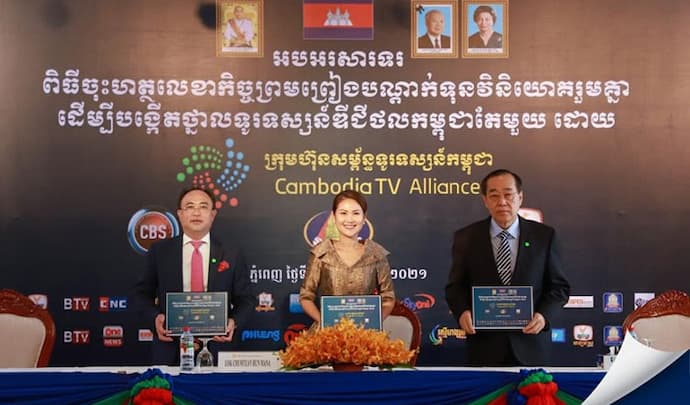 In February 2021, Royal Group's CBS Careers and Digital Sky Multimedia Co., Ltd signed an MoU with Bayon Media Hightech Group and Hang Meas Group which marked the first step to launching Cambodia's largest digital TV platform. The Alliance seems to be a natural progression of journey.
A statement said that "Cambodia TV Alliance will help develop Cambodia in the audio-visual and broadcasting field into a fully digitalized Cambodia following the policies of Royal Government of Cambodia in achieving digital socio-economic Cambodia for Digital Industry 4.0."
A statement added that the Alliance will better equip the Kingdom to keep pace with ASEAN's push towards full digital television and radio broadcasting by utilising "Digital Video Broadcasting — Second Generation Terrestrial" (DVB-T2).
The platform is s proposed to feature a variety of channels to promote knowledge, entertainment, and scenic lifestyle said Royal Group. Hang Meas' Chhay Nguon told the Phnom Penh Post the platform would be capable of broadcasting TV channels in Ultra High Definition (UHD) or 4K formats.
Cambodia is set for digital TV by 2023 based on the strategy of the Royal Government of Cambodia. This will require all private analogue TV companies to use the national digital television platform service and provide broadcasts in analogue and digital systems.
By 2025, broadcasters will switch their analogue signals off after this period of simulcast service, or "dual illumination".
You can read more about how Cambodia is embracing technologies.