Cellcard (CAMGSM Plc.) successfully listed its Class A common stock on the Cambodia Securities Exchange (CSX) on June 27, 2023, following its initial public offering (IPO) which sold 9,271,206 shares.
The Cambodian telco said via a press release that proceeds from the IPO – which generated around USD $5 million – will be "invested in network coverage expansion, service quality enhancements, innovations development towards enhancing its customers' digital lifestyles, and to prepare for the next technological wave such as 5G with network upgrades necessary to meet the growing demand for high-speed and low-latency connectivity."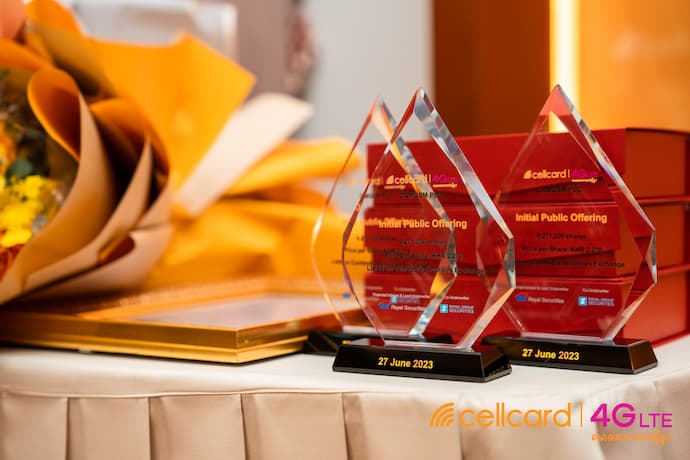 Cellcard's CEO Simon Perkins said of the listing and IPO, "Cellcard has been a key player in Cambodia's development providing reliable and affordable communication services to millions of customers. As a brand, Cellcard stands for quality, innovation and social responsibility. As a service provider, Cellcard offers a wide range of products and solutions to meet the diverse needs of the Cambodian market."
The IPO gained interest among local and international investors and the company held IPO roadshows in Phnom Penh, Siem Reap, Battambang, and Sihanoukville, as well as internationally in Taiwan and Hong Kong.
The CEO added: "On behalf of our Chairman, Neak Oknha Kith Meng, I would like to welcome all the new Cellcard shareholders and express my gratitude for their trust and confidence in Cellcard's vision and strategy. This is a new beginning for Cellcard, as we embark on a journey of innovation and growth. We have a clear roadmap to achieve our goals and deliver value to our customers, partners and stakeholders."
Shareholders who are either Cellcard subscribers or non-residents are eligible for a 7% annual dividend, which will be paid quarterly for five years confirmed the company.
Watch more to find out about Cellcard's IPO Listing & Everything You Need To Know
Cambodia Securities Exchange (CSX)
Hong SoK Hour, CEO of the Cambodia Securities Exchange said earlier in 2023 that they expect a number of companies to list this year and that by May 2023, four SMEs were working with the Cambodia Securities Exchange (CSX) to list on the local bourse to raise funds and expand operations.
The Securities Exchange Regulator of Cambodia (SERC) reported that the bourse saw seven new listings in 2022 and two in 2021. In total, 18 corporate securities are featured on CSX comprising of nine stocks and nine bonds before the Cellcard listing.
CSX has set some very ambitious growth targets for 2023 which include listing 14 new firms, as well as doubling daily trading volumes to $1 million and even triple the number of registered trading accounts to 15,000.
The number of trading accounts on CSX reached an average of 40,000 in the first four months of 2023, while overall trade volume decreased to $300,000 per day. Hong Sok Hour said that the average trading account is expected to increase to 50,000 accounts by the end of 2023.