The Peak, which aims to be a high-end and prestigious shopping complex in Phnom Penh, has announced it has signed lease agreements with international fashion brands; Clarks, AIGNER, and Paul & Shark. Japanese eyewear brand OWNDAYS has also signed on.
The signing ceremony was confirmed by The Peak on its social media platforms and was held at The Peak's VIP lounge on the 55th floor in Cambodia's capital with Pierre Balsan, Managing Director of WB Bluebell (Cambodia) and Mr. William Issarariddhi, CEO of ISSARA SYNERGY CO., LTD, in attendance.
The Peak is developed by a joint venture of WorldBridge and Singapore-listed Oxley Holdings Ltd, at an estimated cost of $580 million. The mall company added more information on the three fashion brands, saying:
Clarks – Hailing from Somerset, England, the shoemaking pioneer has been operating since 1825. "Clarks invented modern-day shoemaking and continue to be one of the world's most crafted and innovative footwear brands."
AIGNER – Known for magnificent craftsmanship, high quality, and timeless design, AIGNER is now a well-known international luxury brand.
Paul&Shark – An Italian brand which has "grown to become a comprehensive smart casual and luxury sportswear brand known for the quality of its garments."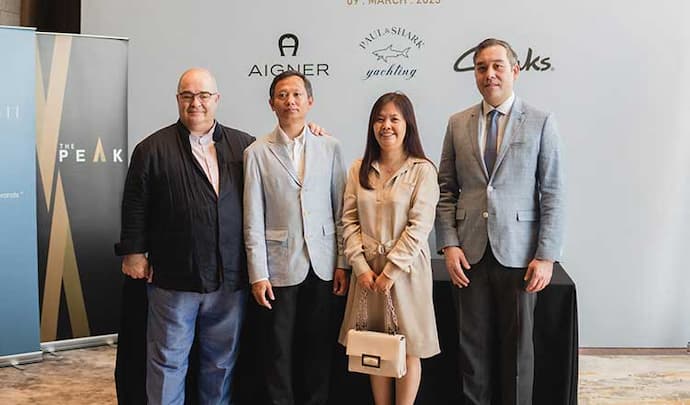 On March 13th 2023, Japanese brand OWNDAYS, which offers eyewear, also confirmed it had signed on to enter the Cambodian market at The Peak.
Luxury Brand Market in Cambodia
The Peak will open the Kingdom's first Shangri-La hotel and luxury shopping mall with over 25,000 sqm and intends to feature top global luxury brand flagship stores.
Phnom Penh, as the capital city and main economic hub of Cambodia, has the biggest potential for growth in luxury demand in the Kingdom. 
In the Asia-Pacific region (APAC), Knight Frank wrote that based on the 2022 Wealth Report, between 2021 to 2026, APAC is forecasted to experience the most significant growth in the population of High Net Worth individuals (HNWI) at nearly 60% and Ultra HNWIs at 32.7% and that the region is also expected to be the largest regional wealth hub by 2026.
A number of high-end sports and luxury automobile showrooms are prominent in the capital, while many luxury brands such as Brioni, Balenciaga, Burberry, Bottega Veneta, Canali, Clarins, Christofle, Dolce&Gabbana, Salvatore Ferragamo, Frette, Hugo Boss, L'Occitane en Provence, Moncler, Poltrona Frau, Stefano Ricci, and Santoni have entered the Cambodian market and more continue to do so.
Read more about the state of the shopping malls in Cambodia.