With the rapid urbanisation and expansion of the capital of Cambodia, we look at the shopping malls that are popping up across the city of Phnom Penh.
These include new mega malls and smaller urban retail hubs and community malls that cater to localised suburbs and communities, offering modern buildings and a range of existing popular and new brands from Cambodia and the region.
In recent years more than a dozen malls have opened in Phnom Penh, including Aeon Mall 2, The Park, Chip Mong Noro Mall, Prince Plaza Mall, Eden Garden, and Olympia Plaza Mall.
On our comprehensive list, there are at least a dozen more malls being developed in the city.
Updated December 2021
Is Cambodia good for shopping?
Cambodia has improved drastically in terms of shopping. Previously many expats and Cambodians would venture across the borders to Vietnam and Thailand for a lot of retail therapy and because some products were more easily available and affordable.
In terms of international brands and franchises, Phnom Penh has seen a rush of household names enter the market. Beyond some of the popular global brands, regional powerhouses and locally produced products and retail outlets have spoiled shoppers for choices.
Admittedly there are still some shortfalls, such as larger western clothes sizes, but the situation is constantly improving, while electronics, mobile phones, cars, bikes and many more items are readily available.
What can you buy in Phnom Penh?
There is little you cant buy in Phnom Penh. Although some international brands such as IKEA still don't operate in the Kingdom, and online shopping is still relatively far behind its neighbours in SEA, there have been giant strides in making a range of retail products more accessible.
There have also been international duty-free retail complexes enter the capital, which traditionally could only be found on the border towns of Cambodia. This means luxury items products such as cosmetics, watches, and some clothing brands can be purchased duty-free.
Franchising has also become popular and offers business opportunities with international brands like Starbucks, Burger King, Carl's Jr., Circle K, Cold Stone Creamery, Domino's Pizza, Krispy Kreme, Pizza Hut, and more all entering the competitive scene in Cambodia.
Franchise opportunities in Cambodia
There are still plenty of Cambodian franchise business opportunities in the Kingdom of Cambodia. The new malls in the capital, which are even bigger and offering more retail space will see the expansion of existing franchises in the country, but many regional and international brands are also still absent from Cambodia.
In addition, local franchises also offer business opportunities as some brands like Brown Cafe gain prominence.
Some of the more prominent franchise brands to have entered the market include Carls Junior, Cold Stone Creamery, KFC, Burger King and more from the U.S.A, The Pizza Company from Thailand, BBQ Chicken from South Korea, ChatTime from Taiwan and Café Amazon, a coffee shop chain owned by Thai oil and gas giant PTT Plc which has expanded rapidly in Cambodia.
7-11 is the latest international franchise set to enter the Cambodian market in 2021.
Phnom Penh Shopping Malls 2022
There are more than a dozen shopping malls in the capital with many more planned until at least 2023.
The Mall Company, a retail specialist in Cambodia, released a report providing insight and analysis into the current and future retail landscape in Meanchey and Chbar Ampov. Realestate.com.kh looked into the areas with malls opening between 2021-2023.
Here we look at main malls in operation and being constructed in Phnom Penh, Cambodia.
AEON Malls
AEON Mall Phnom Penh
AEON Mall Phnom Penh was built by AEON MALL, a specialist shopping mall developer from Japan, and it was the first Aeon Mall to open in Cambodia in 2014.
The mall in Tonle Bassac covers 68,000 sqm, is air-conditioned and has local, regional and international brands and retail outlets, a food court, a bowling alley, gym & movie theatres.
In July 2021, the mall announced it would be expanding and adding 30 stores with an extra 27,000 square meters, increasing the overall size to62,000 square meters. 70 vehicles park spaces will be added to bring the total capacity to 2,370 vehicles.
The expansion is expected to be complete by 2023.
Operating hours: 9 AM – 10 PM
Location: 132 Samdach Sothearos Blvd (3)
AEON Mall Sen Sok City
AEON Mall Sen Sok City was the second-largest mall to be opened by the AEON MALL group in 2018 in Phnom Penh, Cambodia.
Also known as AEON 2, the shopping mall has over 100 shops, movie theatres, dozens of F&B outlets, and food courts and covers 85,000 sqm.
Sen Sok is a district in the northwest of Phnom Penh's city centre that is growing and modernising quickly and is a hotbed for development.
Operating hours: 9 AM – 10 PM
Location: St No. 1003 Village Bayab Commune
The Point Community Mall
The Point Community Mall is a mixed-use development in Phnom Penh's Chamkarmon district, located on Mao Tse Toung Boulevard. The mall underwent major renovations from 2019 to 2020 and was completed in Q2 2020.
The urban mall offers office and retail space and the developers say it "is sensitively designed as a destination retail experience as well as a park." The project is composed of a 2,200-square metre community mall and a 9,200 sqm office building.
Po Sothearak, The Point chairman said "The Point will become a business community centre. The Point is designed to make life and business more convenient and more fun. All the basic needs of people and businesses have been taken into consideration."
There are parking spaces for 200 cars and hundreds of motorcycles and bicycles.
Opening hours: 8 AM – 6 PM
Location: No.#113C, Mao Tse Tung Blvd.
Midtown Mall
The community shopping mall is located along St.2004 in the capital and Midtown Mall was opened in 2019.
The mall has well-known Cambodian F&B and retail outlets as well as a Legend Cinema. It has a strategic corner location along a major Phnom Penh road that makes it very accessible to visitors from around the capital.
Opening hours: 8 AM – 9.30 PM
Location: City Center Boulevard
Eden Garden Phnom Penh
Eden Garden Phnom Penh mall opened in 2018 and is located in the Phnom Penh City Centre (PPCC) and offers over 5,000 square meters of retail and dining spaces in an open-air design.
There are also movie theatres, sports facilities and night clubs in this centrally located mall.
Opening hours: 24 hours
Location: City Center Boulevard, Sangkat Srah Chak
Exchange Square
Exchange Square is a mixed commercial and retail shopping mall which opened in Phnom Penh in 2017 and is designed for the business, shopping and leisure-time needs of Cambodia's growing middle class.
There are food and drink outlets, grocery stores, a cinema and some international brands at the mall in Phnom Penh. The Phnom Penh Hard Rock Cafe is also located at Exchange Square.
Opening hours: 9 AM – 9 PM
Location: 106 (corner) st. 61, Sangkat Wat Phnom
Olympia Mall
The Olympia Mall is located centrally in Phnom Penh, surrounded by residential and commercial buildings (The Olympia City development) and offers food, drink and entertainment choices.
Shoppers can find restaurants, a food court, health and beauty products, cinema, cafes and more in this Cambodian mall.
In late 2019, Olympia Mall's developer announced a further expansion of the mall as part of a "second phase" development.
Operating hours: 9 AM – 10 PM
Location: Monireth Blvd (217), Sangkat Veal Vong, Khan 7 Makara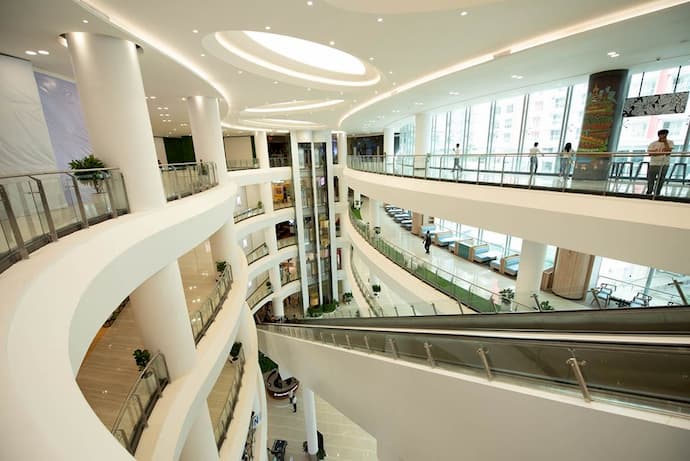 TK Avenue
TK Avenue is a boutique shopping mall located in Toul Kork, on the corner of streets 315 and 516, and branded itself as the first upscale lifestyle shopping mall in Cambodia.
There are national and international brands, food, entertainment, play areas, and environmental beauty, Banks and ATMs.
The parking spaces are well managed and kept safe by a modern security parking system, security cameras and professional security guards at all the times.
There are more than two dozen retail outlets, grocery stores and a cinema at TK Avenue.
Operating hours: 9 AM – 9 PM
Location: Corner Street of 315 & 516
Samai Square
Samai Square opened in 2020 and is a premium food mall in Toul Kork. There are over a dozen dining options with food and brands from around the globe, and of course Cambodia. The eclectic options also include bars and there is also a Prime Cineplex to watch movies.
Operating hours: 9 AM – 10 PM
Location: 2 Street 337, Sangkat Boeung Kok 1, Khan Toul Kork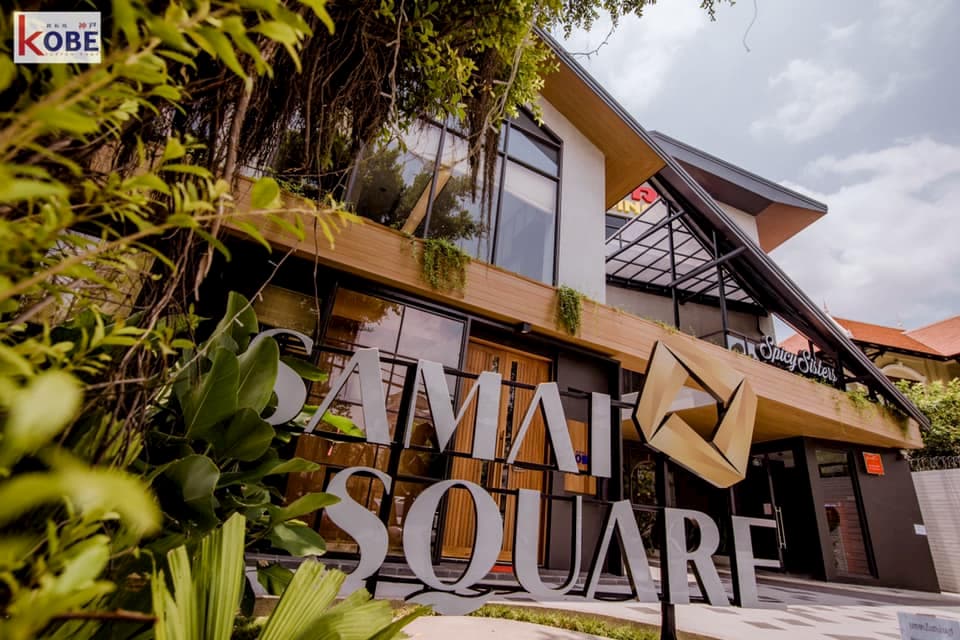 Khalandale Mall
The new Khalandale Mall opened in mid-2020 but there is little information about the Phnom Penh community shopping mall.
It is located in Boeung Kok, near to Eden Garden and already has retail and F&B outlets open with more planned.
Operating hours: 9 AM – 10 PM
Location: Street K5, City Center Boulevard
Vattanac Capital Mall
The mall within the iconic Vattanac Capital building in the capital has a select number of exclusive and high-end brands and some F&B outlets. The building itself, the Vattanac Capital Tower is a 187.3-metre 39-storey building but the retail outlets are mainly on the ground and first floor.
Some of the highly regarded brands to have featured are Hugo Boss, Jimmy Choo, as well as other high-end cosmetic and clothing brands.
Operating hours: 9 AM – 9 PM
Location: No. 66, Monivong Boulevard
CDF Cambodia Duty-Free Store
The duty-free shopping mall offered by CDF Cambodia and in partnership with NagaWorld offers over 200 luxury global brands. The mall is the first underground retail gallery in Cambodia and is located on NagaCity Walk connecting NagaWorld 1 and 2.
According to NagaWorld, there are "genuine luxury products including perfumes, cosmetics, fashionwear, handbags, luggage, accessories, jewellery, sunglasses, watches, liquor, tobacco, travel accessories and confectioneries."
Operating hours: 10 AM – 10 PM
Location: Samdech Techo Park, Naga Citywalk
WB Arena
WB Arena is an outdoor retail and entertainment concept in Phnom Penh located between the Tonle Bassac River and National Road 2 which opened in 2019.
WB Arena features restaurants, bakeries, coffee and tea shops and different entertainment activities. The shopping market has 90 stalls offering a wide selection of fashion and beauty products and a local food court. In total there are 28 F&B stores, 12 foodcourt stalls and 12 entertainment areas.
The WB Arena is set up for the expected future growth of water taxis, private boats and boat tours in the capital. There are also over 400 parking lots.
Operating hours: 6:00 AM – 10:00 PM
Location: National Road 2
Chip Mong Bak Touk Centre
The Chip Mong Bak Touk Centre is located at Czech Republic Blvd (St, 169) corner St, 167, Sangkat Veal Vong, in Phnom Penh.
The mall has 8-levels and offers a wide range of retail space, offices, a bank, a convenience store and F&B options. The Grade B office space at the Bak Touk Centre is available over 5 floors with a rooftop terrace on top of a 3 storey retail podium. There is also a basement car park.
Operating hours: 9 AM – 9 PM
Location: Czech Republic Bvld (St, 169) corner St, 167, Sangkat Veal Vong, Khan 7 Makara
Chip Mong Noro Mall
The Chip Mong Noro Mall is located in BKK1, along Preah Norodom Boulevard, and offers grocery, close to a dozen F&B outlets, and select retail stores as well as a Legend Cinema.  The mall was officially opened in December of 2019.
On its Facebook page, it says "Chip Mong NORO Mall is a lifestyle boutique mall located in the Boeung Keng Kang 1 District, one of the most desirable neighbourhoods in Phnom Penh, Cambodia. It is positioned to serve the middle to upper-middle SEC in the BKK 1 and Tonle Bassac areas."
According to CBRE, the mall covers 7,900 sq.m. of net leasable space spanning 6 storeys. There are 114 car parking spaces, and 375 motorbike parking spaces at the Noro Mall.
Operating hours: 9 AM – 10 PM
Location: #199 Preah Norodom Blvd (41)
Sorya Center Point
The centrally located shopping mall was given a major renovation in 2016, costing $5-million and it was renamed Sorya Center Point from Sorya. The mall is right near to the capital's Central Market.
Sorya has been operating since 2003 in the capital and was the first building to have escalators in the city, so urban legends say.
There are a variety of F&B outlets, retails, grocery stores, a cinema and a rooftop gym at the mall.
Operating hours: 9 AM – 8 PM
Location: #13-61, Street 63, Sangkat Phsar Thmei 1
The Park Community Mall
The Park Community Mall opened in 2018 and is located in Chbar Ampov in Phnom Penh, Cambodia. The mall offers outdoor space and a variety of F&B and retail options.
There is over 4,500 sqm of retail leasable space and ample parking for customers at the mall.
Operating hours: NA
Location: National Road 1, Khan Chbar Ampov
The Bridge Lifestyle Mall
The Bridge Lifestyle Mall is a lifestyle retail podium in Cambodia located in the Tonle Bassac area of the capital which opened in 2019. The Bridge Lifestyle Mall is within The Bridge mixed development building.
The mall is managed by the Mall Company and covers 30,000 sqm of retail space over 5 floors including fashion, electronics, household goods, health and medical, entertainment, food and beverage and services. There are spaces for 200 retail units.
Operating hours: 9:00 AM – 10:00 PM
Location: National Assembly Street (St 78), Sangkat Tonle Bassac
Central Mall
Central Mall – Travel Hub is a Travel and Outdoor focused 3-floor department store offering premium products in the heart of Phnom Penh. The Central Mall is opposite the Central Market.
Operating hours: 8 AM – 7 PM
Location: No. 10, Street 67 Corner 126, Sangkat Phar Thmey II
Boeung Snor Food Village
The Boeung Snor Food Village is a community mall designed to be a destination for family and youth with breathtaking mixed architecture located on National Road 1.
The mall consists of a two-storey building with a wide range of food and beverages,  a supermarket, convenient stores, entertainment, playground and a cinema. There are car parking spaces for 200 vehicles.
The mall is set to open in late 2020 and is 5 minutes from Preah Monivong bridge, near borey Peng Hout Boeung Snor.
Boeung Snor Food Village benefits from a large parking space with easy access.
Operating hours: 9 AM – 10 PM
Location: National Road 1
Due Date: Q3 2020
313 Quayside Mall
The small and boutique 313 Quayside mall was completed earlier in 2020 but due to the COVID-19 outbreak the retail and shopfitting was delayed and by mid-2020, the mall was still not open.
In late 2020, a rooftop tapas bar (Rukkha Sky Bar & Tapas) opened as well as a Starbucks, and two Japanese restaurants, while Eric Kayser moved in by mid-Feb 2021. Pizza 4P's was due to open by July 2021.
The final full selection of shops in the mall is still undisclosed, but its location on the riverside is a key attraction.
Operating hours: Depends on the outlet.
Location: No.313 St. 1 Preah Sisowath Quay
View Park Mall
Located in the Boeung Kak Lake area, central to the capital of Phnom Penh, the four-storey mall will aim to offer a wide array of local and international retail brands, food and beverage options, office co-working space and a sky bar.
In total View Park Mall will cover 9,000 square meters and opened with some food outlets in 2021.
Some of the confirmed outlets include Rosemary Coffee & Flower, Bayon Bakery, Nice Two Meat U (Korean barbecue), Wild Eatery (Western and Asian foods and desserts), and Sweet Dessert Cafe.
In 2022, the international hotel chain Hilton will open nearby, while Eden Garden is already open close by.
Operating hours: 9 AM – 10 PM
Location: Phnom Penh City Center – Opposite Eden Garden mall
Due Date: Soft Opening mid-2021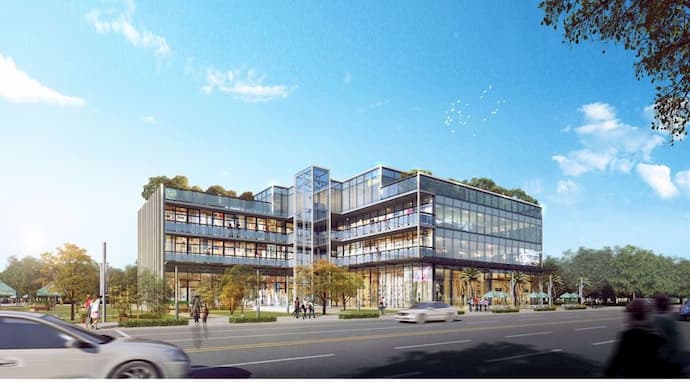 Design Village
Design Village is a home & living one-stop shop, offering both decorations and solutions for home interiors and exteriors. The SCG developed specialist mall will include a mini supermarket, food and drink outlets in addition to a free co-working space.
Retailers including supermarkets, F&B, cafés, florists, boutique homewares and global brands, including Grohe, Inax, Cotto, American Standard and Porcelanosa. The mall will also bring new-to-market brands such as Dream Town by Lunio, Camping Outlet, Wilsonart Laminate, Formica and W&D.
"The 12,000 sqm Design Village offers a kitchen studio, tile gallery, bath showroom, lifestyle furniture, DIY section, lighting, customer service counter, and a free-to-use co-working space" reports Retail & Leisure International.
Operating hours: 8 am to 9 pm Monday to Friday, and will operate extended hours during the weekend and holidays.
Location:  Street 1003, Sen Sok
Due Date: Q3 2021 – Opened 9 September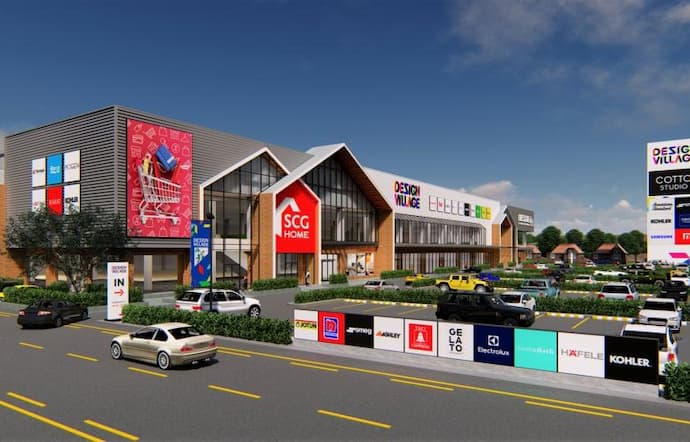 K Mall
K Mall opened on November 5th 2021 on Veng Sreng Boulevard in Phnom Penh at KMH Park, which is close to the Stung Meanchey intersection and Chom Chao roundabout. The mall is developed by Urbanland.
There are more than 40 shops offering home-grown brands, international retailers and a variety of F&B. Some of the well-known franchises and brands already announced on the Facebook page include Brown, Legend Cinema, Lucky Supermarket and Zando.
The developers say K Mall will include "convenient amenities include generous green spaces, plenty of parking and a covered connected walkway."
The KMH Park masterplan integrates residences, retail, office, recreational and green spaces, and the first phase also includes a row of 40 signature shophouses, an office tower, a football stadium, and a leisure park.
The mall will cover 12,000 square metres, and public spaces in the form of plazas and terraces for community activities such as festival markets, weekend bazaars and other community events. There is parking for 700 motorbikes and 300 cars.
Hok Kang, Managing Director of Urbanland Asia Investment Co Ltd. said: "We hope that our shoppers will enjoy the one-of-a-kind concept, modern architecture, with an exciting tenant mixture to cater to the Cambodian lifestyle."
Operating hours: NA
Location: Veng Sreng Boulevard, Trapeang Thleung 1 village
Royal Train Square
Royal Train Square is set to become the first integrated lifestyle and retail train transit hub in Cambodia. The Phnom Penh Train Station is being revitalised, with The Mall Company the exclusive leasing agent for Train Square.
The train station will become a 'Train Square Retail Plaza' focusing on the premium retail market segment cater for travellers, diners and shoppers with 3,000 sqm of retail space over 4 floors.
Royal Train Square was set to officially open in May 2021 but was delayed due to the COVID-19 situation and had a soft opening towards the end of 2021.
Operating hours: NA
Location: St 93, Phnom Penh Train Station
Due Date: Opened Q4 2021
Phnom Penh malls under construction 2020-2023
AEON Mall 3
AEON Mall 3 is planned to be a five-story shopping centre with a parking facility over 170,000 square meters, the largest of the three AEON Malls in Cambodia.
It is expected to be completed in 2023 at a cost of USD$289.6 million.
Operating hours: NA
Location: Chak Angre commune, Meanchey district.
Due Date: 2023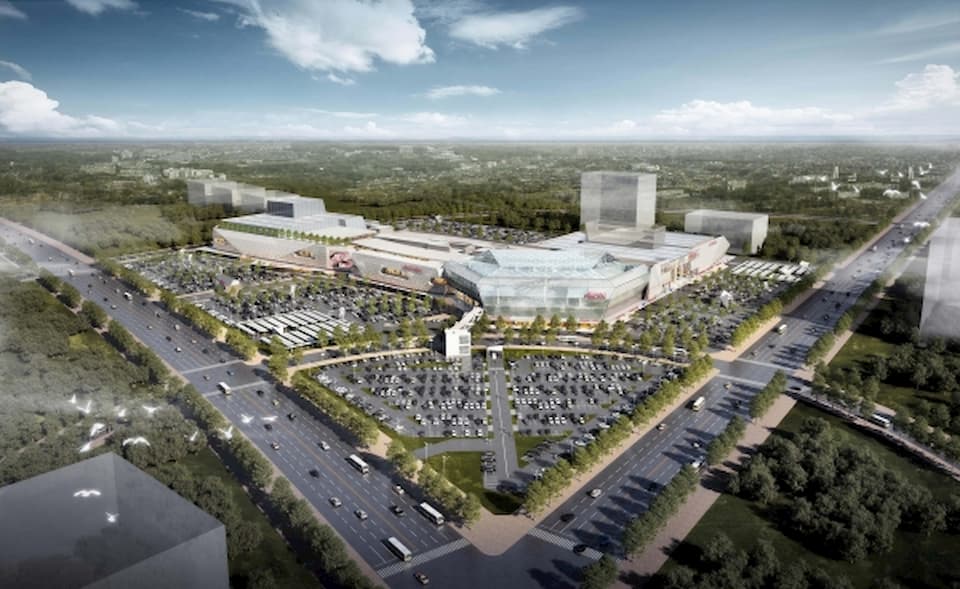 Downtown 93 Lifestyle Community Mall (DNT 93)
The DNT 93 Community mall is being developed on the intersection of Monivong Blvd (St.93) and Khemrak Phoumin Blvd (St. 271), near Tonle Bassac II restaurant.
The lifestyle Downtown 93 Lifestyle Community Mall is situated in a residential area and will provide F&B, and retail outlets, a sky bar and a gym available for the community.
NOTE: There has been no update for some time so it's possible this development has been scrapped.
Operating hours: 8 AM – 11 PM
Location: The intersection of Monivong Blvd (St.93) and Khemrak Phoumin Blvd (St. 271)
Due Date: NA
Chip Mong Retail Malls
In July 2019, Chip Mong Group announced that it was investing $300 million on six retail outlets in Phnom Penh, Cambodia. Two of the urban malls have already been completed.
Chip Mong Group chairman Leang Khun had told Khmer Times that "Chip Mong Retail is capitalising on the growing incomes of Cambodians and in the rise of the middle class."
Chip Mong Malls/Retail acting president Stephane Pierron added that "the company is building different types of retail spaces to give costumers more options. The group has community malls, shopping malls, and mix-used buildings."
Chip Mong Sen Sok Mall and Chip Mong 271 Mega Mall are scheduled to be opening in 3rd quarter of 2020.
Chip Mong 271 Mega Mall
The company's biggest mall to date, the Chip Mong 271 Mega Mall is due to be ready by 2022 and is located in Khan Meanchey, Phnom Penh.
In July 2021, Chip Mong said that the construction of the mall was 60 per cent complete, with more than 96 per cent of the building's components assembled. There will be 250 spaces for rent.
Chip Mong 271 Mega Mall is expected to be 150,000 square meters over five floors. There will be car parking space for 2,000 cars and 500 motorbikes.
Operating hours: NA
Location: Khan Meanchey
Due Date: Q3 2022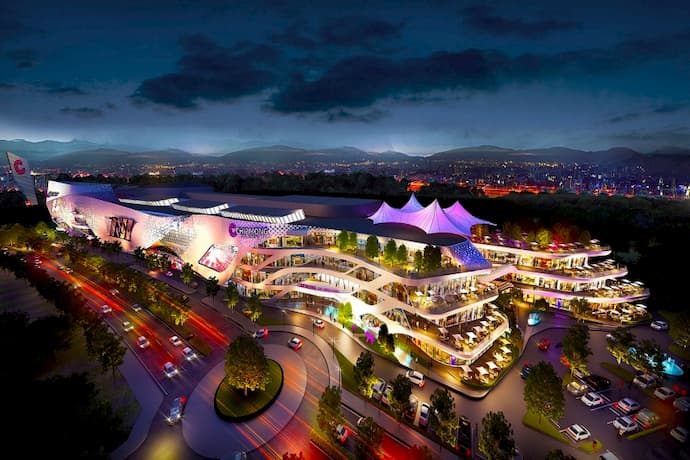 Chip Mong Sen Sok Mall
Chip Mong Sen Sok Mall offers a "mix of different lifestyle brands and services, and a wide variety of dining and entertainment choices that will create positive experiences for the shoppers in the community" according to the mall's Facebook page.
The mall will include a supermarket, a fitness studio, a premier cineplex, speciality F&B, children's playground, food-court and popular fashion/sports active brands.
When completed, the Sen Sok Mall will cover a total area of 40,000 square metres. Chip Mong said "Chip Mong SenSok Mall is the third Mall of Chip Mong Retail, is located along the Oknha Mong Rithy Street, with a height of 4 floors and the extensive parking lot that can be provided to serve you restaurants, coffee, a supermarket, shops that are suitable for all ages, safe entertainment, and even modern cinema. Your long-awaited is almost over".
Operating hours: NA
Location: Sen Sok
Due Date: Q3 2021 (by December 2021 it still had not officially opened).
Sovanna Shopping Centre
Sovanna Shopping Centre is one of the oldest shopping complexes in the city and in mid-2019 it announced it was closing for extensive renovations. At the time it was said, "the building would continue to be a shopping centre, however, offices or other types of commercial space could be included in the next iteration."
The Phnom Penh mall is located in the Chamkarmon district's Tumnup Teuk commune and covers 50,000 square metres across five floors. The mall is currently owned by developer Overseas Cambodian Investment Corporation (OCIC)
Operating hours: NA
Location: 199 Khan Chamkarmorn, St Diamond
Due Date: NA
PH Diamond Place
Peng Huoth Group announced in 2018 it was investing $60 million to build PH Diamond Place Samdech Techo Boulevard with initial plans to open in 2020.
Included in the plans is a new supermarket on six hectares of land and the mall will cover 62,000 square metres with 30,000 square metres of rental space. There will be parking for 2,671 cars and 952 motorcycles.
There seem to have been few updates recently of the planned development but by mid-2021 it still had not been completed.
Operating hours: NA
Location: Samdech Techo Boulevard
Due Date: NA
PH Eco Mall
The second planned mall in Phnom Penh from Peng Huoth Group, the PH Eco Mall will span over 6 hectares of land and be built in the Grand Star Platinum Project within the Boeung Snor Area of Borey Peng Huoth along National Road Number No. 1. The project is worth an estimated total of $200 million.
It was announced in late 2017 and at the time, the PH Eco Mall was said to cover 26,800 square meters of land, solely dedicated to the mall building, with 90,000 square meters available for rent- as well as parking spaces for up to 5,000 cars and motorcycles.
By mid-2021 the development was still underway.
Operating hours: NA
Location: Along National road 1
Due Date: NA
E-Port
E-Port is a mall under development and aims to provide the community with food and beverages, supermarket, cafés, dining restaurants, food court, health and beauty services and offices and a kids playground.
There is over 2,500 sqm of retail space and the E-Port is expected to be completed in 2021. There will also be parking for 50 Cars and 200 Motorbikes.
E-Port is located on Street 105K close to International Phnom Penh Airport.
Operating hours: NA
Location: Street 105K
Due Date: 2021 (w
The Phnom Penh Megamall
Formerly called the Parkson Mall, The Phnom Penh Megamall opening has been postponed a number of times.
The Megamall is located on Russian Boulevard in central Phnom Penh district, and has a total floor area of 47,000 sqm and will be used as a mixed-commercial centre. The building comprising 11 storeys, including two floors below ground.
Retail outlets are said to include, supermarkets, a food court, cafes, fashion, jewellery, cosmetics stores, restaurants, electronic stores as well as child-oriented shops.
The upper floors are set to include bank branches, a health and fitness centre, a cinema (operated by Golden Screen Cinema, who owns the largest multiplex cinema in Southeast Asia), a bowling alley (managed by Megabowl with more than 30 lanes), karaoke and an arcade.
A large parking lot will be able to accommodate up to 1,500 cars and 3,000 motorbikes.
Operating hours: NA
Location: Russian Boulevard
Due Date: TBC
YT Mall
Yuetai International Group's YT Mall is developing a shopping and entertainment centre in Steung Meanchey commune with an area of 30,000 square meters, it announced in 2019.
The YT Mall's design is reported to include an indoor zoo and is expected to open in 2020 but there have been very few updates since 2020.
Operating hours: NA
Location: Steung Meanchey
Due Date: NA
The Peak Cambodia Retail Mall
The Peak Retail Mall will consist of 5 levels of retail space at The Peak mixed development building which will be 55 storeys high in the capital of Phnom Penh.
There are spaces for over 200 retail units and 40 restaurants in the new development.
The integrated mixed-use development will also be home to the Shangri-La Hotel and The Peak Cambodia is developed by Oxley Singapore and the Cambodia Worldbridge.
Operating hours: NA
Location: Village No 14, Samdech Hun Sen Road Tonle Bassac Commune
Due Date: TBC (In late 2020, the retail management company changed)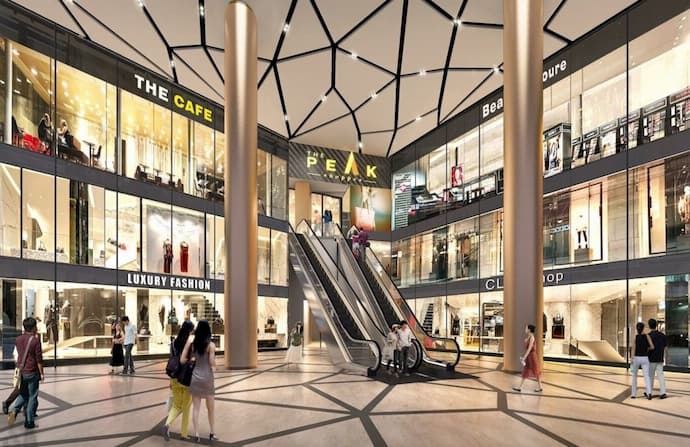 The One Mall
The three-storey Chinese-backed shopping mall is led by The One Mall Management (Cambodia) Co., Ltd, a subsidiary of Chinese firm Ming Sheung International Investment Co., Ltd.
The mall covers 12,000sqm plot near The Bridge building in Phnom Penh's Tonle Bassac district and close to Diamond island. It will consist of shops, a kid's zone, a fitness centre, restaurants and clothing stores.
The One Mall was announced in 2019 with original plans to open in late 2019 but by the end of 2020, it was still not open and its not clear if the development has stopped.
Operating hours: NA
Location: Lot 1, National Assembly Road, Sangkat Tonle Bassac
Due Date: NA
Big Tree Community Mall
Big Tree Community Mall is a new mall in Phnom Penh that is under development on National Road 5.
The three-storey mall will offer boutique-style retail outlets, family-friendly green play areas, and other community gathering and event areas. There is a total of 5,000 sqm of retail space with a maximum of 100 retail stores and an underground car park will be available to customers.
Operating hours: NA
Location: National Road 5, Sangkat Russei Keav
Due Date: Soft Opening planned mid-2021 (it's not clear if the mall has opened or on track to do so).
Prince Square
Prince Square will offer a total floor area of 35,000 square meters of retail space. The four-storey building will have a large supermarket, an international cinema, a fitness club, international restaurants, an indoor playground and fashion stores and more according to the press release from the developers.
In addition, well-known brands and franchises such as like Adidas, Levi's, Skechers, Nike by Supergo, Huawei, OPPO, Potato Corner, Dakasi, Panda Cake and Pizza Hut will be at Prince Square.
Operating hours: TBC
Location: 616, Russian Federation Blvd.
Due Date: TBC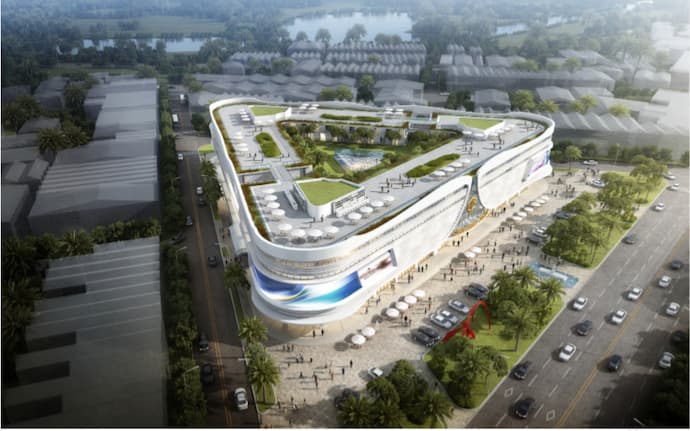 Century Plaza
Century Plaza is planned to be a modern shopping centre in Por Sen Chey and will occupy the Old Market space.
Construction began in November 2019, and the Century Plaza is on track to be completed by the end of Q4 2021. In total, the shopping centre will feature 6 floors and 2 basement levels. A supermarket, food & beverage areas, retail stores, and office spaces have been confirmed.
Operating hours: TBC
Location: Por Senchey (Along the Russian Boulevard)
Due Date: Q4 2021
There are a number of other lifestyle malls attached to large-scale mixed development projects such as at the Orkidē The Royal Condominium.
Other projects were announced in recent years but seem to have had no recent updates. This includes the Tropics Lifestyle Mall which was last updated in 2018 as the retail mall of the Phnom Penh City Centre.