The Phnom Penh-Sihanoukville (PPSHV) Expressway, constructed by the Chinese Road and Bridge Corporation (CRBC) at a cost of USD $2 billion, has surpassed 5.19 million vehicle trips as it marks its one-year anniversary of operation.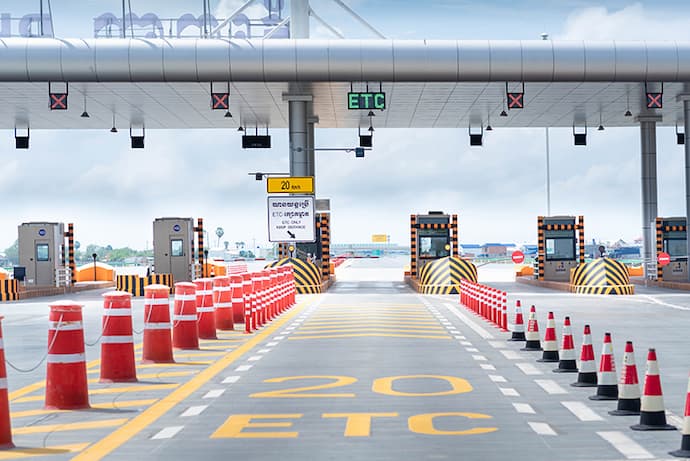 Cambodian PPSHV Expressway Co., Ltd. reported that an average of 13,000 vehicles travel the expressway daily, with numbers reaching up to 17,000 vehicles per day on weekends and holidays.
The PPSHV expressway commenced operations on November 9, 2022, and held its one-year anniversary celebration on November 7, 2023, in the presence of H.E. Sun Chanthol, Deputy Prime Minister, H.E. Peng Ponea, Minister of Public Works and Transport, and Wang Wentian, Chinese Ambassador to Cambodia.
Boosting Logistics And The National Economy
During the event, Chanthol highlighted the expressway's role in enhancing travel efficiency, reducing traffic congestion, and shortening travel time between the capital city of Phnom Penh and the seaport city of Sihanoukville.
He said the expressway acts as an important logistical link between the two cities, and is a vital 'artery' of the Cambodian economy, helping to transform Sihanoukville into a multipurpose economic zone.
The expressway was built as a part of China's Belt and Road Initiative (BRI), under the Build-Operate-Transfer (BOT) model, with a concession term of 50 years.
Chanthol added that Sihanoukville is a key component in the government's development policy, showing potential in tourism, the agro-industry, commerce, transportation, port development and more.
How Much Does It Cost To Travel The PPSHV Expressway?
The cost of travelling the Phnom Penh-Sihanoukville Expressway is USD $24 for a family car and USD $120 for a large truck.
According to an agreement established with the Cambodian government, the current travel rates are only 80 per cent of the full price, which will begin being charged from April 2024 onwards.
Cambodia is also in the process of building another Chinese-funded infrastructure project, the 135.1-kilometre Phnom Penh-Bavet Expressway, which will cost USD $1.3 billion. Construction for this expressway began in June 2023 and is expected to be completed in 2027.
Chanthol has confirmed that two other infrastructure projects are also currently being studied: the Phnom Penh-Siem Reap-Poipet Expressway and the Funan Techo Canal Project, which will connect the capital's waterway to Kampot port.
Read More on Cambodia Transportation & Logistics: