California-based The Habit Burger Grill has entered the Cambodian market in partnership with Kampuchea Tela Company.
The first store opened in October at the Tela Toul Kork Station in Phnom Penh with the location covering two stories, offering both dine-in and takeout.
The first 200 guests on October 16th and 17th, 2020 received a complimentary charburger, French fries, and a drink in the capital.
Iwona Alter, the chief brand officer at The Habit Burger Grill said, "We look forward to creating new Habit fans by inviting them to enjoy our handcrafted chargrilled food delivered in a welcoming Southern California environment."
The company plans to expand across Asia and they have already opened eight new restaurants in China.
In a statement, the company says they are partnering with Kampuchea Tela Company, LTD to develop and operate restaurants throughout the Kingdom of Cambodia.
Madam Chhun Sophearoth, CEO of Amory F&B, a sister company of Kampuchea Tela Company said, "The Habit's excellent brand, best-in-class systems, and experience will help us to go the extra distance to become national leaders in the burger segment."
It was announced in 2019 that The Habit Burger Grill had signed a 25-store development agreement in partnership with Amory F&B in Cambodia.
Inside Retail Asia reported last year that Kampuchea Tela Company CEO Okhna Chhun On said his group was impressed by The Habit Burger Grill for their excellent customer service and they "were excited to bring the Habit experience and great food to the people of Cambodia."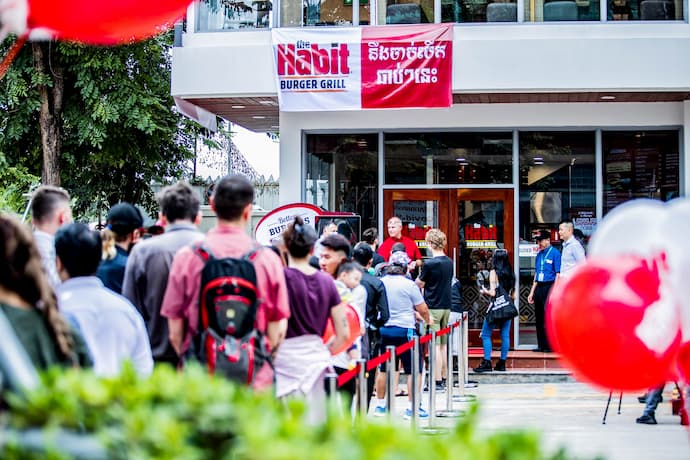 Who are The Habit Burger Grill?
The Habit Burger Grill was founded 1969, in California, USA and the chain is said to be known for its charburgers (USDA choice tri-tip steak, grilled chicken), which are grilled over an open flame, and for a range of signature sandwiches. They also offer sushi-grade ahi tuna cooked.
The Habit Burger Grill is located in 275 restaurants in 14 states in the US, as well as China and now Cambodia.
Kampuchea Tela Company
Kampuchea Tela Company introduced the first petroleum retail in Cambodia in 1993 (Kampuchea Tela) but in the past decade, the Cambodian company has expanded into the hospitality industry with a franchise concept in Singapore, Thailand and Vietnam. They also operate Tela SuperMart.
Amory F&B
Amory F&B seem to be part of the Amory group which also manages real estate and marketing and is in partnership by Kampuchea Tela Company.
International fast-food chains in Cambodia
The Kingdom of Cambodia has seen competition heat up with new international fast-food brands consistently entering Cambodia.
Simon Griffiths, Managing Director of the Mall Company said of the partnership between The Habit Burger Grill and Tela Company, "the gas station/convenience centre format has been around for decades and is being modernised throughout Cambodia. New brands demonstrate the confidence in the model, especially where there are strategic locations. Expect more growth in this retail sub-sector."
A number of household names are already present such as Burger King, KFC, Carl's Jr, and Hard Rock Cafe already vying with local and regional brands such as Lucky Burger, The Pizza Company and more.
in 2019, Louisiana Famous Fried Chicken Cambodia opened in Phnom Penh. Its another popular US chain which opened in 1976 in Los Angeles, USA.
Texas Chicken Cambodia is rumoured to open its first branch in late 2020 or early 2021 in Phnom Penh. The franchise comes from San Antonio, Texas, USA and first launched in 1952. Texas Chicken serves up American Southern-style fare.
Other brands like Hooters have in the past come close to opening in the capital while MacDonalds has never had a presence.
7-11 was the latest international franchise announced to enter the Cambodian market in 2021.
New shopping malls and food delivery apps in Cambodia
The number of new shopping malls in Phnom Penh and across Cambodia is also enticing international franchises to open in the Kingdom.
Some of the more prominent recent franchise brands to have entered the market include Cold Stone Creamery, BBQ Chicken from South Korea, ChatTime from Taiwan and Café Amazon, a coffee shop chain owned by Thai oil and gas giant PTT Plc, has expanded rapidly in Cambodia.
In addition, especially during COVID-19 in 2020, food delivery apps have boomed and are changing customer habits.
Earlier in 2020, we wrote an update on the explosion of new food delivery, grocery delivery apps and websites in Cambodia.
Express Food Group (EFG), one of Cambodia's leading F&B businesses and franchise operators, launched its own food delivery app in the Kingdom in 2020, called HungryApp. They manage multiple franchised restaurants in Cambodia, Myanmar and Laos including brands such as The Pizza Company; Swensen's; The Coffee Club; BarBQ Plaza; Krispy Kreme; Texas Chicken and Dairy Queen (DQ).
You can read more in our guide on Starting a Business in Cambodia.