The corporate training department of the CAM-ASEAN language and skill training institute organised a seminar on 'Creating a Great Company Culture' on October 28, 2023, featuring speakers with varied professional backgrounds and diverse experiences in the corporate world. 
Opening the seminar, the President of CAM-ASEAN, Seang Sopagna, welcomed all attendees and explained that the seminar's main objective was to spotlight the best practices to follow when forming a company culture.
Watch the highlights from the seminar featuring remarks from Anthony Galliano, Group CEO of CIM Holding; Var Monika, Lead Consultant and Lawyer; Suy Sokha, Managing Partner at HRINC; and Jimmy Lim, Chief Business Officer at CB Insurance:
Anthony Galliano, Group CEO of CIM Holding, was the seminar's keynote speaker and delivered a presentation that remarked on several points relevant to corporate culture formation, including on organisational structure, meritocracy, decision-making, formulating employee career paths, and showing appreciation.
What Makes A Great Company Culture?
A company culture is defined as a shared set of values, beliefs, behaviours, goals, attitudes and practices that make up an organisation. Several aspects reflect a company's culture, such as its business hours, a dress code, the office setup, employee benefits, turnover rate, hiring decisions, treatment of employees and clients, level of client satisfaction, and more.
Key to building a company culture that keeps employees happy and motivated to do good work are the three Rs: respect, reward and recognition.
"Respect is by far and away the biggest single factor indicating whether employees are happy with their work culture," said Galliano. "Respect leads to recognition, and recognition should lead to rewards."
Galliano stressed that recognising employees for their hard work should not be seen only in monetary terms and companies should also put effort into celebrating successes to ensure their employees feel appreciated.
"Rewards are not only monetary or financial, it's also recognition to say 'wow, you did a great job!', and it [should be a combination of] small things like work perks, bonuses, promotions, and celebrating success," he said.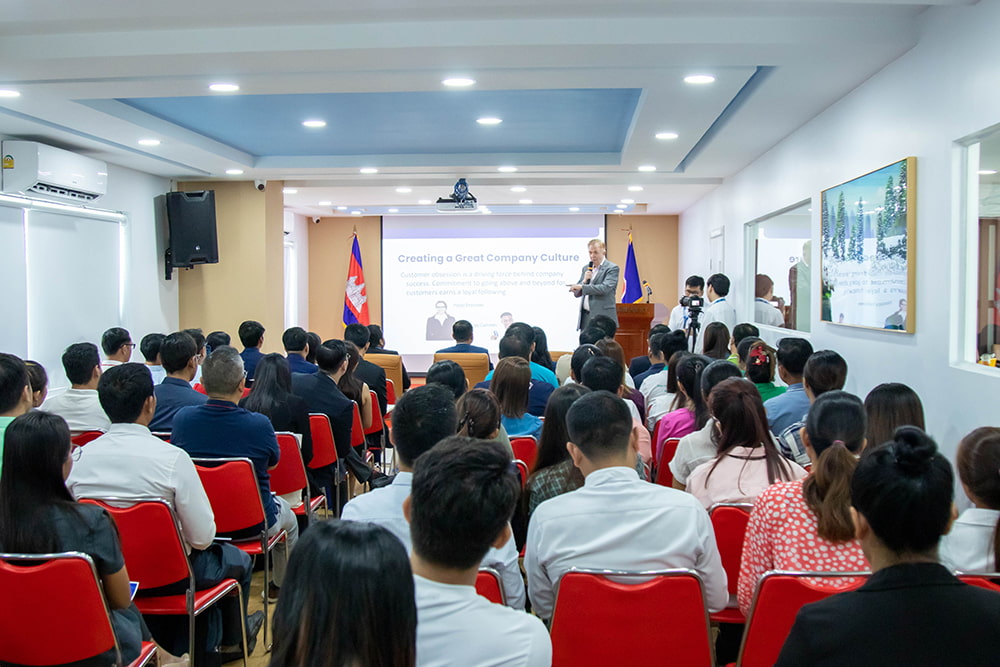 Galliano further emphasised the importance of making employees feel included and involved so that they can feel comfortable sharing ideas and can become more invested in the business.
"Investing is a two way street – invest in your employees and they will invest in the company," he added. "If employees feel treated with consideration, courtesy and dignity, their perspectives taken seriously, then you have a really great company culture to start with," Galliano concluded.
During an interview with B2B Cambodia, Suy Sokha, Managing Partner at HRINC, highlighted how a compelling backstory or vision made well known among all employees can also contribute to building a strong company culture.
"I think making the company's beliefs clear and making a compelling story [is important]," said Sokha. "Put together a story on why you started the company, how you want the company to grow and how you want customers to feel when receiving your service. This is a message that should come from the top, from the founder, and after the managers and division heads can convey this message to all employees."
How A Company Culture Can Define Brand Identity
Jimmy Lim, Chief Business Officer at CB Insurance, highlighted how having a great company culture also reflects on the company's reputation and brand image, which are important for attracting both customers and employees to a business. 
"[The company culture] represents your public image, what you stand for, what you want to do, to create products and services that will be meaningful to consumers," said Lim. "The values a company creates internally will be the same values that connect with consumers around the world… People will make assumptions about companies… based on how they interact with their staff, or the people who are working to deliver services to the companies."
He further added, "Companies with a strong brand identity, borne out of a great company culture, will tend to attract more business and even job candidates who want to work for this company… the best talent will want to work for your company because everybody wants to be part of a great company culture."
Watch B2B Cambodia's interview with Suy Sokha, Managing Partner at HRINC:
Open Communication And Role Clarity
One of the main points stressed by the speakers was the importance of open communication, which contributes to the establishment of clear roles and responsibilities. 
"Communication is very important, I have to stress this," said Var Monika, Lead Consultant and Lawyer. "In order to make a great company culture we have to think about the role of the employee. If we do not know our roles and responsibilities well, and we don't have clear communication…then we can have miscommunications… which will lead to conflict." 
Sokha also noted the importance of communication and role clarity for strengthening the quality of service employees can provide customers.
"We (HRINC) are a service company, so establishing good relationships is very important," said Sokha. "We make sure that each and every one of our employees understands their role very well so that they can build a stronger relationship with the customer."
While speaking with B2B Cambodia, Sokha said leaders should place high value in communicating with their employees at all levels, as it can help to boost morale and a sense of inclusion.
"The CEO has a very busy schedule and there are many communications happening every day, so we cannot expect them to come and talk to every one of us, but definitely, sometime during the year, there should be a voice that we hear from top-down to all employees," said Sokha. 
"On a day-to-day basis, it is the managers and team leaders who have to carry the message from top down, so we need to take care of this group very well to make sure that the message is shared all the way down to the bottom line, to ensure everyone is communicated with and not left out," she added.
How Can Companies Efficiently Navigate A Culture Of Seniority?
During the event's closing panel discussion, an audience member brought up a pertinent point about a strong culture of respecting elders and seniority in Cambodia, which can sometimes impede employees in the lower rungs of a company hierarchy from speaking up or expressing their views to their superiors. The audience member asked the panel for their thoughts on how a company can navigate these corporate social barriers and realistically establish a conducive environment for open communication.
"It has to start from the top leadership, right?" responded Lim. "If the top leadership is already very toxic, engages in a blame culture, and doesn't want to listen, I don't think such a company can grow in the long term."
"The top leaders are the company's role models, just as Jimmy (Lim) said," agreed Monika. "Leaders are very important, so we have to make ourselves supportive leaders, not toxic leaders, it is very important to be a supportive leader." 
Lim, however, also added that this culture of respecting seniority is very present in other Asian societies, which has not impeded many large Asian companies from being successful, or from establishing company cultures that ensure employees are heard.
"Don't forget, if you look at the largest companies in the world right now, I think 20 per cent are Asian companies," he said. "A lot of the Korean and Japanese companies in the Fortune 500 list… come from very strict traditional cultures whereby you have to respect your elders." 
"It's the same everywhere, and I think it doesn't matter whether it is in the Western context or in the Asian context, listening to your people and receiving feedback is important," Lim concluded.
Read More Of B2B Cambodia's Event Coverage: