For many professionals in Cambodia, who want to receive payments from international payment services, for their work as freelancers, digital nomads, teaching online and completing projects for clients based outside of Cambodia, the ease of getting paid is tricky.
Cambodia's range of digital payment service providers has risen exponentially since 2018, as well as the number of digital payment options through e-commerce portals and services within the country.
With the high mobile and internet penetration in the Kingdom of Cambodia, it makes sense that international online transfer options have also expanded.
There are now several methods for receiving international money transfers and payments but some still require face to face interaction with a local bank or branch and so not all methods are fully digitalized, while the biggest hindrance is the range of fees incurred.
You can also read our recent articles on Fintech in Cambodia 2020, the food delivery apps available in Cambodia as well as the digital payment options in the Kingdom.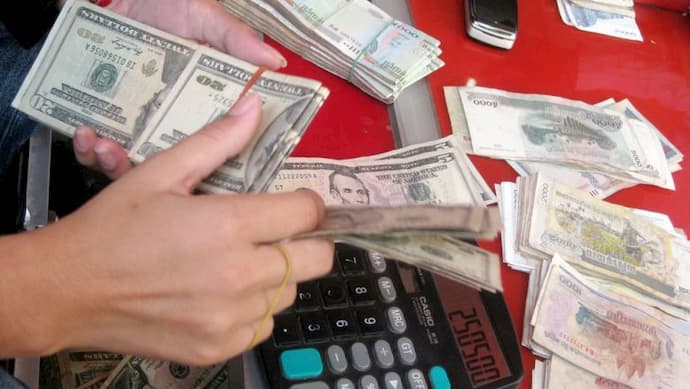 PayPal Cambodia
Why PayPal does not work in Cambodia?
PayPal is available in Cambodia in 2020 but not with all of its functionality. Although the international payment system is used widely globally and is still one of the easiest methods to receive online payments, PayPal does not work in Cambodia 100% and you still cannot receive PayPal payments directly into a Cambodian bank. 
We will try and explain what you can and can't do with PayPal in Cambodia.
Can you create a PayPal account in Cambodia?
Yes, currently you can sign up for PayPal in Cambodia and link your Cambodian bank card to your PayPal account. This can be done online in a matter of minutes, including verifying your Cambodian phone number and local bank account card linked to your PayPal account.
PayPal will deduct a small amount ($1 USD in our test case) from your account. It also means when charges appear on your bank statement, it will also display a code. Once you have the code, enter the code on the PayPal website and once verified, PayPal will credit back the amount they deducted from your bank account.
We used ABA to test this and their website event promotes the fact PayPal does work.
You should be able to transfer money from your Cambodia bank account to your PayPal account and then use the account to pay for items online (or for little to no fees, and to o do online transfers). The actual PayPal card apparently has high withdrawal fees in Cambodia (we could not confirm this.)
PayPal payment options even appear online on local websites such as the Tourism in Cambodia, on the Cambodian airline Lanmei to pay for flights or on Emirates as well as at the nationwide spa, Bodia-Spa.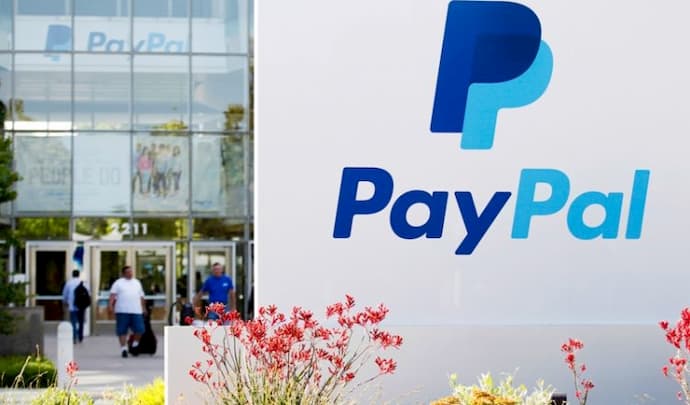 Can I withdraw money from PayPal in Cambodia?
PayPal still does not allow withdrawals in Cambodia. So you can use PayPal in Cambodia but it appears it's limited to paying or sending out money.
Users who opened PayPal accounts in another country linked to an overseas bank account can still access the money, most commonly by doing a transfer to their overseas bank account/PayPal account and withdrawing.
PayPal is not an ideal option for businesses, merchants, freelancers (and digital nomads) wanting to receive payments in Cambodia. 
It is not clear why PayPal still doesn't want to operate 100% in the Kingdom. Maybe a reason is that the World Bank estimated that only 5% of Cambodians have a bank account so they don't see it as a big market? Although that statistic is from 2016 (the number is still believed to be less than 10% of the Cambodian population), the nation is on a rapid trajectory in developing economically and e-commerce is on the rise.
Cambodia also does not appear on PayPal's own "Prohibited Countries" list which limits countries where governing bodies often have regulations and financial sanctions in place that prohibit transactions with certain high-risk countries. 
Another speculation for the reason PayPal won't allow withdrawals could be the fact that Cambodia uses the US Dollar as a primary currency in tandem to the riel, and there are concerns related to anti-money laundering regulations. Although there is a big push being lead by the National Bank of Cambodia to prioritise the riel.
Xoom in Cambodia
Xoom is a PayPal service and you can you use it to send money to Cambodia which you'll need to collect at a bank in Cambodia.
If you have an account with PayPal you can start sending money to Cambodia with your PayPal payment options. You can also use the Xoom app.
Xoom pickup locations in Cambodia include ABA Bank and Sacombank and the Xoom website says there are 143 pickup locations in Cambodia in 2020.
How to send money for cash pickup to Cambodia?
Step 1: Simply enter an amount.
Step 2: Provide your recipient's name, address, and phone number.
Step 3: Select a convenient location for easy cash pickup, including ABA Bank and Sacombank.
Step 4: Easily pay with Paypal, bank account, credit card, or debit card.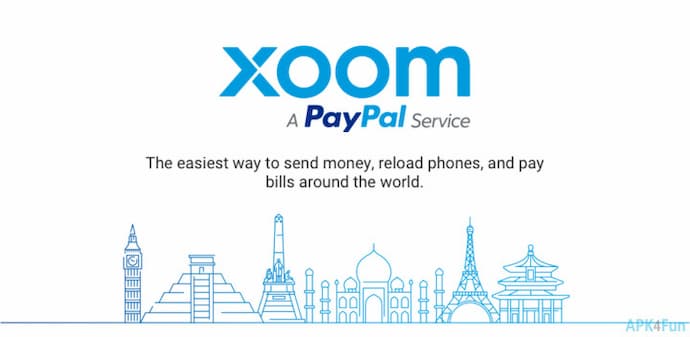 Other money transfer options to Cambodia
There are many services available for cash pickups in Cambodia, some of these we have already covered in our article on Digital Payments in Cambodia.
For most services when you want to collect the cash, you may need to:
Show proof of I.D. where applicable.
Confirm the recipient's full name matches the I.D., bank name and account number.

Confirm recipients location.
The amount sent, plus fees.
Western Union
WU (Western Union) is a well-known money transfer service in the Kingdom. They have all the pickup location options on their website for Cambodia.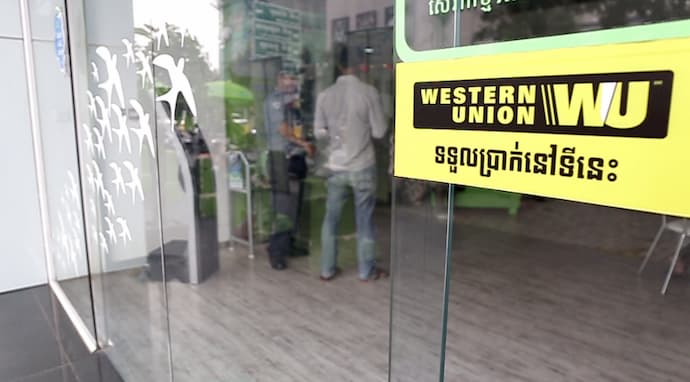 MoneyGram
MoneyGram does allow for funds to be sent to a bank account or pickup. They explain more on their MoneyGram FAQ for sending and receiving money in Cambodia.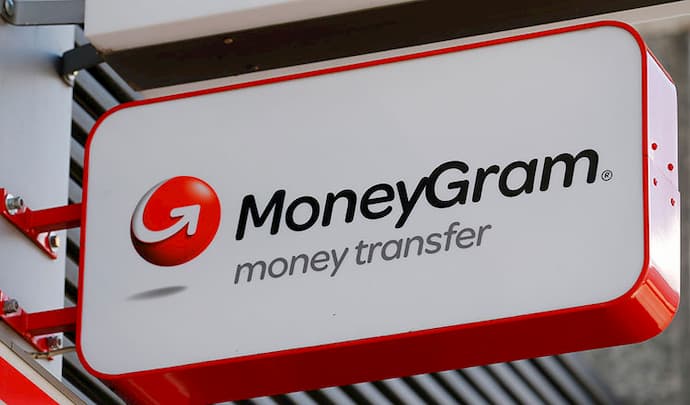 WorldRemit
WorldRemit works in a similar way to WU, and in Cambodia, payments can be picked up or sent to an e-wallet if the recipient has one.
Borderless cards Cambodia
In 2020, Cambodia is on the list of Virtual Visa Blocked Countries which means most popular borderless or virtual multi-currency cards are not currently available in Cambodia. Or, like PayPal, they can be registered for but don't offer the full range of services in Cambodia.
These digital-only banking apps and cards allow for a range of services; such as a MasterCard prepaid debit card or a VISA debit card, fee-free currency exchange, stock trading, cryptocurrency exchange and peer-to-peer (P2P) payments. 
Contactless payment cards are also offered by these digital banks. These are some of the more popular online banks or borderless cards.
Revolut in Cambodia
One of the most popular fintech borderless cards, Revolut can't be opened in Cambodia yet, but a recent article suggests they may make their way to the Kingdom. 
Revolut added Southeast Asian countries in 2020 and the article said: "Revolut will be launching new and direct remittance routes to major countries across Southeast Asia, including India, Malaysia, Indonesia, and the Philippines, and the feature will be available for all cards."
The currencies offered on Revolut include the Singapore Dollar, U.S. Dollar, British Pound, Euro, and Australian Dollar with plans to launch an additional 14 currencies in the coming months, including Indian Rupees, Philipino Pesos, and Malaysia Ringgit.
Users in Cambodia have said they are able to use their Revolut cards in Cambodia if they opened their account and received their physical Revolut card overseas.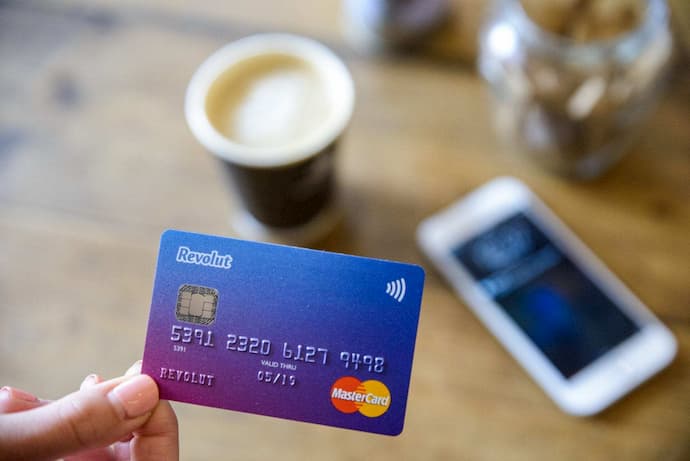 Transferwise
Transferwise is an online account that lets you send money, get paid and spend money internationally and users can get paid in other currencies. You can sign up for an account in Cambodia.
Does Payoneer work in Cambodia?
Payoneer is a cross-border payments platform intended for "businesses, online sellers and freelancers to pay and get paid globally as easily as they do locally." They focus on offering payment options to manage cross-border payments for:
Freelancers and service providers
Online Sellers
Digital Marketers
We have also seen services being offered online in Cambodia who offer taking care of the cross border transactions for a fee and provide advice on how to complete international payments but they should be used with caution. In all cases, it's best to check with the NBC or your local bank about payment options.
There are also many dozens of payment options that enter the fintech marketplace and the situation is fluid, so we recommend looking at what services become available, and always act with due diligence before using the services and check for all fees involved.