The ASEAN Youth Fellowship (AYF) 2023 concluded after being facilitated by the Singapore International Foundation (SIF) and the National Youth Council Singapore (NYC). Forty youth leaders from ten ASEAN member states attended the AYF – so what were the key learnings?
The AYF 2023, which was the fifth edition and ran from 8 October to 4 November 2023, aligned with Indonesia's ASEAN Chairmanship 2023 theme of "ASEAN Matters: Epicentrum of Growth". As a result, the AYF placed a focus on the role of cross-sector collaboration in propelling regional development and the opportunities in an evolving global landscape.
Attendees visited Singapore and Hanoi, Vietnam and were involved in dialogues, panel discussions, and institutional visits, including an exclusive Ministerial Dialogue session with policymakers and thought leaders to explore social, economic and environmental issues, and brainstorm collaborative solutions.
Standout interactions were held with:
Singapore's Deputy Prime Minister and Minister for Finance, Mr. Lawrence Wong
Singapore's Ambassador to the Socialist Republic of Vietnam Mr Jaya Ratnam
Permanent Vice Chairman of the National Committee on Youth of Vietnam (NCYV), Mr Nguyen Tuong Lam
Ambassador Ratnam said at the closing ceremony: "ASEAN is not its leaders, ministers, nor senior officials. It is all of you who are here today. You have a common language to speak of connection, cooperation, and collaboration, and that is the key for us to become stronger and better together. Keep up your courage and passion to rock the boat, break new grounds, defy the odds, and open new frontiers for all of us."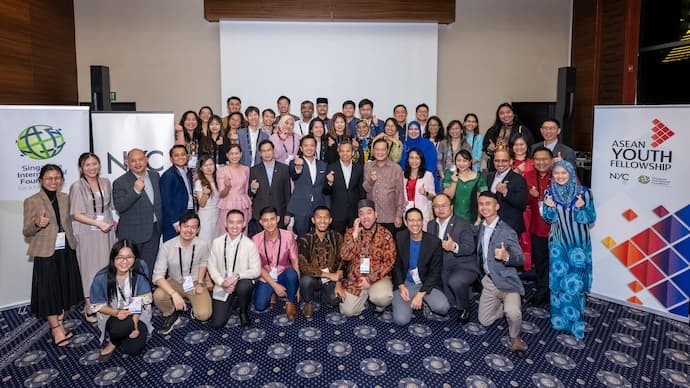 Singapore & Hanoi Site Visits
In 2023, healthcare, food security, sustainability, and digital transformation were all discussed. In Singapore, delegates visited the following:
Centre for Healthcare Innovation – seeks to drive healthcare transformation through collaborative innovations and thought leadership;
Comcrop – Singapore's first commercial rooftop farming company;
Sustainable Living Lab (SL2) – sustainability consultancy and innovation lab which leverages technology as a tool for sustainability;
Repair Kopitiam – community initiative by SL2 which teaches simple techniques to fix broken household items and so, to reduce wastage; and
Changi Airport Group – manages Singapore Changi Airport
In Hanoi, Vietnam:
National Innovation Centre (NIC) Hanoi – to learn how it supports and develops Vietnam's startup and innovation ecosystem
KOTO – a social enterprise that helps at-risk and disadvantaged youth in Vietnam through its hospitality training programme.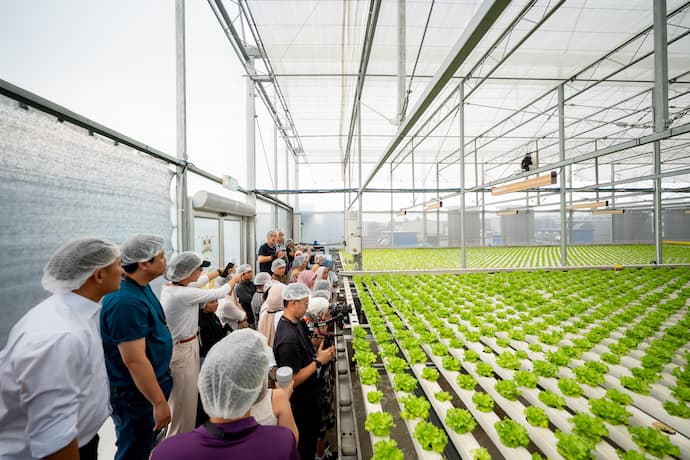 Ms Penhleak Chan, a Fellow from Cambodia, said of AYF 2023: "Through the visits in Singapore, I have come to see the country as the hub of innovation in ASEAN. Instead of simply replicating successful case studies, we were challenged to question assumptions and focus on the process of problem identification. Only then, will we be able to drive effective solutions tailored for each of our communities."
What is the ASEAN Youth Fellowship (AYF)
The ASEAN Youth Fellowship (AYF) aims to promote youth leadership, cross-cultural understanding, and regional cooperation among young people in the Association of Southeast Asian Nations (ASEAN) region.
Typically, young leaders from the ten ASEAN member countries (Brunei, Cambodia, Indonesia, Laos, Malaysia, Myanmar, the Philippines, Singapore, Thailand, and Vietnam) convene and share ideas on nurturing leadership skills, fostering cultural exchange, and building networks.
The AYF global alumni network now includes 157 Fellows and they say there has been a "more than ten-fold increase in applications in 2023".
The AYF typically covers topics such as sustainable development, entrepreneurship, innovation, social issues, and regional integration. By promoting cross-cultural exchange, the program encourages participants to appreciate the diversity of the ASEAN region and develop a sense of shared identity and cooperation.
Cambodian Associations Promoting Co-operation & Development