Several media reports have indicated that AEON Mall (Cambodia) Co Ltd's is building a new "multifunctional logistics business centre" in the special economic zone (SEZ) near Sihanoukville Autonomous Port (PAS).
An official statement from AEON, said: "AEON MALL CO., LTD. and AEON MALL (CAMBODIA) CO., LTD. (The " Our Company ") are very delighted and pleased to announce that we have decided to develop the country's first multifunctional logistics centre business which will serve as a platform for overseas logistics in the Kingdom of Cambodia."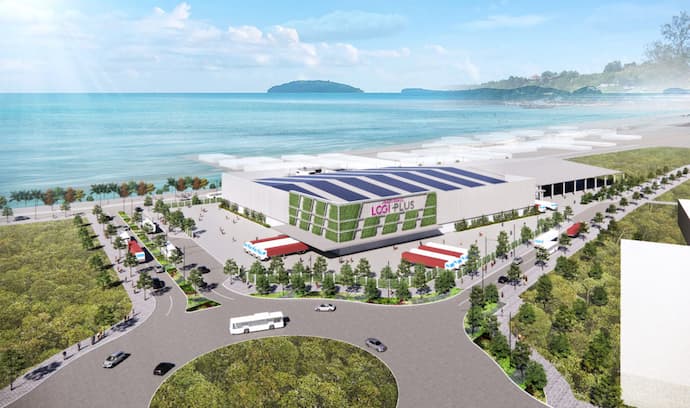 As a result, a new business, AEON MALL (CAMBODIA) LOGI PLUS CO., LTD. has been established in the Kingdom and the port is expected to be completed by 2023.
The Asia Nikkei reporter that the hub will be "offering import storage, customs clearance and support for cross-border online retail."
Cambodia, following the introduction of RCEP, is planning to develop part of the economic zone as a free trade port and has backing from the Japanese government and the Japan International Cooperation Agency said the outlet.
New AEON Logistics Hub Details
(based on AEON statement – January 2022).
Location: Sihanoukville Port Special Economic Zone, Sihanouk Province, Cambodia
Site Area: Approx. 30,000 m2
Building Owner: AEON MALL (CAMBODIA) LOGI PLUS CO., LTD.
Date of Opening: Within the fiscal year 2023
The Khmer Times also added that the logistics hub will feature Cambodia's first bonded warehouse that allows importers to store products from abroad without paying duties. Companies will be able to store goods and retrieve them with minimal fees.
"Aeon Mall shopping centres in Cambodia looks to have mall tenants use the warehouse to store imports from Japan, Europe, the U.S. and elsewhere. Besides, the hub will market its services to local retailers and e-commerce companies, along with Japanese consumer products makers looking to sell in Cambodia" added the media outlet.
AEON currently operates two large malls in Phnom Penh with a third (and the largest of their three) under development in the capital.
Sihanoukville SSEZ
According to a statement from the SEZ operator on January 10, 2022, the value of imports and exports at the Sihanoukville Special Economic Zone (SSEZ) reached USD $2.234 billion in 2021. This represents an increase of 42.75 per cent rise from $1.565 billion in 2020.
Logistics in Cambodia
Several large logistics development deals have been agreed to in recent years in the Kingdom, predominantly in Sihanoukville and the Sihanoukville Autonomous Port (PAS) which is undergoing several expansion projects. However new ports along the coast are also underway.
This also relates to the large-scale infrastructure projects that are under development, with many targeting a 2023 completion date (in time of the nation hosting the SEA Games).
New airports are being built in as many as 3 locations (including Phnom Penh and Siem Reap), while the expressway linking Sihanoukville and Phnom Penh is on track.
In addition, in 2021 YCH Group (Singapore) and Cambodia's Ministry of Public Works and Transport announced a framework agreement to develop the Phnom Penh Logistics Complex (PPLC).
Other rail cargo, air cargo, and air freight services have also been announced during the pandemic.