A flurry of announcements from the government has provided updates on several maritime infrastructure projects, including seaports and coastal logistics centres with total investments in the billions of US dollars.
The Cambodian government is focussing on improving the nation's goods export capacity, and several major infrastructure projects are underway to address the issue. The most recent announcement was a waterway linking the Bassac River to the sea in the Kampot-Kep region and an MoU with IFC To Develop a new Sihanoukvlle Logistics Hub.
Koh Kong International Seaport
Koh Kong province's first international seaport is due to be launched in the second half of 2023 said provincial governor Mithona Phoutong.
The Koh Kong International Seaport has been developed and invested in by Koh Kong Port Management Co Ltd. and is located in Kiri Sakor district's Koh Sdech village and commune in the southwestern corner of the coastal province. The Phnom Penh Post also reported that the Port is within the boundaries of the Dara Sakor Resort.
The seaport is intended to handle "large" international vessels, and reduce the reliance on Preah Sihanouk seaport and act as a "gateway for the import and export of goods between Cambodia and the international market".
Sihanoukville Autonomous Port Upgrades
The proposed and ongoing work at the Sihanoukville Autonomous Port (PAS) has been underway for several years but in May 2023 it was announced that the Japanese-financed container terminal has started, aimed at transforming the seaport into a Southeast Asian hub by 2029. The upgrades will include the modernisation and automation of the port's equipment.
Japan is providing a $760m concessional loan for the project with a further $250 million funded by Cambodia. At the end of the upgrades, the PAS capacity will increase from 700,000 TEUs a year to 1.4 million by 2026, and 2.6 million by 2029.
The port's shallow channel – 9.2m deep – will be dredged to a new depth of 14.5m in the project's first phase and allow more and bigger container ships to dock at the Cambodian port. Currently, 82% of container ships are unable to access the port.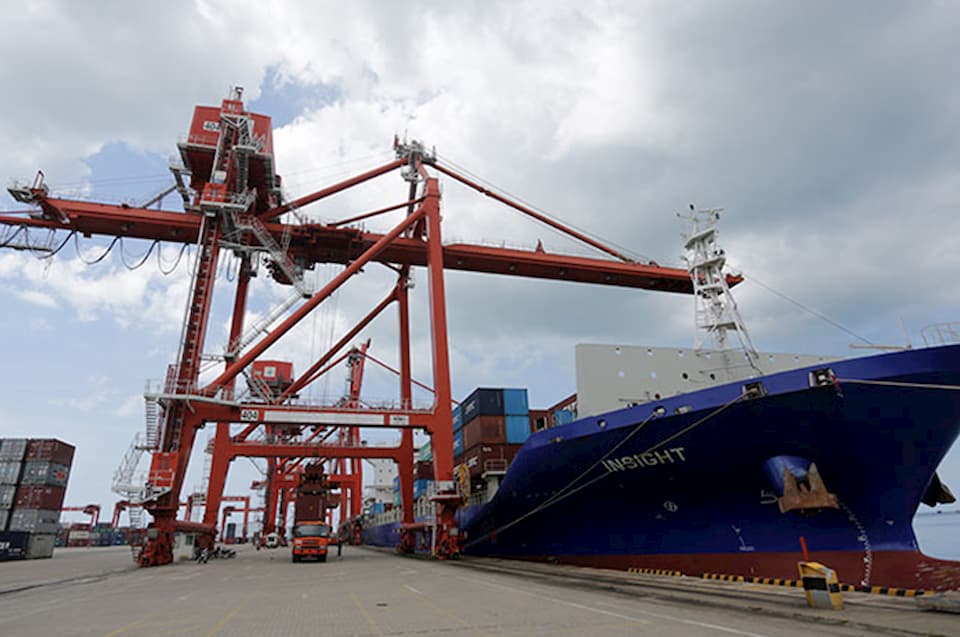 PAS expansion will be carried out in three phases:
Phase 1 – Renovation of the port's general cargo terminal to be 253m long and able to handle ships carrying 4,000 TEUs (20 ft-equivalent units). This is expected to cost $275m and be completed by 2026.
Phase 2 – Construction of a terminal that will be 400m long with a channel depth of 16.5m. This will start in 2025 and be completed by 2028.
Phase 3 – Only due to start in 2026 and end in 2029, costing $700m with TEUs reaching 2.6 million.
Kampot International Port & Logistics Centre
As well as the expansion of Sihanoukville, a USD $1.5bn port and logistics centre in Kampot province, which started foundational work in 2022, has appointed China Harbour Engineering Company (CHEC) with the construction contract. Sun Chanthol, Senior Minister, Minister of Public Works and Transport was present at the signing in May 2023.
The Kampot International Port is located off National Road 3, about a 20-minute ride from downtown Kampot suggest some reports.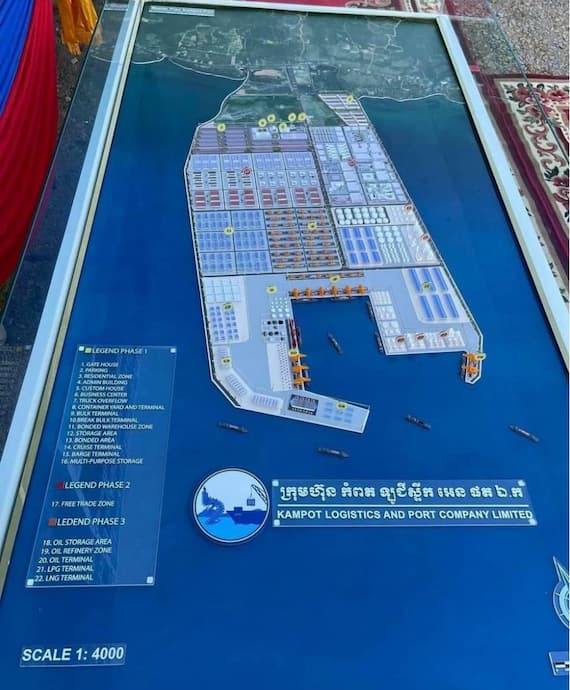 The 600-ha multi-purpose project is a joint venture between China Harbour Engineering Company Ltd (CHEC) and Kampot Logistics and Port Company with the Shanghai Construction Group and the China Road and Bridge Corporation as contractors.
Reports suggest the multipurpose port will have a depth of 15m, allowing it to deal with ships up to a 5,100-container Panamax class (vessels weighing between 50,000 to 80,000 tons).
A special economic zone (SEZ), a free trade area, a logistics hub, an oil refinery and a terminal for tourist vessels and cruise ships are all being developed.
Constructions began in May 2022 and the Kampot Port & Logistics Centre will be developed over 15 years and across three phases.
Phase 1 – Construction started in 2022 and is due to be completed in 2025 and is expected to cost $200m and offer a modest capacity of 300,000 20ft-equivalent units.
Phase 2 – Increase the capacity to 600,000 TEUs by 2030.
On completion, this will be the third largest port in Cambodia after Sihanoukville and Phnom Penh (PPAS).
Cambodia Logistics News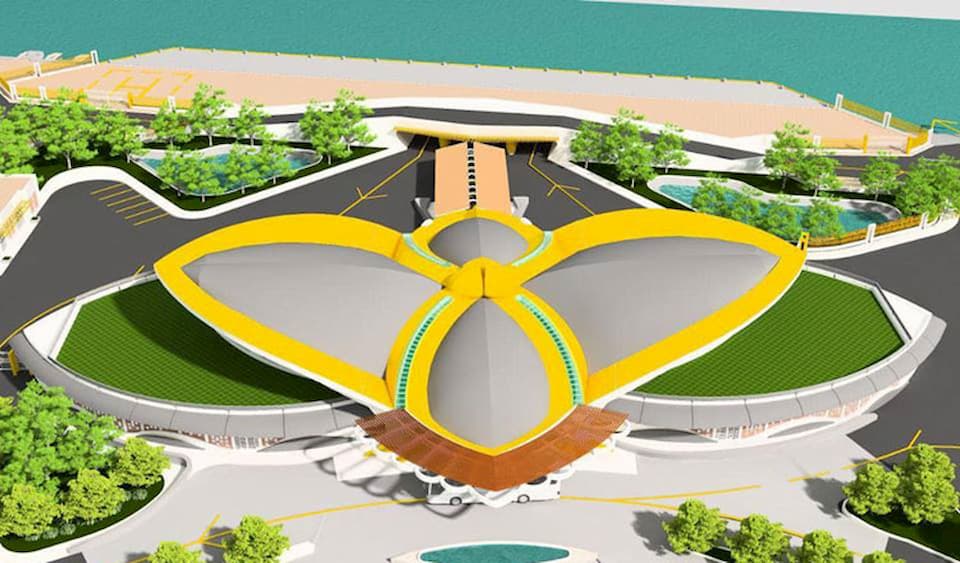 A previously announced and completed Kampot International Tourism Port has been idle since its completion in mid-2022.  The Kampot Tourism Port was built under an ADB loan of more than USD $18 million and is located on a 4ha quay in Teuk Chhou district, 6km west of Kampot town.
In October 2022, it was announced further work was needed to deepen the Kampot International Tourism Port's waterway with little news since.