The Phnom Penh 313 Quayside mall has signed franchises from EFG (Express Food Group) Co., Ltd. which will see The Pizza Company, Dairy Queen (DQ) ice cream, and Krispy Kreme added to the ground floor.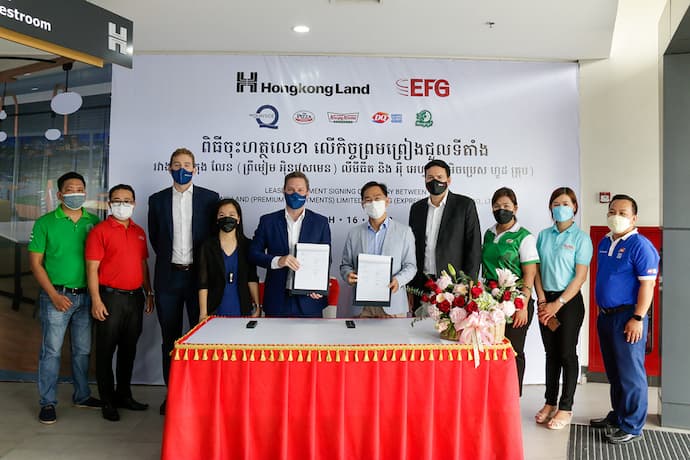 EFG, which is part of the RMA Group, announced they were "delighted to announce an exciting new branded F&B concept coming soon to Hong Kong Land's flagship riverside project – 313 Quayside."
The ground floor food court's version of The Pizza Company will be "in a format unseen before in Phnom Penh".
The company also offers food and drinks via its Hungry app which allows customers to combine products from multiple brands in one order for pick up, takeaway, or dine-in.
The riverside malls already operates a variety of food and drink outlets such as Starbucks, Pizza 4Ps, as well as other Asian outlets. The top floor is home to a restaurant and sky bar called Rukkha.
More malls coming to Phnom Penh
The city is seeing a growing number of boutique, community, and large malls with several due for completion in 2022-2023.
Century Plaza (TBC 2022)
Chip Mong 271 Mega Mall (Expected Q3 2022)
AEON Mall 3 (Expected 2023)
At the end of 2021, K Mall opened on Veng Sreng Boulevard and the brand outlets include Decathlon Cambodia, Zando Cambodia, Ten11, DAISO Cambodia, Lucky Supermarket, BROWN Coffee and Bakery, Legend Cinema, Tous Les Jours, Nata Footwear, Santa Fe, Potato Corner, Pho Citi, and the Ground Food Market.
You can also read more about franchises in Cambodia here