AirAsia Cambodia still plans to be operational by Q4 2023 according to Capital A CEO Tony Fernandes. In December 2022, Capital A – AirAsia Aviation Group's parent company announced it would operate a low-cost airline in Cambodia.
Fernandes, speaking in Malaysia at Capital A's annual general meeting recently, urged the airline to look towards other new markets in Southeast Asia "that deserve an airline."
"We are expanding across ASEAN based on a wide network and a strong brand, with the launch of AirAsia Cambodia expected to start operating in 4Q, we are looking for opportunities in the remaining ASEAN countries that deserve an airline."
Capital A owns a 51% stake in AirAsia Cambodia, with hospitality group Sivilai Asia owning the remaining share.
Initially, the low-cost carrier (LCC) plans to launch with two A321-200Ns, and expand to as many as 15 of the aircraft. Targeted routes are destinations within a four-hour radius of Cambodia and they will focus on flying to existing AirAsia Group hubs from Siem Reap, Sihanoukville, and Phnom Penh.
There was no mention of the new airports under development in the Kingdom being used as a base, with the new Siem Reap airport due to be operational in Q3 2023.
Fernandes added he will be staying with Capital A for the time being, "I remain committed to staying in the Capital A Group for the foreseeable future. I do want to emphasise that we have a robust succession plan in place that involves many of the seasoned leaders in our management team."
At the June 2023 AGM, the report indicated that Air Asia Group's capacity and passengers carried were still only around 47-49 per cent of the 2019 levels (pre-pandemic).
Some of the positives highlighted in the AGM report were:
Fuel prices are expected to come down further
Booking momentum is positive going forward
Demand for Chinese routes indicated a healthy load factor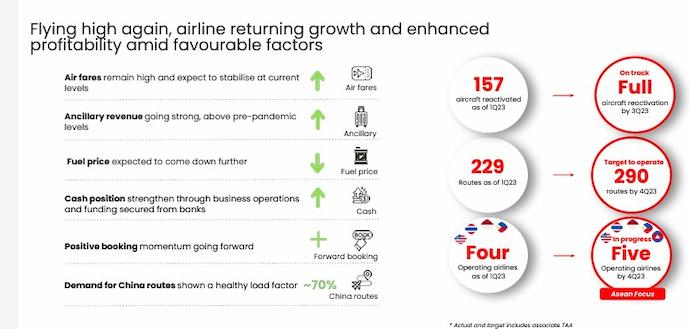 Cambodian Tourism and Aviation News