AirAsia Cambodia announced it has formed a strategic partnership with Oriental Bank Plc which includes the signing of a Merchant Service Agreement which should offer easy digital payment solutions for Cambodian customers.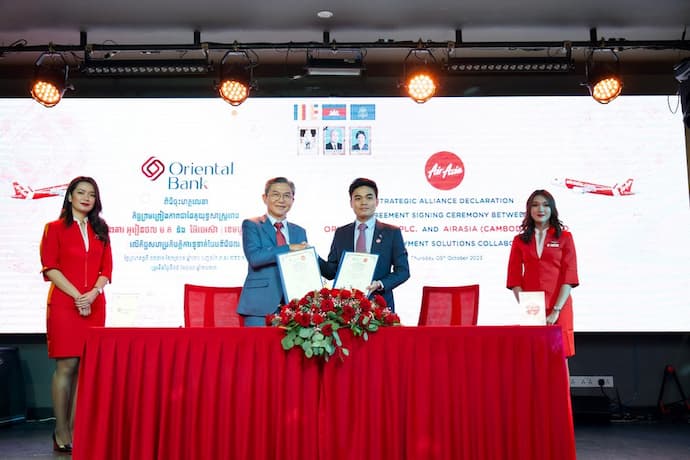 The partnership is aimed at making flight bookings on the low-cost airline easier and "tailored to the needs of Cambodian guests". This also comes as the airline's Superapp will be renamed to AirAsia MOVE. The Co-Founder of AirAsia and Chief Executive Officer of Capital A, Tony Fernandes, will assume the role of Executive Chairman of MOVE.
An Airasia statement said, "AirAsia's guests in Cambodia can book a flight and add-ons through the AirAsia Superapp – soon to be rebranded AirAsia MOVE, and pay through Oriental Bank's payment gateway service which covers a wide range of payment options, from all card schemes to the KHQR, and make in-flight transactions seamlessly.
By expanding the payment options available to local guests, AirAsia Cambodia and Oriental Bank aim to streamline and enhance the payment experience making it easier, faster, and more secure for AirAsia's guests to transact throughout their journey. This partnership will not only benefit millions of Cambodians with greater value payment choices but also offer Oriental Bank's users added convenience to book their flights easily."
At the end of 2022, Capital A (AirAsia Aviation Group's parent company) signed on to operate the airline in Cambodia, and they partnered with Sivilai Asia in a joint venture. AirAsia Cambodia is led by Cambodian Vissoth Nam as CEO.
Digital Payments Have Become The Norm For Travellers
Nam added, "As we are set to paint Cambodia's sky red in the next few months, we are pleased to join forces with Oriental Bank, a pioneer in providing innovative digital banking solutions as one of our first financial service partners.
As digital transformation reshapes the Cambodian consumer payments landscape, we believe this partnership will provide an exceptional user experience for local travellers, while also empowering them with choice and opportunity that aligns closely with our mission to serve the underserved. We remain committed to supporting innovation to revolutionise the way Cambodians travel in the future."
Oriental Bank Managing Director/CEO, Datuk Phan Ying Tong was also excited by the partnership, "We have successfully delivered sophisticated, innovative, and advanced payment systems to support and meet the needs and demands of an aviation giant like AirAsia."
Cambodian Tourism Rebounding Post-Pandemic
Cambodia received 3.4 million air travellers during the first eight months of 2023, which represented a year-on-year increase of 180 per cent. By 2026, Cambodia expects 7 million tourists annually.
The Siem Reap Angkor International Airport (SAI) is set to start operations on October 16 2023, and in mid-2023, AirAsia Cambodia said it planned to be operational before the end of 2023.