With the new airports under development in Cambodia, and the government seeking to diversify its portfolio of investors and sources of tourism, direct flights between Cambodia and India could be operational by 2024.
Kuong Key, Ambassador, Royal Embassy of Cambodia said in late August 2023, "The diplomatic relations between India and Cambodia are reaching new heights. We cemented an official relationship in 1952 and we celebrated 70 years of relationship between both countries in 2022," before adding that he hoped that direct flights between India and Cambodia would commence in early 2024.
Flights between the two nations would boost tourism, trade and investment between both countries and come at a time when the negotiations on a bilateral free trade agreement are nearly complete. The current ASEAN-India Free Trade Agreement provides Indian companies with beneficial exports to and from Cambodia to the rest of ASEAN.
WATCH THE VIDEO -Indian Chamber of Commerce Cambodia – Developing Business Ties Between Cambodia and India
India has direct flights to nine ASEAN member countries but not Cambodia. The options being considered are flights between New Delhi and the Kingdom, but it was not specified where.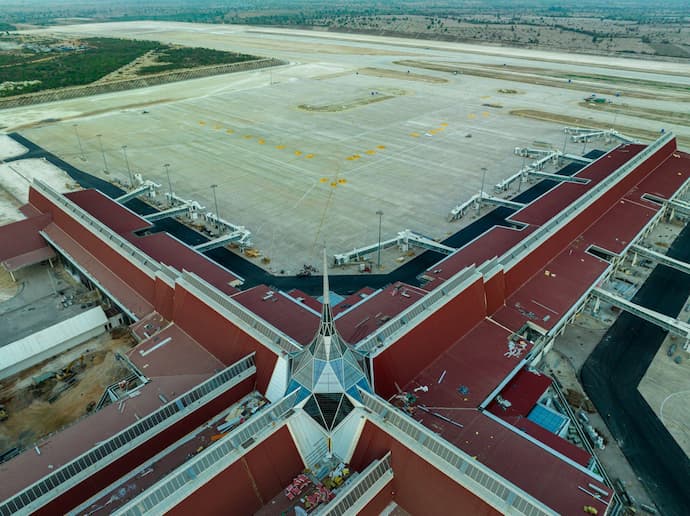 The Siem Reap Angkor International Airport (SIA) is scheduled to open in mid-October 2023 while the Techo Takhmao International Airport, the new Phnom Penh International Airport, will only likely be operational by 2024, at the earliest.
Cambodia's Ministry of Tourism recorded 16,388 Indian visitors in Q1 2023 to Cambodia, so there is potentially a huge upswing if direct flights were available. India was Cambodia's 18th biggest trading partner in the first third of 2023.
In total, more than 3 million tourists visited Cambodia from January to July 2023, according to the statistics from the Cambodian Ministry of Tourism. It is projected that the Kingdom will attract up to 5 million international tourist arrivals in 2023 and 7 million international tourist arrivals by 2025.
Cambodia Air Routes 2023
Sky Angkor Airlines resumed twice-daily flights from Phnom Penh to Bangkok DMK on 25 August 2023 after a four-month pause.
Laos Airlines resumes multi-flights between Siem Reap and several destinations in Lao PDR in mid-2023.
Cambodia Angkor Air is exploring direct flights with Zhengzhou, China.
Flights Between Cambodia And Turkmenistan Being Explored.