The US embassy of Phnom Penh held a virtual franchise expo on May 5 2021 and a number of North American franchises are looking at opportunities in the Kingdom of Cambodia.
The online Cambodia Franchise Expo was held in partnership and support with the US Foreign Commercial Service and the American Chamber of Commerce in Cambodia (AmCham).
We have previously tracked the influx of American and other international brands and franchises into Cambodia. These include Starbucks, Burger King, KFC, Carl's Jr, and Hard Rock Cafe as well as many more recent additions; Habit Burger Grill, Texas Chicken Cambodia, and Papa John's Pizza etc.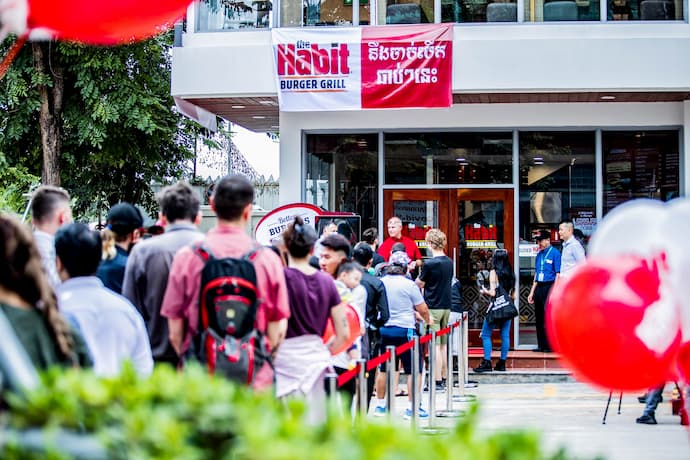 As many as nine US franchising companies are said to be looking for business opportunities in Cambodia according to this week's expo, most of which are F&B outlets, education, and health and fitness franchises.
AmCham president Anthony Galliano told The Phnom Penh Post "US franchises present a superb opportunity for entrepreneurs in Cambodia and the franchise expo is linking leading brands considering entry with potential businesses interested in operating them in the Kingdom….."
As many as twenty Cambodian firms were present and included the WorldBridge Group, Chip Mong Group, Elite Food and United Food Company.
The list of interested US franchises includes:
F&B
The Boiling Crab
Chili's
Dickey's BBQPit
Duck Donuts
Long John Silver's
Education & Fitness
Mathnasium (Mathematics learning centre).
Snap Fitness (A global gym that offers 24-7 access).
Tapout Fitness (Offers martial-arts infused fitness programs.
Tumbles (Youth-focused gym with educational components).
US ambassador to Cambodia, Patrick Murphy, said US companies "bring with them ethical business practices, high labour and environmental standards, and strong corporate social responsibility programmes that connect with local communities" reports the Phnom Penh Post.
The huge number of planned mega malls and smaller urban retail hubs and community malls in Cambodia, in particular in Phnom Penh, also offers a range of retail space for the franchise and retail outlets.
Cambodian exports to the United States increased by 40 per cent in 2020 and reached $5.36 billion.