COVID-19 has had an adverse effect on the entire globe, and in Cambodia, key industries have also taken a financial hit. A number of industries have been forced to temporarily close to prevent the spread of the coronavirus, and tourism is obviously adversely affected too.
We look at how the Cambodian Royal Government and businesses are reacting to the outbreak and how the different industries have been impacted.
Note: the situation is constantly evolving and we encourage you to follow the Cambodian MoH (Ministry of Health) and WHO for health and hygiene recommendations and the Government Ministries, official Cambodia media outlets and embassies for announcements.
Which hospitals are handling COVID-19 in Cambodia?
The Cambodian Ministry of Health has designated three hospitals in Phnom Penh to combat COVID-19:
Khmer-Soviet Friendship Hospital
National Pediatric Hospital
Kuntha Bopha Hospital
There are a further 25 Provincial Referral Hospitals acting as medical facilities that can order a test for, and treat, suspected cases of COVID-19 in Cambodia.
You can call the 115 hotline or reach MOH officials on (+855) 012 825 424, 012 488 981 or 012 836 868. Information is available in English and Khmer.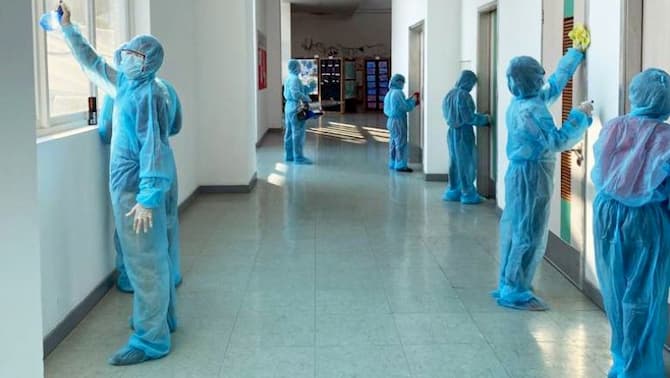 State of Emergency – Cambodia
There has been a lot of speculation about a State of Emergency being possibly implemented in Cambodia, but in the same week the government announced the cancellation of the Khmer New Year, Prime Minister Hun Sen confirmed there was a very small chance the draft law would be enacted but it was still necessary for it to be passed by law. "The possibility to declare the state of emergency is 0.1 per cent," he said.
The Law on a State of Emergency states that it shall not exceed 3 months if implemented and can be extended for the same period. The Law is expected to be passed after 13-16 April.
Khmer New Year 2020 cancelled
On April 7th 2020, Khmer New Year was also cancelled and businesses were asked to operate as per normal (under the COVID-19 restrictions).
In a statement from the government, the public sector, institutions and the private sector are asked to work as per usual, and the Royal Government will compensate workers with 5 days of public holidays at a more appropriate time (later in 2020 possibly). The Ministry of Labour and Vocational Training has issued Notification No. 012/20 on Postponement of Khmer New Year Holiday 2020.
"The government wants to reduce the number of people travelling to prevent the spread of infection from one place to another. If we allowed the people to travel freely all over the country, there would be a grave risk of huge cluster infections" said the Prime Minister, Hun Sen.
On April 9th, the government put in inter-province restrictions to limit the number of people still trying to travel for KNY.
The Khmer New Year runs from Monday 13 to Thursday 16 April 2020.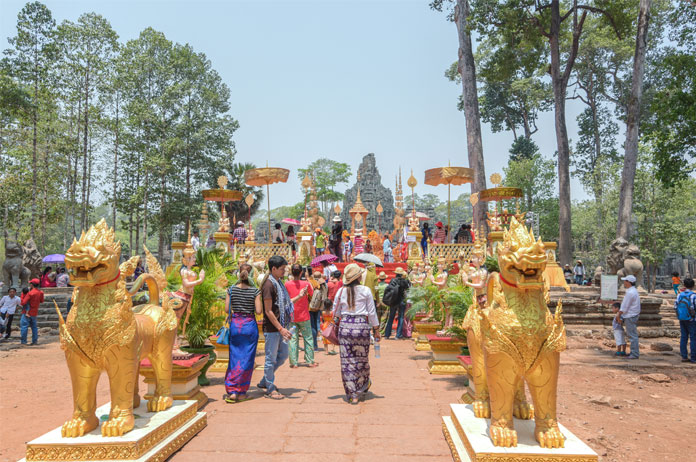 How has coronavirus affected businesses in Cambodia?
Garment factories in Cambodia
The Cambodian Ministry of Labour has reported that 91 garment factories have suspended their operations due to the COVID-19 pandemic, affecting as many as 61,500 workers in Cambodia.
The government has provided 'tax holidays' for between six months to one year for factories severely impacted by the COVID-19 (Prakas No.319).
In early April, the Royal Cambodian Government said it will pay factories employees who have been impacted $40 and factories will pay them $30 ($70 in total), if jobs have been suspended, without requiring employees to attend training.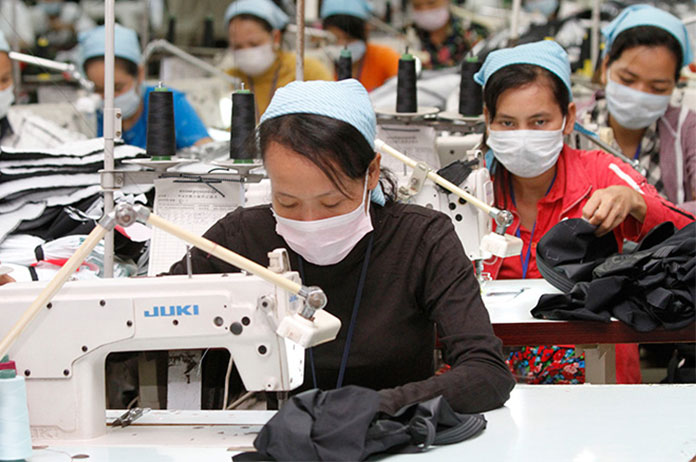 Tourism in Cambodia
Tourism has been one of the most impacted sectors, a direct knock-on effect of the airline industry and visa and travel restrictions implemented globally.
Monthly tax exemption measures to hotels, guesthouses, restaurants and travel agents registered with the General Department of Taxation in Phnom Penh, Siem Reap, Preah Sihanouk, Kep, Kampot, Bavet and Poi Pet for 3 months from March to May 2020.
The Ministry of Tourism instructed all tourism accommodation businesses (except community housing services) to take responsibility to register all guests on the Tourism Accommodation Registration System.
Museums have been closed since mid-March.
The Ministry of Tourism issued a notification to grant a grace period from transitional fines for businesses that have not obtained their required tourism licenses. The period will be in place until 30th June 2020.
Public transportation (buses and riverboats) have been temporarily stopped since 30th March.
Casinos closed from 1st April throughout Cambodia.
On 3rd April, the Ministry of Foreign Affairs and International Cooperation informed all diplomatic and consular missions that automatic tourist visa extensions will be granted, for foreign tourists that arrived in Cambodia after 1 January 2020, and they will be exempt from visa overstay fines until they depart.
On April 7th, the government has ordered the mandatory 14 days' quarantine for anyone entering Cambodia; including entry from all borders such as land, waterways, seaports and airports
Visas to enter Cambodia under coronavirus restrictions
People with valid Cambodian A & B-type visas can still enter Cambodia but quarantine restrictions may be enforced.
People with valid multi-entry/exit Visa EOS's (Extension of Stay) can enter.
People who obtain a Visa in Advance from a Cambodian embassy /Consulate can enter.
Cambodian Nationals can enter.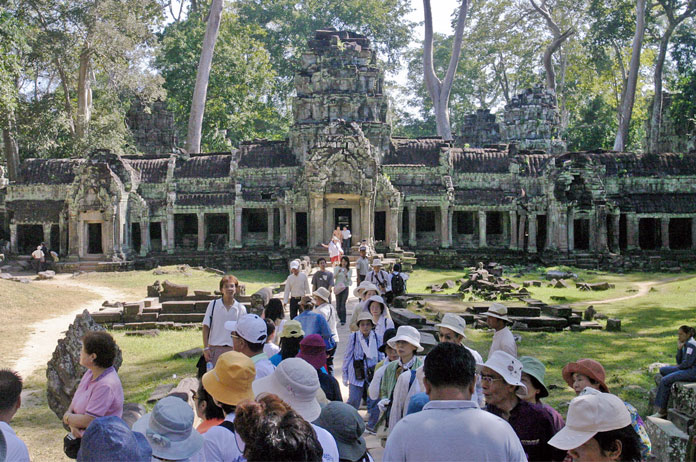 Hotels, resorts and guesthouses in Cambodia
Many Cambodian based hotels, resorts and guesthouses are offering long term rentals as they see a decline in business. Others have opted to close temporarily and might even be undergoing renovations during the COVID-19 outbreak.
Angkor Archaeological Park – Angkor Wat
Special deals for tourists were announced but people are also being advised to not unnecessarily travel.
A one-day ticket is valid for two days until June 25, 2020.
Three-day tickets will be valid for five days.
The seven-day passes will be valid for 10 days.
Cambodian Aviation and Airline Industry
The government has announced some measures to support the airline industry in Cambodia. These include:
Exemption of Minimum tax for 3 months from March to May 2020 for Cambodia Airlines.
Delayed payments of civil airfare for six months with the permission from the airlines to process the debt after this period.
Everyone is advised to check with the airlines and embassies as the flights and restrictions changes are so fluid.
Visitors arriving into Cambodia are provided with information cards to providing information on how to stay safe amid the outbreak of the novel coronavirus. The information cards are distributed at all international border gates and airports.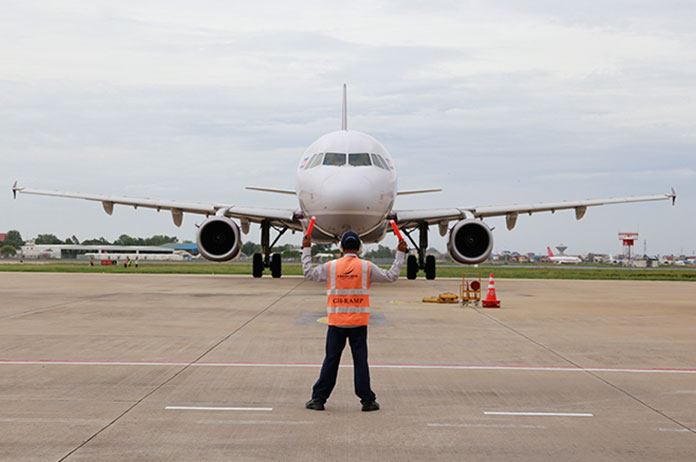 F&B in Cambodia
The food and beverage industry has seen massive closures, temporarily or otherwise, since the COVID-19 outbreak began.
A number of businesses have been quick to adopt delivery services and digital payment options and restricted dine-in availability for customers.
Since the 25th March, the Ministry of Tourism announced the temporary closure of beer garden businesses (Letter No. 1520).
On April 7th, the government said, "There will be no closure of pagodas, temples or religious places, factories, restaurants, coffee or other shops."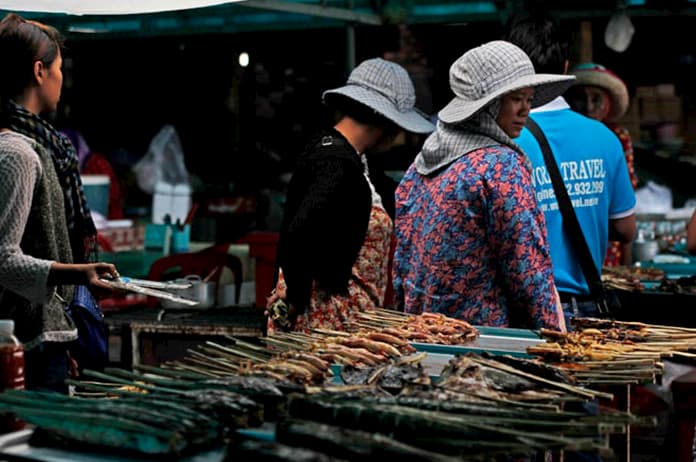 Cambodian Schools and Education services
The Ministry of Education, Youth and Sport has closed all public and private schools in Cambodia since mid-March. This has affected many Khmer and foreign (expat) teachers and caused a loss of jobs in the sector
UNICEF has scaled up support in 145 countries, including Cambodia, to help children continue their studies.
The Korea International Cooperation Agency (KOICA) provided funds to support the creation of a Khmer e-learning platform for students from grades 7-12 to study online for free.
The Cambodian Union of Youth Federations (CUYF) partnered with E-school Cambodia and is delivering online learning for grades 1 to 12, free of charge.
Schools are still set to remain closed after Khmer New Year.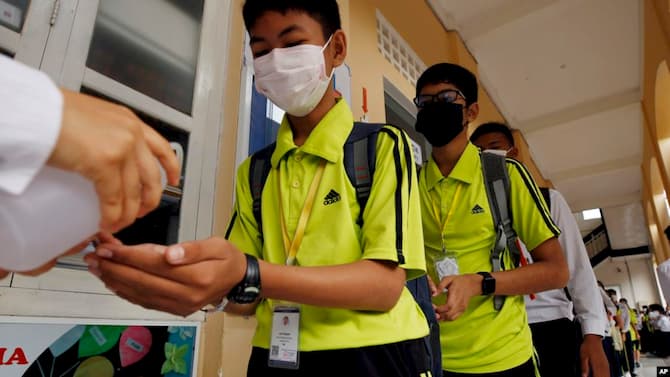 Cambodia Property and Construction
The government announced a suspension of stamp duty tax on Cambodian property. The 4% stamp duty tax on the transfer of residential properties from February 2020 to January 2021 is suspended (needs to meet criteria including property eg. value being less than $70,000 etc.)
Realestate.com.kh reports a surge in online property searched and also published guides on how to deal with COVID-19.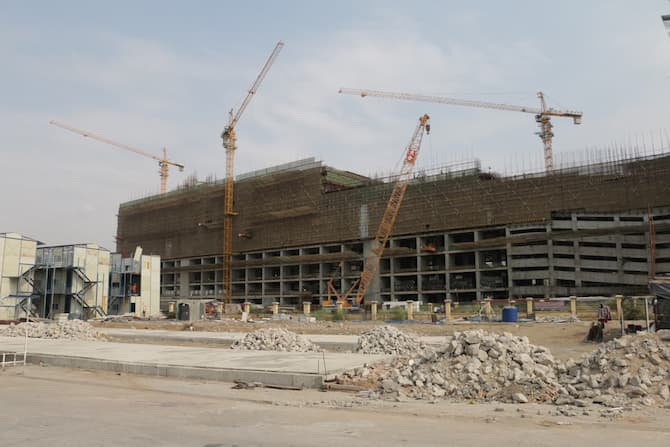 Agriculture in Cambodia
The government is allocating US$50 million in the form of low-interest loans to help SMEs in the Cambodian agricultural sector. The funds will be distributed through the Rural Development Bank (RDB) with the aim of increasing local production capacity.
Royal Government temporarily suspended the export of white and paddy rice from Cambodia.
Technologies in Cambodia
The Cambodian Ministry of Education, Youth and Sport asked the public to join a competition to create a mobile application that provides information on COVID-19. In addition:
A hackathon event called HacKH The Crises was held from April 3-5 2020. Some of the proposed solutions are explained by the GeeksinCambodia website.
The National Bank of Cambodia (NBC) urged Cambodian banks and microfinance institutions not to seize any collateral and encourage using digital payments.
Many food delivery apps and services have offered customer discounts during COVID-19.
Pi Pay has enabled all businesses to create a business profile for free and promote contactless payments.
Other SME's in Cambodia
The SME Bank of Cambodia was officially launched by the Ministry of Economy in April 2020 and has $100 million of funds which can be applied for.
Spa's, Wellness and Massage Parlours
The Ministry of Tourism issued letter No. 168 to city and provincial governors to temporarily suspend all massage, spa and wellness businesses from 07 April 2020 until further notice.
Hairdressers, nail and beauty salons
On April 5th, the Ministry of Health instructed the public to minimise their use services such as hairdressers, nail and beauty salons and other similar services.
Fitness centres, sports and gyms in Cambodia
The government ordered gyms and fitness centres across the country to close in the 1st week of April to contain the COVID-19 pandemic.
KTV, karaoke and clubs
All clubs, karaoke and KTV's were closed in Cambodia in March to minimise the risk of spreading the coronavirus.
Cinemas in Cambodia
Cinemas across the country were closed mid-March to help prevent the spread of the coronavirus.
Cambodian government support
The Royal Cambodian Government had allocated between $800 million to $2 billion to address the economic impact of the novel coronavirus outbreak.
The Royal Government had also received $10 million in donations to fight COVID-19 by April 1st 2020. Part of this money has been used to order approximately 3 million masks and 5000 medical suits.
Cambodian Ministry of Health (MoH)
The MoH issued a wide range of protocols and guidance on social media, TV, radio etc for how to minimise exposure to the coronavirus in Cambodia.
Anyone can contact 115 for urgent matters relating to COVID-19.
There is a prohibition of pharmaceuticals, medical equipment and disinfectant substances without a registration number or notification number from the Ministry of Health.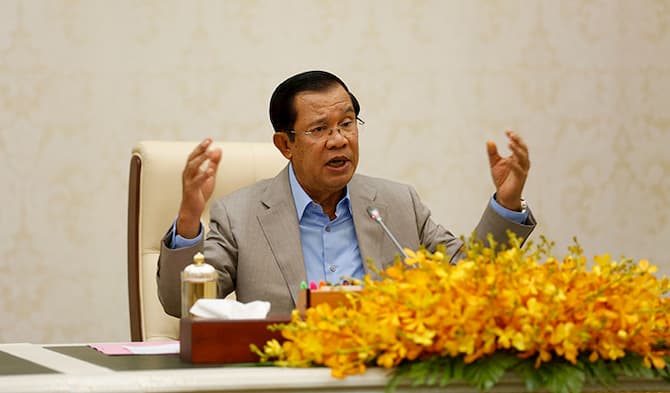 Cambodian Ministry of Commerce
The Ministry of Commerce issued a notification to not profit from selling products such as masks, cleaning alcohol, thermometer etc for unreasonably high prices.
Notification No. 1355 notified that fuel prices in Cambodia decreased by 4 cents per litre with the support from fuel companies in Cambodia.
Finance Circular No. 002, addresses the Exemption of the Tax on Seniority Indemnity Payments from 2020 for Cambodian employees working in the garment, footwear, textile and other sectors and those who recruit, train, send and supervise Cambodian workers to work abroad.
The Ministry of Economy and Finance issued an instruction on the new tax rate on salaries.
The Prime Minister Hun Sen and other senior government officials opted to donate their salaries to the National Committee for Combating COVID-19.
National Bank of Cambodia
National Bank of Cambodia issued a circular on Loan Restructure in late March. The following industries were prioritised:
Tourism sector (hotels, guesthouses and restaurants, including food, beverage and other supporting services).
Garment sector (includes employees).
Construction sector (on a first loan for building house/shop and for buying a house).
Transport (Taxi & Tuk Tuk drivers) and the logistics sector.
Cambodian businesses response to COVID-19
Wing is offering free Wing to Wing fund transfer to all its customers in Cambodia through the Wing Money App.
Golden West Humanitarian Foundation (GWHF) Design Lab is using 3D printers to make face shields for medical workers and testing a prototype of a low-cost ventilator.
Smart Axiata committed 1 million USD in relief funding as well as setting up infrastructure to enable telemedicine in Cambodian hospitals. The telemedicine technology was installed at Khmer Soviet Friendship Hospital and Chak Agre Health Center.
EAT2DONATE was set up so customers can 'pay forward' food and drink for front-line workers at the Soviet Khmer Hospital and for marginalized communities by purchasing a meal, food or drink items This community initiative is lead by The Idea/Slaprea, Only One Planet and Britcham Cambodia.
Local distillers, Samai and Seekers are producing hand sanitizers that are available to customers.
Cambodia Beverage Company (Coca-Cola) placed their $200,000 commercial advertising funds for Coca Cola and all their brands in Cambodia on hold to support COVID-19 relief and response efforts to the most affected communities.
Cellcard, as part of Royal Group, is providing free sim cards, voice calls and SMS to doctors and key medical staff during COVID-19. They are also offering a telemedicine service to combat coronavirus in Cambodia.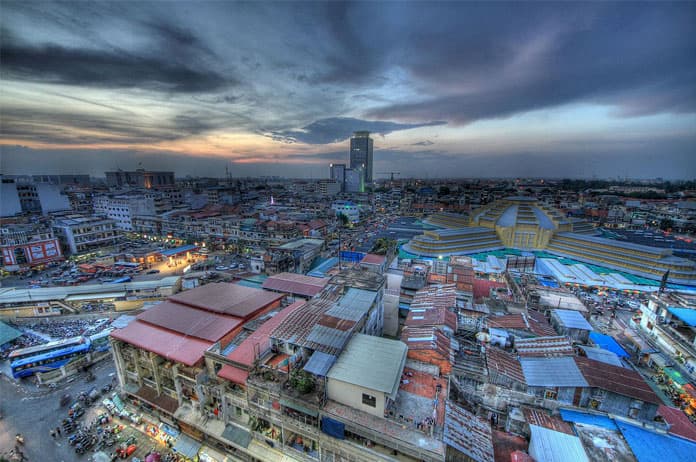 International support for Cambodia
Jack Ma and the Alibaba foundation have donated 20,000 test kits to the Kingdom.
The China Asia Economic Development Association donated 100,000 medical masks.
China sent seven medical experts from the Guangxi autonomous region to Cambodia along with N95 protective masks, protective clothes, and goggles.
Germany provided €1.5 million ($1,618,000) to help support the COVID-19 Emergency Response Plan in the Kingdom.
Mark Zuckerberg's Chan Zuckerberg Initiative (CZI) and the Bill Gates Foundation (BGF) are helping a group of Cambodian researchers to more easily and quickly identify if people have the virus.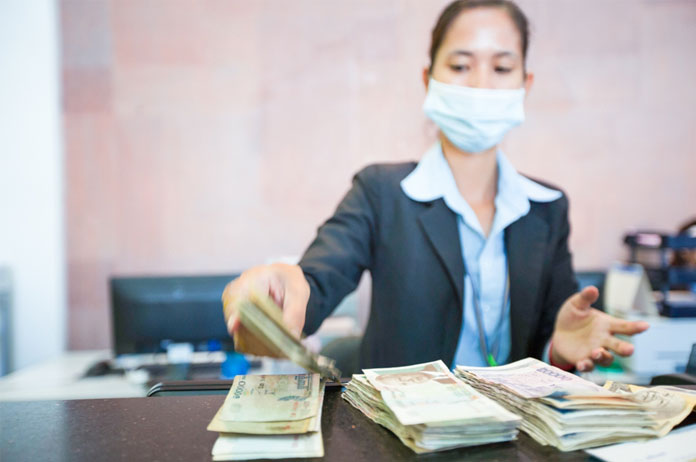 World Bank
The World Bank approved $20 million for Cambodia to combat COVID-19 on April 2nd 2020.  The financial sum is "the first tranche of emergency support operations" being offered.
The press release from the World Bank said, "The project will finance the construction of isolation and treatment centers and increase the diagnostic capacity of laboratories at all 25 of the country's provincial and municipal referral hospitals, and will finance the purchase of medical supplies needed to treat patients and prevent the spread of infection."