The National Bank of Cambodia (NBC) Financial Stability Report 2021 has highlighted the growth of E-payment transactions in Cambodia, with cashless payment adoption spurred on by the global pandemic.

According to the NBC report, e-payment transactions were worth 415.5 trillion riel (USD $102 billion) in 2021 in the Kingdom, which represents a 34.5 per cent rise from 2020.
The total value of transactions using e-wallet accounts in 2021 grew by 17.3 % to KHR 200 trillion, which was completed via 343.8 million transactions.
Internet banking doubled in 2021 to KHR 90.1 trillion (4.4 million transactions).
Mobile banking increased by 28.6% in 2021, reaching KHR 28.9 trillion (254.1 million transactions).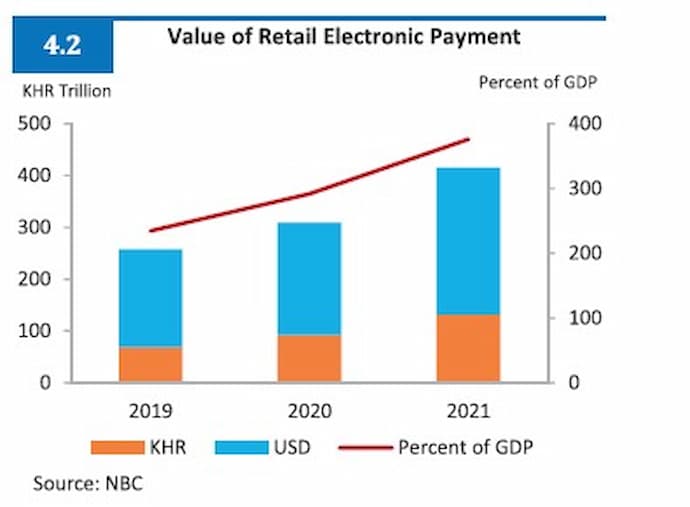 The total number of e-wallet accounts reached 13.6 million, which is more than 80 per cent of the total Cambodian population.
2021 also saw Cambodian banks install an additional 3,600+ ATMs nationwide, as well as nearly 50,000 POS machines as outlets handled a huge increase of QR payments. The value of QR code payments in the Kingdom more than doubled in 2021 with a value of KHR 953.9 billion via 4.4 million transactions.
Cambodia has for a long time been a very connected mobile country, at the end of 2021, more than 20 million sim-card subscribers and 15 million internet subscribers were recorded by the Telecommunication Regulator of Cambodia (TRC) – representing more Simcard subscribers than the total population!
By 2022, Cambodia has one of the highest mobile penetration rates in the world, with 20.8 million mobile connections, or 124% of the population.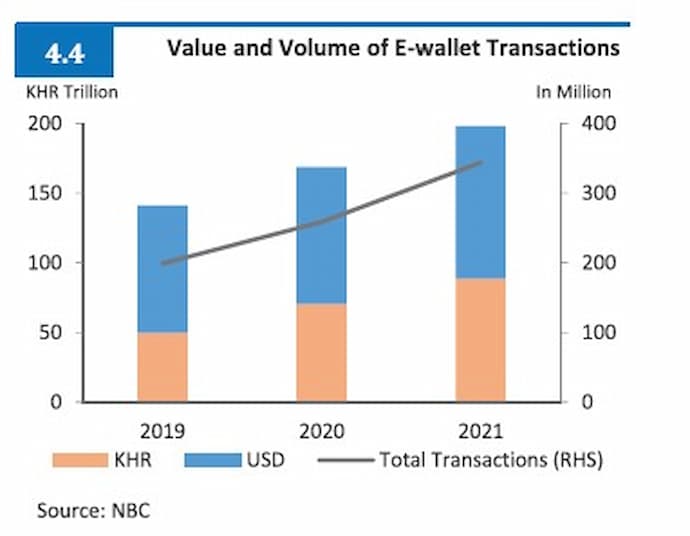 NBC assistant governor and director-general Chea Serey said that e-payment transactions in 2021, including amounts in US dollars and the riel in Cambodia, were equivalent to about 3.8 times the 2021 gross domestic product (GDP), suggesting a GDP estimate of roughly 110 trillion riel reported the Phnom Penh Post.
In the Financial Stability Report 2021, the NBC reconfirmed the rapid growth of electronic payments in Cambodia is due to:
Young population
High mobile phone use and penetration
Supportive regulatory framework
Promotion of financial inclusion
It also attributed the growth to a number of system implementations and financial services such as; the National Clearing System (NCS), Online Banking System (OBS), fast payment system (FAST), Cambodia Shared Switch (CSS), Retail Pay, and Bakong.
It also added that a Real-Time Gross Settlement (RTGS) system is being developed to help facilitate large-value transactions.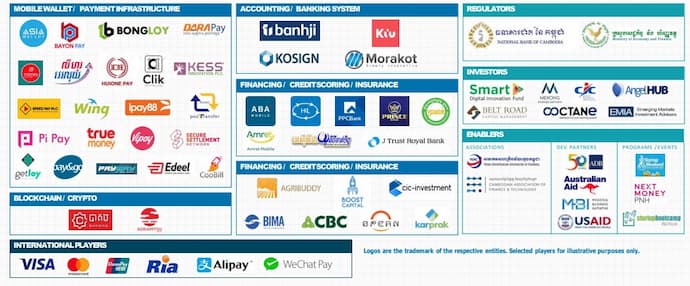 By mid-2019, more than 50 payment companies were offering cashless services to customers in Cambodia, a rise from between 5-10 payment companies in 2017.
You can read more in our article published on the Key Takeaways from the NBC Financial Stability Report 2021
Central bank digital currencies (CBDCs) – Cambodia leading the way
Nikkei Asia reported in June 2022 that the Philippines and Vietnam will study central bank digital currencies (CBDCs) as Chinese payment apps such as Alipay and WeChat Pay penetrate Southeast Asian markets.
In 2021, Laos also signed a memorandum of understanding with the Japan International Cooperation Agency for an ongoing CBDC feasibility study with Soramitsu.
The report indicated that both Vietnam and the Philippines will explore CBDCs with Tokyo-based startup Soramitsu, the same firm that helped NBC develop Bakong, recognised as one of the world's first central bank digital currencies (CBDC). By the start of 2022, Bakong had reached 7.9 million people.

Cambodia Microfinance Association (CMA) spokesman Kaing Tongngy added that the NBC-backed Bakong blockchain-based payment system has made inter-institutional and customer transactions easier and scrapped a variety of service charges reported the PP Post.
Bakong is linked to 20 major financial institutions in the Kingdom and has been testing international remittance and cross-border payments.
According to a report by JPMorgan Chase and New York-based consultancy Oliver Wyman, corporations worldwide could save as much as USD $100 billion a year on cross-border transaction costs under a full-scale multinational network of CBDCs.
Read more on how Cambodia's Digital Startup and Fintech Space Keeps Growing