International pizza franchise Pizza Hut is set to open its first branch in Phnom Penh's Toul Tom Poung (Russian Market) in Q3-Q4 2021, with more branches planned by franchise partner United Food Group before the end of the year.
Feasibility studies and reports of the international pizza chain launching in the Kingdom go back as far as 2010. Even at the start of 2021, we reported on Pizza Hut alleged debut at a new shopping mall in the capital which has not since materialised.
Heng Sengly, Group CEO of United Food Group said of the launch: "It is a new trend that many Cambodians lead busier work lives and have more money to spend on leisure and high-class food. This means that eating at home and cooking their own meals has become less commonplace. That is why we want to do our part to make it easier for Cambodians to get the best-tasting pizza from Pizza Hut."
The location of the first branch in TTP is near the Lucky Market and Angkor Mart to the south of the Russian Market.
United Food Group – Pizza Hut Cambodia
United Food Group launched the official Pizza Hit Cambodia Facebook in 2021 and was confirmed as the Franchise partner in Cambodia.
United Food Cambodia (UFC) was established in 2020 with majority ownership by V-Trust Group Singapore with EMIA Investments Cambodia. The group also owns Park Café in the Kingdom.
On United Food Group's website, they still claim to be bringing the franchise onto the market in 2020. "United Food Cambodia sees food businesses as a fast-growing sector in the kingdom. In 2020, UFC brings PH brand, which is a global most favourite pizza brand, into Cambodia's market and plans to grow the Pizza business tremendously."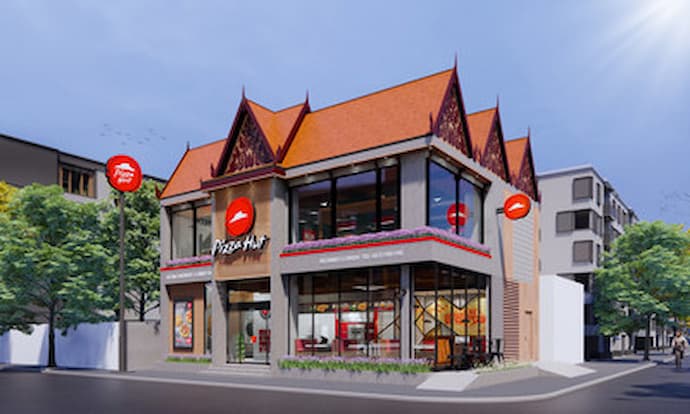 Even though the information is out of date, at the time they claimed to expand the outlets in Phnom Penh, the city's outskirts and other provinces with more than 25 stores planned within 3 years.
Pizza Hut Cambodia 2021
The latest press release confirmed that the first Pizza Hut store will open in Phnom Penh near the popular Russian market, while two more stores  are "set to open in the coming months."
United Food Group confirmed plans to open 30 stores within two to three years.
"Pizza Hut International is proud to partner with United Food Group to open the market's first Pizza Hut in Cambodia. We are excited to enter Cambodia, a land of rich culture and heritage. The new Pizza Hut will feature the most modern and delicious pizza experience across all channels including dine-in, delivery, take-out and even digital, to give aspiring Cambodians the easiest way to experience the best-tasting pizza in the world," said Unnat Varma, Pizza Hut Asia Pacific Managing Director.
Pizza Hut, a subsidiary of Yum! Brands, Inc. (NYSE: YUM), has more restaurant locations in the world than any other pizza company.
International Franchise Growth in Cambodia
The addition of Pizza Hut is the latest international franchise and brand to enter the Cambodian market in recent years.
We have previously reported on other international brands and franchises entering Cambodia. These include Starbucks, Burger King, KFC, Carl's Jr, and Hard Rock Cafe as well as many more recent additions; Habit Burger Grill, Texas Chicken Cambodia, and Papa John's Pizza etc.
In 2021, 7-Eleven is due to open (although it has already surpassed its alleged opening date of June 2021), while international fashion retailer H&M have confirmed their first outlet will likely open in Cambodia in 2022.